Girls Scouts Address Rotary
Combined Heart of Michigan Area Offers Program In 12 Counties
September 19, 2009
By: Stephen Kent
Last Weeks Meeting - September 15, 2009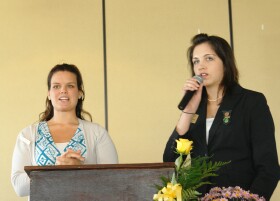 Jordan French and Dorothy Hammond
In 2004 the Girl Scouts began a major review of the organization. They recognized that competition for girls time was extreme, that more women were working and that Girl Scouts were more than cookie sales.
In 2007 the organization began a major reorganization. Michigan's 14 councils were reorganized into three large councils. The Heart of Michigan Council was formed on October 1, 2008 and covers 12 counties surrounding the Saginaw Bay.
When Hammond ask the gathered Rotarians to hold up their hands if they had a family connection to Girls Scouts almost every hand went up. (Brenda Rowley, who introduced the speakers, even wore her uniform.)
The Girl Scouts is the preeminent leadership development organization for girls in the nation. The scouts boast some 3.7 millions girls and volunteers nationwide. Over 50 million women in the US are alumni.
Girl Scouts provide a leadership experience for girls by focusing activities on the three key areas identified as Discover, Connect, and Take Action.
The organization has programs for girls from age 5 to 17 and from every background and circumstance. GSA reaches out to girls in many ways from traditional troops to programs for girls at risk and programs for girls in the juvenile justice system. The Scouts have programs for summer migrant workers, girls in public housing, at public recreation centers and after school programs and activities.
Camping is a core Girl Scout program because research shows that these outdoor activities provide endless benefits from relieving stress to teaching problem solving to just relaxation. Girl Scouts Heart of Michigan runs six woodland campgrounds, a state of the art summer urban program, and a family camping opportunity.
The Saginaw Region currently servers 3,956 girls. 322 girls and 120 adults are served in Bay County alone.
Jordan French is the Regional Development Specialists. Her main job is fund raising, but she said her favorite part of the job is friend raising. She spoke of the volunteers and the opportunities to volunteer.
Volunteer opportunities abound for both men and women to work with Girl Scouts. The organization is supported by the United Way and by many companies and organization.
The Girl Scouts are actively searching for alumni. French encouraged all alumni to contact her or the girl scouts. For more information visit
www.GSHOM.org
---
CLUB NEWS and ANNOUNCEMENTS
Larry LaPorte
The club mourns the loss of member
Larry LaPorte
(aged 71) who died in a tragic accident Sunday.
Larry was a very active member who worked tirelessly for the club's causes.
Larry joined Rotary in 1980 and maintained a consistent 100% attendance record.
Larry will be missed by all.
A POEM
Left on attendance sheet 9/8/2009
Who can guess the author?

It's been a while since a poem I penned
In fact, I can't remember when
Ink was put to paper blue
But now I'm back... Do you know who!
Lunch was yummy, the song was rousing
The Sergent-At-Arms was worth applauding
And now we set the stopwatch at 10
For two wonderful presentations
by our own Rotarians.

At that table: Bloomfield, Carlyon, Heemstra, Hickner, Lockwood, Monroe, A. Rogers
Meeting Times: Lunch is now on the table at noon allowing members to start the meal earlier. The meeting starts by 12:30 and the speaker starting by 12:50. The meeting typically adjourns around 1:15!


International Night is rapidly approaching. The committee is soliciting auction items, volunteers, and input on the October 15 event. Forms and other information is on the RotaryBayCity.org web site.


Membership: The next new member orientation will be held October 7, 2009 at the Atrium Restaurant.

---
DATES TO REMEMBER
International Night 2009 has been scheduled for October 15. The theme will be a Mediterranean Cruise.


Please note: The date of the District Foundation Gala has been changed to October 23.


---
Upcoming Programs
(See the official schedule at RotaryBayCity.org )
September 22: River of Time Members of the River of Time Committee will update us on what's new this year at the River of Time Living History Event. Included will be a presentation by local reenactors.


September 29: Ferris State University - Celebrating 125 years of higher education. University President David Eisler will speak on FSU's continuing role as a key player in reshaping higher education to serve an expansive business, public policy and economic environment in Michigan.
---
Visit RotaryBayCity.org