Same-Season Gender Sports Ruling to Strain Schools, Says Mark Gaubatz
Retiring Essexville-Hampton Leader Lists 10 Top Issues, Improvement Puzzle
May 6, 2004
By: Dave Rogers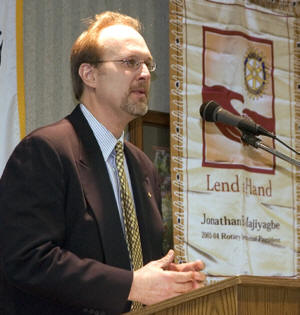 Mark Gaubatz tells Bay City Rotarians of the problems faced by school administrators as he nears retirement from the Essexville-Hampton School District after eight years of service.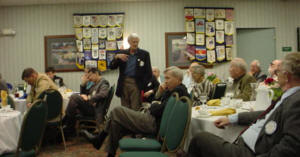 Rotarian Al Hicks makes a point to other members during a prolonged question and answer session with Mark Gaubatz.
This week's program at Rotary: Judy Valentine of the Pt. Aux Barques Lighthouse Society.
May 18: Nancy Cusick, Polio Plus trip to Niger, Africa, with Rotary International team.
May 25: Jerry Swallow, Michigan Sports Unlimited - adaptive recreation for persons with disabilities.
Last week: Mark Gaubatz, retiring superintendent of the Essexville-Hampton Public Schools.
       The biggest new problem facingK-12 schools is a Title IX ruling requiring boys' and girls' sports to be held during the same season, a change that will strain facilities as well as students' and parents' time schedules.
           Supt. Mark Gaubatz of the Essexville-HamptonSchools, has constructed his list of top 10 problems facing school administrators. His address to the Bay City Rotary Club last week sparked a torrent of questions, confirming great public interest in education.
      Gaubatz' list is as follows:
1. Parent-staff dissatisfaction.
2. The need to add technology.
3. Balancing boys and girls sports activities under Title IX.
4. Legal issues.
5. Need for continual upgrading of facilities.
6. Complying with federal and state curriculum/achievement mandates like No Child Left Behind and standardized testing like MEAP.
7. Contract negotiations.
8. Insuringadequate funding/revenue sources.
9. Board/administration relations.
10. Balancing personal and professional lives.
      Perhaps the major new challenge facing schools is a Title IX ruling that will soon require boys' and girls' sports teams to have "consecutive seasons," that is, the same sports at the same time of year, said Gaubatz. Previously, schools were able to balance the use of facilities by scheduling girls' sports during different times of the yearfrom boys' sports.
      "Now we will have to double up facilities and this will cause an immediate scramble," said Gaubatz. Because of the demand on facilities, practices will have to be scheduled from 3 p.m. to 11:30 p.m., he said, adding: "More school districts will be going back to voters and asking for new buildings or additions."
      According to Gaubatz, Bay County school districts have a "good structure of cooperation" and schools are improving, but still have a long way to go.
      He said Governor Jennifer Granholm's plan to double the number of college and university graduates will require that extra resources are put into K-12 education.
      Gaubatz also was dubious about ideas to consolidate school districts in Bay County. "It would cause huge wars in the community," he cautioned, noting: "Essexville-Hampton broke away from Bay City because the people wanted more autonomy; that's deep in our history."
      "It's been a real privilege for me to serve the Bay County community," he concluded. "It was the right choice for me professionally and as a parent. My heart will always be with the kids."###