Gasoline Boycott Called for Wednesday But May Not Help High Price Trend
Pump Prices Hit $2.14 Per Gallon; U.S. Crude Oil Futures at 21-Year Peak
May 14, 2004
By: Dave Rogers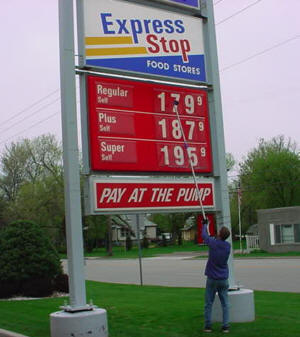 Look closely at this sign as you may not see prices this low again soon. This picture was taken at a Bay City station about two weeks ago when gasoline prices took an unexpected dip on a Thursday.
      Circulating rapidly around the Internet is a campaign to boycott gasoline purchases on Wednesday, May 19.
      "Mark your calendars and make May 19th a day that the citizens of the United States say "enough is enough," states today's version of yesteryear's chain letter. This one apparently was forwarded by some economic activists from Michigan's Thumb region.
      "It has been calculated that if everyone in the United States did not purchase a drop of gasoline for one day and all at the same time, the
oil companies would choke on their stockpiles," the missive continues. "At the same time it would hit the entire industry with a net loss of over $4.6 billion dollars which affects the bottom lines of the oil companies."
      An interesting strategy, but one that may have little effect in the long run. The oil companies may not be the main culprits in this game of empty tank "chicken," as I have been playing lately. That is, riding on empty trying to find a lower price and risking the long walk to a gas station with a little red gas can, plus the return walk.
           On Tuesday, May 11, the U.S. Energy Information Agency predicted that retail gasoline prices should peak this June at a national average of $2.03 a gallon and average $1.94 for the busy summer driving season.
      Thursday, May 13 I filled up in Midland at $2.14 a gallon, although if I had gone to another station I would have paid $2.13. A week or so before I took the picture on this page because gas prices were going down to the $1.79 per gallon range on a Thursday, and I thought that extremely unusual.
      What happened? And, more importantly, where is the price headed?
      As to what happened, The New York Times says terror attacks in Iraq and Saudi Arabia are the cause. Oil prices have jumped about 10 percent since April 24 when suicide bombers failed in an attack on a offshore Iraqi oil terminal. The possibility of more attacks on oil facilities in the Middle East have caused additional increases of $4 to $8 a barrel as "risk insurance," according to reports from oil traders.
      The crude oil price of $40 per barrel is $12 higher than a year ago. According to economic experts, each $10 per barrel hike in the crude price is the same as a $70 billion tax increase on American consumers. After the 1979 Iranian revolution world crude prices soared to $60 a barrel.
      Bloomberg News and others say demand for oil has skyrocketed with global economic growth, mainly in China. Crude oil prices are said to be the highest in 13 years.
      The Financial Times lays the blame on strong U.S. demand. U.S. crude oil futures on Thursday hit a 21-year high of over $41 a barrel and demandshows no sign of slackening.
      Where is it all going? Triple A Michigan says prices will rise with increased demand as more drivers hit the road between the end of May and the Fourth of July.
      The Flint Journal recently headlined: "$2 Per Gallon Got You Down? It's Gonna Seem Cheap..."
      The Energy Department says: "Potential price spikes remain a danger given the uncertainties surrounding the continued recovery of output and exports from Iraq, as well as political unrest in Venezuela."
      Unfortunately, this may not be a "price spike." It may be a new higher leveling. Famed Texas oilman T. Boone Pickens was quoted at the Petroleum Club in Midland, Texas, as saying the other day that we will see $50 per barrel oil before we see $30 oil again. And the power of the Saudis to bail us out by increasing production appears to highly placed observers to be waning.
      Economic commentators fear an oil-driven recession and question a foreign policy aiming for radical political reform in the Middle East. Pundits will be wrestling with that issue while coping with fears of either a major supply disruption or a world economic slowdown. On the positive side, the U.S. consumes only about half as much oil per dollar of real Gross Domestic Product (GDP) as it did in 1973, making us less vulnerable to gas price hikes.
      For a community like Bay City, pinning some of its hopes for economic future on tourism, high gas prices are bad news getting worse. The good news could be that more Michigan drivers will be seeking weekend excursions closer to home, and that Bay City becomes their destination. Let's hope that is the case.###