Linked-In, Twitter Expert Says He Has Millions of Contacts Worldwide
Social Networking on the Internet Said Mandatory for Business Success Today
October 13, 2009
By: Dave Rogers
Last Weeks Meeting - October 13, 2009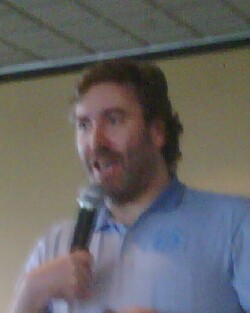 If you are in any kind of business, you absolutely need to be on a social network called LinkedIn, says David Haslam, technology consultant and author of Plymouth, Michigan.
Mr. Haslam told the Rotary Club of Bay City on Tuesday he is capable of contacting 7 million people across the world on LinkedIn.
Social networking is a must for people who are "lost in the forest and don't know where to turn," he said.
Mr. Haslam, a native of Britain who moved to the U.S. in 1988, has a company called 21st Century Communications and has written a Twitter Workbook now on sale at $14.95.
A member of the Rotary Club of Plymouth, he told local Rotarians about the world of social networking that includes Facebook, personal websites, blogs and other sites besides LinkedIn and Twitter.
Mr. Haslam called Twitter the most powerful, quickest and most effective social medium, describing it as "headline news." Messages, called "tweets" are limited to 140 characters.
His employee base includes 20 persons on four different continents, demonstrating the worldwide scope of the new area of communications.
Tracing man's means of communications back to cave paintings, Mr. Haslam described today's landscape as "total global data transfer." He commented: "More data is communicated every day than all the communications for the last 6,000 years."
The revolution currently underway started in 1990 with the release of the first Macintosh Apple computer. Today an iPod has 96 times the memory of an original Mac at one-millionth the cost, he said.
He had a stern warning to Internet users: "Don't put anything on line that you don't want people to know." He noted that Facebook, started by college students, has been corrupted by improper postings and MySpace is "bogged down by useless stuff" that has put off adults and has declined in popularity although it has a certain niche of users.
The number of Facebook users would make it the seventh largest country in the world, he said.
---
CLUB NEWS and ANNOUNCEMENTS
International Night was held last Thursday. From all reports it was a great event as usual.


There are still Dictionaries to be delivered. Contact Chuck Cusick if you'd like to help. "It's easy" said Chuck, "Just say a few words about Rotary, get the kids to look up a couple of words, and you're done!".


Meeting Times: Lunch is now on the table at noon allowing members to start the meal earlier. The meeting starts by 12:30 and the speaker starting by 12:50. The meeting typically adjourns around 1:15!


Make-up On-Line at www.RotaryEclubOne.org

---
DATES TO REMEMBER
The date of the District Foundation Gala is October 23. The club has reserved a table for 8. Contact Anne Trahan if you want a ticket.


---
Upcoming Programs
(See the official schedule at RotaryBayCity.org )
October 20: Polio Update World Polio Day, 24 October, is an ideal time to raise public awareness of the ravages of polio and garner support for eradication efforts.


October 27: The Pork Industry - More Than Just The Other White Meat. What's going on in the food and pork business in your area? Jerry May, Extension Educator for MSU, will talk about trends in the local farm economy that affect jobs and economic development, advances in pork production, and what they mean to the food we buy and our environment.


November 3: Rotary International and The Rotary Foundation Presented by Anne Trahan.


November 17: Rotary Grant Recipient Update; The Free Food Assistance Program and The Outdoor Reading Centers.

Jennifer Carroll, Executive Director of the United Way of Bay County, will also share an overview on some UW programs including The Holiday Food Baskets, The State of Human Services Event and The Free Tax Program.
---
Visit RotaryBayCity.org