Rotary Program This Week to Highlight Michigan Sports Unlimited
Golf Outing Scheduled Monday, June 7 at Bay City Country Club: Sign Up Now!
May 23, 2004
By: Dave Rogers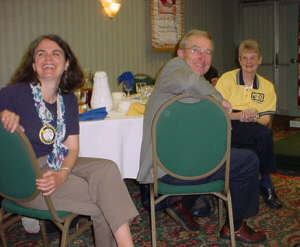 Anne Trahan, Chuck Cusick and Nancy Cusick helped put on the program last week on Nancy's PolioPlus trip to Niger, West Africa, in 2003.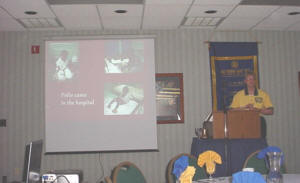 Nancy Cusick shows images of children with lower limbs debilitated from earlier cases of polio in Niger, West Africa.
      This week's program: Jerry Swallow of Michigan Sports Unlimited, (MSU) Inc., adaptive sports and recreation for individuals with disabilities.
      MSU, founded by Brian Sheridan, is a non profit affiliate of Field Neurosciences Institute, 4677 Towne Center, Suite 101, Saginaw, MI 48604. Part of the mission of the organization is to provide individuals with disabilities the opportunity to engage in sports and recreational activities. MSU sponsors events like wheelchair rugby and basketball tournaments, handcycling tours, free equipment trials and coordinates clubs and teams.
      Rotary Golf Outing, Monday, June 7, Bay City Country Club. Registration 11:30 a.m., shotgun start 12:30 p.m. Contact Brian Kay or Jeff Yantz.
      Last week's program: Nancy Cusick, PolioPlus trip to Niger, West Africa, to immunize children against polio.
      Nancy Cusick is a nurse with long experience but she has never seen anything like her team from Rotary International encountered while immunizing children in Niger against the ravages of polio.
      For nearly a week in December, 2003, Mrs. Cusick and her team of 12 delivered two drops of vaccine under the tongues of hundreds of children.
      They saw children with lower extremities debilitated from the effects of the disease in pre-PolioPlus days. PolioPlus is the Rotary International campaign to eradicate polio worldwide that has raised more than $500 million in the effort since 1985.
      A main challenge in Niger is the heat, from 112 to 121 degrees during the daytime, requiring transportation of an ice chest to keep the vaccine cold continuously.
      Niger is the second poorest country in the world. Life expectancy is age 46 and there is 28 percent infant mortality. There are only four doctors for each 100,000 people.
      "Despite the problems in their country, they are a very gracious and welcoming people," said Mrs. Cusick of the Nigerians.
      Another challenge is overcoming fears of foreigners and of the immunizations. "I was very grateful to have the opportunity to do this," said Mrs. Cusick.