If You Are Sick With Flu, Stay Home Says County Health Official Joel Strasz
Vaccine Now in Short Supply On Order and is Expected Soon, Rotarians Told
November 15, 2009
By: Dave Rogers
Last Weeks Meeting - November 10, 2009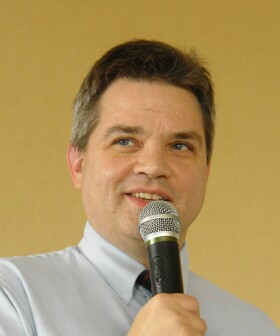 Joel Strasz, public health services manager of the Bay County Health Department, says we are in the middle of a global pandemic of H1N1 Flu.
If you are sick, do us a favor and stay home," says Mr. Strasz. If you are not sick, use proper hygienic practices, especially hand washing, cough suppression, touching your face or contact with sick people.
You may not be able to get a flu shot immediately since supplies have been limited.
But, he stresses, don't panic: help is coming. Vaccine has been ordered and will arrive soon, according to Mr. Strasz.
He urges people concerned about contracting the flu to check with their health care provider or the health department regarding vaccine availability.
Thousands of Bay County residents have received immunizations for flu at clinics at St. Stanislaus Church, the Bay County Community Center and in Pinconning. Many local folks did not want the nasal spray but Mr. Strasz said "it is completely safe."
A schedule of clinics is posted on the health department part of the Bay County website www.co.bay.mi.us.
One death and 21 confirmed cases of Swine Flu have been reported in Bay County; several schools that were closed here because of outbreaks have been reopened.
In all of Michigan, as of Nov. 7, 38,158 cases were reported, causing 343 hospitalizations and eight deaths. This report is updated every Tuesday by 5 p.m. and can be accessed at http://michigan.gov/h1n1flu.
And, this flu outbreak is nowhere near the severity of the one in 1918 that killed 5 million people worldwide, including James Clements, son of Bay City industrialist William Clements, who was an Army officer serving in France at the time.
Members of the Rotary Club of Bay City wondered when they saw a picture of James Clements Airport on the screen as Straz began his presentation last Tuesday.
The speaker, introduced by Gena Gates, executive director of the Red Cross of Bay County, soon explained the connection.
Although many people died locally of the flu in 1918, the Clements case was the most visible and the airport on River Road remains a reminder of that pandemic.
This pandemic is in the second phase, with the first phase being mild, the second more virulent and after the third wave most of the population will have developed immunity, he said.
Although the first phase started early -- in May -- Mr. Strasz said it is not possible to predict how long the pandemic will last.
In fact there are two flu strains health officials are dealing with, he said, the regular seasonal flu and the so-called Swine Flu, termed H1N1.
At present vaccinations and live mist nasal immunizations are limited to five groups:
Pregnant women (shots only);
Young people from age 6 months to 24 years (since they probably have not been exposed to flu previously and have no immunity);
Household heads and caregivers;
Medical emergency services and healthcare workers who are in contact with high risk groups.
People age 65 and older are less likely to be susceptible to the flu (1 in about 100,000) since they probably have been exposed previously and have developed immunity, he said.
Symptoms of influenza include fever, cough, sore throat, body aches, headache, runny nose, tiredness and occasionally diarrhea and vomiting.
---
CLUB NEWS and ANNOUNCEMENTS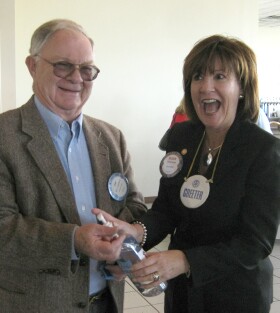 Greeter Eileen Curtis kept things clean
with a large bottle of hand sanitizer.
New Sargent At Arms Nancy Greve reprised her role as TVs Judge Judy this week. This time she brought her own, very large, "gavel" with the words "Attitude Adjuster" on the handle.


The board voted to donate $1,000 to Mohibullah Israr's school in Afghanistan. Although a small amount in our country, a thousand dollars will pay three teachers for a year in Afghanistan.


Meeting Times: Lunch is now on the table at noon allowing members to start the meal earlier. The meeting starts by 12:30 and the speaker starting by 12:50. The meeting typically adjourns around 1:15!


Make-up On-Line at www.RotaryEclubOne.org

---
DATES TO REMEMBER
November 24 - Rotary Homecoming: An opportunity to showcase our club to prospective members, welcome back past members and celebrate our alma maters! Rotarians & guests are encouraged to wear their school colors and show their team spirit. Rotary Homecoming is an important piece of our club's membership recruitment strategy. So start thinking about prospective members who you can invite to join us on this festive day.
---
Upcoming Programs
(See the official schedule at RotaryBayCity.org )
November 17: Rotary Grant Recipient Update: The Free Food Assistance Program and The Outdoor Reading Centers.

Jennifer Carroll, Executive Director of the United Way of Bay County, will also share an overview on some UW programs including The Holiday Food Baskets, The State of Human Services Event and The Free Tax Program.


November 24: Rotary Homecoming: An opportunity to showcase our club to prospective members, welcome back past members and celebrate our alma maters! Rotarians & guests are encouraged to wear their school colors and show their team spirit.
---
Visit RotaryBayCity.org