International Night, History of Bay City Rotary Club To Be Spotlighted
Golf Outing Set June 7, Johanna Wetmore, Teacher in China, Speaks June 15
May 30, 2004
By: Dave Rogers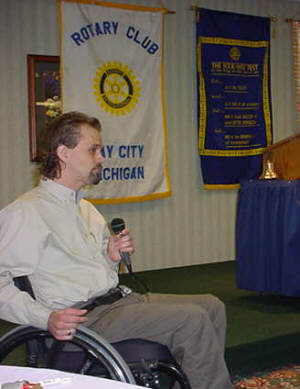 Jeff Coupie tells Rotarians How Michigan Sports Unlimited Helps Rehabilitation of Disabled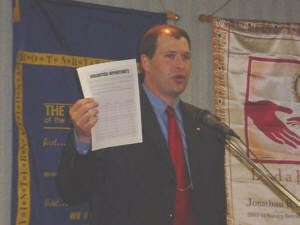 Rob Clark recruits volunteers for the community projects committee.
      This week's program: Previews of International Night and History of Bay City Rotary Club publication. Rob Clark, International Night co-chair and Harry Farris, historian, will present the updates.
      Last week: Michigan Sports Unlimited.
      Rotary Golf Outing, Monday, June 7, Bay City Country Club, 11:30 a.m. registration, 12:30 p.m. shotgun start.
      June 8, Johanna Wetmore, of Freeland, teacher in Guangzhou, China to report from the front lines of global change. Ms. Wetmore was graduated in 2003 with distinction in English and Political Science from of the University of Michigan. She won a Roy W. Cowden Fellowship and a Hopwood Award for writing and was a staff writer on the Mackinac Island Town Crier during the summer of 2001. She has been teaching in Guangzhou since fall, 2003, and will teach next year in Taiwan. In the future she plans to attend law school.
      Michigan Sports Unlimited (MSU) has established Michigan's only training site for the Paralympic Games, according to Jerry Swallow and Jeff Coupie, who spoke last week (May 25) at the Bay City Rotary Club.
      Can a blind person, one without a leg or someone in a wheelchair be a track athlete?
      Questions like that are often asked of Jeff Coupie and Jerry Swallow of Michigan Sports Unlimited.
      Their answer? Yes! emphatically.
      The Paralympic Academy run by MSU at Salzburg Avenue and Raymond Street inBay City can help these athletes achieve their goals, the speakers stated.
      The Academy is a 4,300 square foot recreational facility operated in cooperation with the U.S. Paralympic Committee, according to Swallow.
      The academy shares the building with Area Electric, which occupies half the space, according to Swallow.
      The Field Neurosciences Institute, established by Dr. Malcolm Field, also cooperates with MSU by providing free office space in Saginaw.
      Swallow, a former Pinconning School District administrator and Bay County Recreation Department employee, is now development director for MSU and is seeking volunteers for the program. The group's first golf outing is slated June 26 at noon at TwinOaks Golf Club, Freeland. Contact him at 893-5150 or e-mail at jerrybear48650@yahoo.com. The MSU website is www.misportsunlimited.com.###