United Way Partners With Organizations To Provide Services
Rotary Provides Matching Grant For Food Program
November 22, 2009
By: Stephen Kent
Last Weeks Meeting - November 17, 2009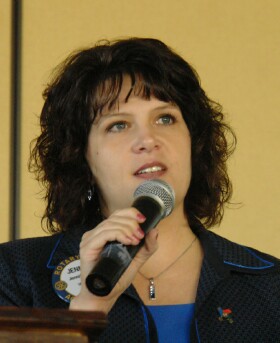 Jennifer Carroll, Executive Director of the United Way of Bay County, spoke to Rotary about the services her organization provides to the community and the importance of partnerships with groups like Rotary.
The United Way began in Denver in 1887. The Bay County UW traces it's roots to 1907 and the women's department of the local board of trade, which in 1914 evolved into the Civic League. That group became the War Chest and the Community Chest and eventually became the present day United Way.
There are over 12,000 people living in poverty in Bay County. Everyone experiences temporary periods of poverty in their life, such as living on mac and cheese and Ramon noodles in college. But for many people poverty is a lifestyle. It's a generational problem that they can't escape.
Poverty as defined by the United Way and the Federal Government is an annual income of $22,000 for a family of four. In the Bay County 19% of such families have children under the age of 5. Poverty has increased 15% over the last 10 years.
Lack of education is a major contributor to poverty. 50% of the local community has a high school diploma or less which is directly tied to the ability to get a job.
Our area is rich in organizations with a mission to help. There are over 400 non-profits and 120 health and human service organizations providing over 2,200 programs.
United Way sponsored a Fall Day of Caring this year organizing volunteer efforts to help the community with painting, landscaping, building ramps and other projects. Over 200 families were helped.
When the United Way needed help providing outdoor reading centers for children they came to Rotary among other organizations. The club gave $1,800 from it's community grants program toward this effort.
The UW focuses on three main priority areas: Youth, Health and Wellness, and Basic Needs and independence. They do not work alone. There are 18 partner agencies that work with United Way to meet it's goals.
A group of volunteers recognized a need for "wrap around" services. The American Dream program was started with the help of Lutheran Child and Family Service to target parents with educational help including budgeting, how to get a GED, parenting, food and nutrition and how to connect with the many free programs that are available.
Through the United Way's efforts the local community received over $150,000 in Federal funding for emergency food and shelter. Statewide the return was over $1.3 million.
Besides the direct help for those in need, the United Way sponsors the Volunteer Income Tax Assistance (VITA) program. Anyone can get free help with their taxes through VITA.
The success of the United Way requires more than dollars. There are many volunteer opportunities for anyone from high school to retirees. For more information visit
www.unitedwaybaycounty.org
---
CLUB NEWS and ANNOUNCEMENTS
Member Rob Clark has thrown his hat in the ring as a candidate for Rotary District 6310 Governor for the year 2012-2013. Rob presented his decision to the Club's board for approval and received a rousing endorsement. He will ask for the entire Club's endorsement in an upcoming meeting.


Meeting Times: Lunch is now on the table at noon allowing members to start the meal earlier. The meeting starts by 12:30 and the speaker starting by 12:50. The meeting typically adjourns around 1:15!


Make-up On-Line at www.RotaryEclubOne.org

---
DATES TO REMEMBER
November 24 - Rotary Homecoming: An opportunity to showcase our club to prospective members, welcome back past members and celebrate our alma maters! Rotarians & guests are encouraged to wear their school colors and show their team spirit. Rotary Homecoming is an important piece of our club's membership recruitment strategy. So start thinking about prospective members who you can invite to join us on this festive day.

Tuesday Nov 24 - 11:15 The Lee Newton Concert committee will meet to begin planning for this year's event.


---
Upcoming Programs
(See the official schedule at RotaryBayCity.org )
November 24: Rotary Homecoming: An opportunity to showcase our club to prospective members, welcome back past members and celebrate our alma maters! Rotarians & guests are encouraged to wear their school colors and show their team spirit.


December 1: CMU's new Medical School development project: Dr. Cam Enarson, interim dean of CMU's new medical school and Kathleen M. Wilbur, interim university President will discuss the development of the new medical school venture.


December 8: Learn about Toastmasters International, an organization dedicated to helping you improve your communication and leadership skills. Angie Price from Weinlander Fitzhugh will describe what Toastmasters it, and how you can you benefit personally & professionally.


December 22: Annual Holiday program with members of the club helping to celebrate the season in song, verse and prose.
---
Visit RotaryBayCity.org