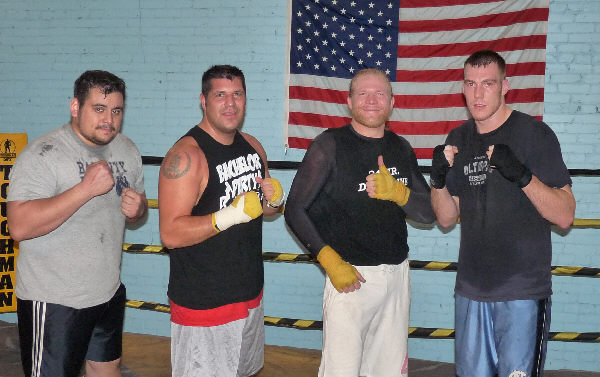 (Above L/R) Andy Ramirez, Branden Arsenault, Matt Maciag, Jordan Shimmell
(MyBayCity Photos & Video by Julie McCallum, MyBayCity.com Entertainment)
---
USA Boxing's National 2009 Champion Spars With Local Boxers
The Biggest Boxing Night of the Year in Bay City?
November 27, 2009
By: Julie McCallum, Entertainment Editor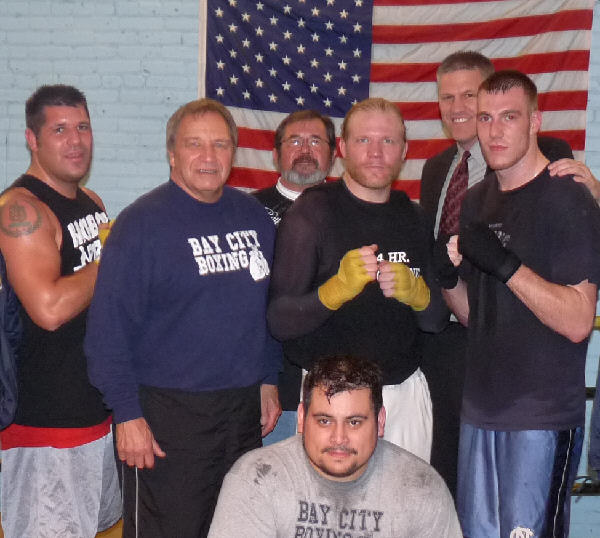 (Above L/R) Branden Arsenault, Coach Robert Arsenault, Coach Jim Maciag, Matt Maciag, Coach Dennis Shimmell, Jordan Shimmell, Front Center - Andy Ramirez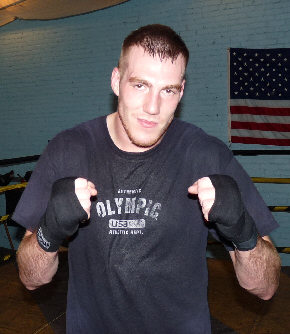 (Right)
Jordan Shimmell, the 201+ USA Boxing Golden Gloves 2009 National Champion was in town on November 25, 2009 for a sparring session at the American Boxing & Athletic Association (ABAA) in Bay City.
Shimmell, a college student from Grand Rapids,(Hudsonville native) is currently ranked #1 in the US and is on the USA Boxing traveling Team, and holds the National League Title.
Shimmell is preparing for an upcoming bout in Russia and sparred at the ABAA Bay City Boxing gym with former Professional boxer Branden Arsenault, (5-0) and 2 Time Eastern Michigan Golden Gloves Champ, Matt Maciag, (19-4) both of Bay City.
Shimmel sparred with Arsenault and Maciag for 3 or 4 rounds each and also a round with ABAA boxer Andy Ramirez.
Jordan Shimmell is the #1 ranked heavyweight in the United States. Shimmell who just turned 21 is now embarking on a nearly three year path toward the 2012 London Olympic Games.
ABAA Head Coach Robert Arsenault, said, "Dennis Shimmel, (Father and Coach of Jordan), gave us a call looking for a sparring partner for Jordan, and what better sparring partners then our top caliber fighters, Branden and Matt.
Team USA will be traveling to Russia on December 12th and will have a short acclimation training camp in Russia from December 12 - 16, 2009. The tournament will be held in Khanty-Mansiysk, Russia from December 17 - 20, 2009 with Team USA leaving Russia on December 21st.
The countries that will be at the World Cup of Petroleum Countries are: Armenia, Azerbaijan, Belarus, France, Kazakhstan, Latvia, Moldova, Russia, Sweden, Ukraine, and USA. In Jordan's weight class, there will be the Gold Medalist and both Bronze Medalists from the 2009 World Championships plus at least four other boxers ranked in the top 50 in the world.
According to Dennis Shimmel, Jordan's, father as well as coach, "This is a big step in Jordan's development into an Olympic boxer as this tournament is one of the major international tournaments."
The prestigious World Cup of Petroleum Countries boxing tournament is a top level AIBA international competition with some of the best boxers from around the world competing.
Shimmell looks forward to gaining some more international experience and boxing skills by training and competing in Russia, the world's boxing powerhouse. He hopes to notch some wins and bring home a medal from the tournament in Russia.
Shimmell recently lost two close bouts to Stephen Simmons of Great Britain (3-5 and 9-12). Simmons is talented and showed it by defeating the world's current #1 ranked boxer, Cuba's Osmai Acosta Duarte, at the Strandja Tournament last year by a score of 21-16. Shimmell also lost a decision this year to John M'Bumba of France who is currently ranked #5 in the world and lost a decision to Italy's Clemente Russo, currently ranked #2 in the world. Jordan knows that the experience of boxing some of the world's best heavyweights is making him better and he is continuing to work hard toward his goal of winning a gold medal in the 2012 London Olympics.
Shimmell has been continuing to train hard after winning the coveted #1 spot in the United States. He knows he needs to continue to learn and develop if he wants to achieve his next goal of becoming #1 in the world.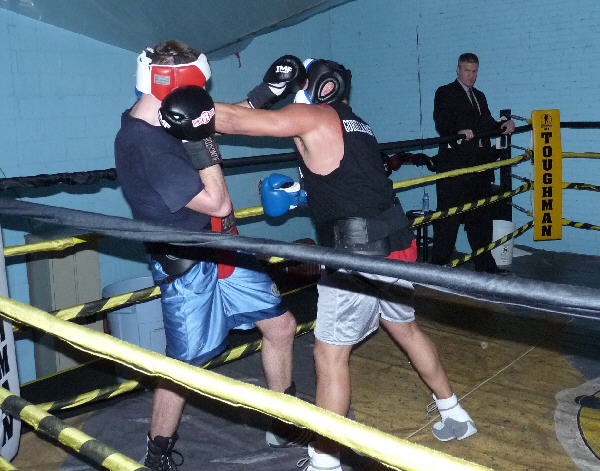 Former Pro Boxer, Branden Arsenault, said, (About Jordan) The guy has great defense and good movement. He's good and we were lucky to have this opportunity to spar with him.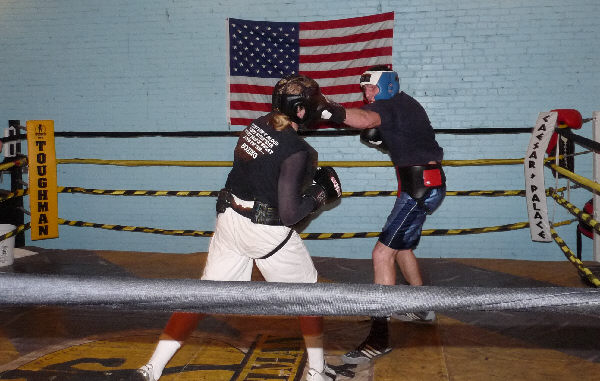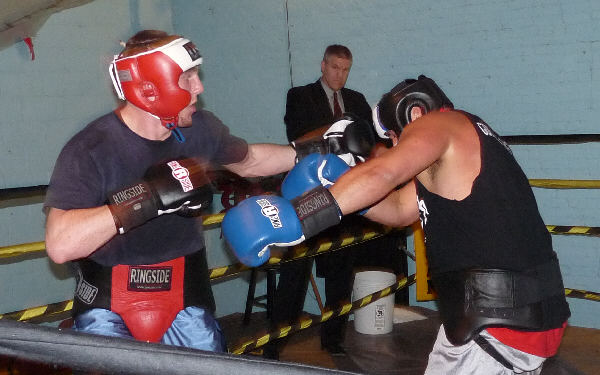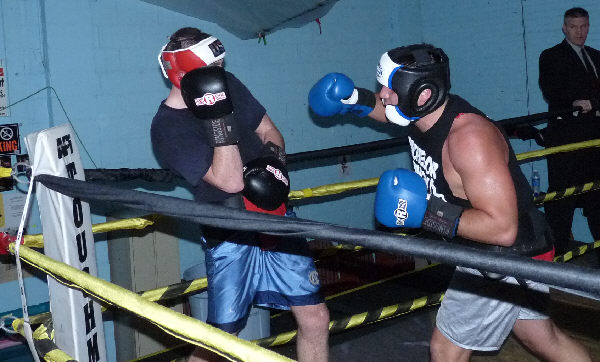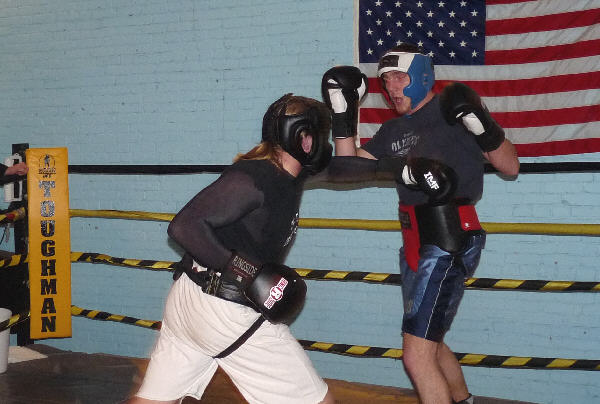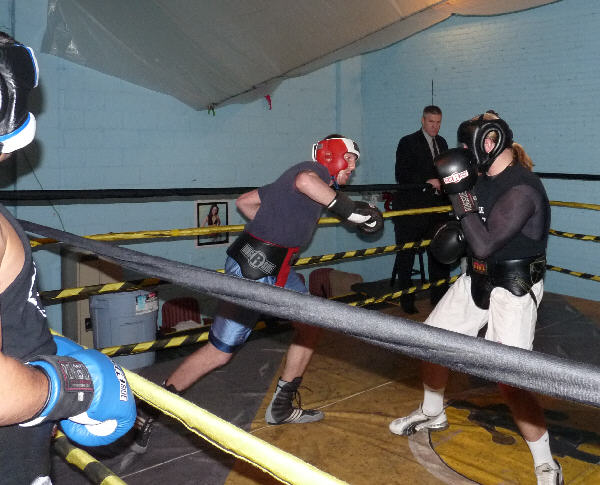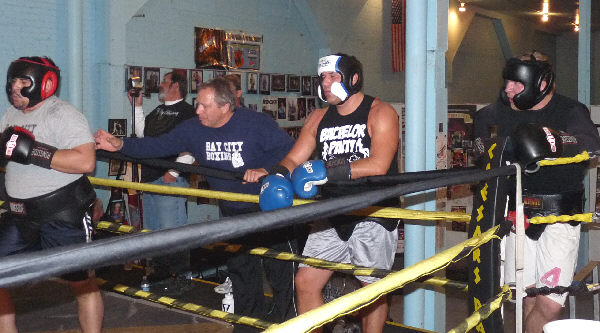 (Above) Andy Ramirez, Coach Bob Arsenault, Branden Arsenault, Matt Maciag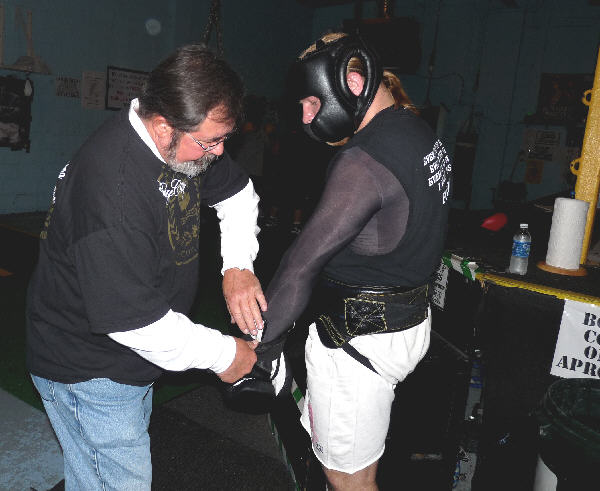 (Above) Another Father & Son Team; Coach Jim Maciag, Bay City Heavyweight Matt Maciag.
The Shimmell Father-Son team thank their fans for support and hope that fans will continue to follow Jordan's career as he travels around the world for this international boxing tournament.