Rotarians to Hear Bay Medical Care Facility Administrator, Supporters
Oct. 14 International Night Program at Doubletree to Have Centennial Theme
June 6, 2004
By: Dave Rogers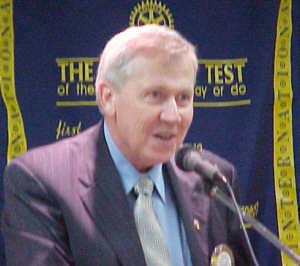 District Gov. Jerome Yantz at the microphone last week at Bay City Rotary.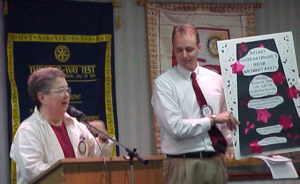 Barb Fisher and Alan Storm used a visual to describe plans for the 2004 International Night event on Oct. 14.
      Last weeks' program: Bay City Rotary activity update; District Gov. Jerome Yantz, Alan Storm and Barbara Fisher, International Night committee; Harry Farris, Rotary centennial history book.
      Golf Outing: Monday, June 7, Bay City Country Club, 11:30 a.m. signup, 12:30 p.m. shotgun start.
      This week's program: Bay Medical Care Facility, Brenda Burzynski, administrator; Bill Mahoney, retired administrator; J. Donald David, millage renewal campaign chair.
      Next week's program: Johanna Wetmore, of Freeland, teacher in China, on education from a global perspective.
            District 6310 Gov. Jerome Yantz last week (Tuesday, June 1 meeting) reported to the Bay City Rotary Club on his trip to the Rotary International 95th annual convention in Osaka, Japan.
      There were 46,612 registrants at the RI Convention. The attendees represented 3,167 of the 31,561 Rotary clubs in the world.
      Mr. Yantz and his wife Diane also visited Tokoshima, Kyoto and Hiroshima. In Tokoshima the Yantzes visited the "sister" university to Saginaw Valley State University, which Mr. Yantz serves as a member of the board of trustees. They were impressed by the friendliness of the people and the extent to which they take education seriously. Tokoshima will be the local Rotary district's partner in a Group Study Exchange program next year, he said.
      The cultural aspects of Kyoto also were remarkable, said Mr. Yantz, and of course Hiroshima, bombed by the United States at the end of World War II, provided a moving experience.
      "When you see the shadow of a child that was vaporized by the bomb you want to increase your efforts to make sure that kind of thing doesn't happen again," said Mr. Yantz.
      International Night, the Bay City Rotary Club's main fund-raising event of the year, will be held Thursday, Oct. 14 in the DoubleTree Bay City Riverfront Hotel. It will have a centennial theme, in honor of the 100th anniversary of the founding of Rotary.
      This year the event will feature a regular dinner instead of a buffet with four serving stations as in the past few years, said Alan Storm and Barbara Fisher, committee members helping to plan the event.
      Live auction items will include a flat screen television, bicycle and cash. A silent auction and the traditional "buckets of fun" will also be offered, the committee members indicated.
      A history publication will be the club's centennial project, said Dr. Farris. A major feature will be on the famed Bay City Rotary Club Bowling Team and its legendary exploits, written by Bob Luce and Jerry Lewless.
      Other articles will include the election of Francis "Speed" Charipar as president of the club in 1953 and the contribution of $10 per member to the founding of the RI Foundation in 1954.###