CMU School of Medicine to Involve Students Beginning in Middle School
New Medical School to Open in 2012 on Mt. Pleasant Campus
December 6, 2009
By: Dave Rogers
Last Weeks Meeting - December 1, 2009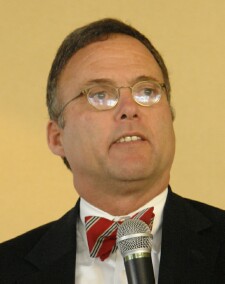 Dr. Cam Enarson
Dr. Cam Enarson, interim dean of the Central Michigan University School of Medicine, has a vision.
That vision is to involve students as early as middle school in preparation for admittance to the CMU School of Medicine.
And, the ultimate goal is for those students to graduate and spread out into mid-Michigan, northern Michigan and the Upper Peninsula to meet a physician shortage.
Projections are that Michigan will have a shortage of 6,000 physicians by 2020, Dr. Enarson said. While metropolitan areas have 243 physicians per 100,000 populations, in rural areas the ratio is just 95 physicians to 100,000 people. Plus, 34 percent of the nation's medical doctors are planning to retire in the next 10 years, he said.
Dr. Enarson, introduced by programmer Ron Bloomfield, told Bay City Rotarians last week that the Herbert H. and Grace A. Dow College of Health Professions on the Mt. Pleasant campus will be the focal point of the new instructional program in medicine.
Early talk of the medical school being located in Saginaw ended when the CMU Board of Trustees recently approved funding for an addition to the institution's Health Professions building to house the CMU School of Medicine. The 60,000-square-foot addition is scheduled for completion in early 2012.
Dr. Enarson said affiliations are in the works with Bay Regional Medical Center, Covenant Health Care, St. Mary's of Michigan and Synergy Medical in Saginaw, Mid Michigan Health in Midland, and Central Michigan Community Hospital in Mount Pleasant. It is anticipated that these institutions along with other regional affiliates will serve as clinical training sites for CMU medical students.
The board allocated an additional $22 million for the construction project. A total of $2 million had been previously set aside for engineering and architectural design, bringing the final cost to $24 million. Funding for the project will come from gifts, grants and university reserves.
The addition will be built to accreditation standards set by the Liaison Committee on Medical Education and will be designed for silver-level LEED certification from the U.S. Green Building Council. The medical school's inaugural class is anticipated in 2012.
---
CLUB NEWS and ANNOUNCEMENTS
A big Rotary THANKS to Dee Dee Wacksman and Cherri Burzynski for their recent contributions to the Rotary Foundation. Cherri received her Paul Harris Fellow designation and Dee Dee received her PH Plus 1 on Tuesday.


The Food Bank donation jar will be on the table through the holiday season. Please consider donations for this worthy cause. If you'd like to bring in packaged and canned food that will be accepted as well.


Vocational Days are coming up. Griff, Ralph and Dee Dee ask that, if you plan to host students, please fill out a form as soon as possible and turn it in to one of them. Bay Med will host students on March 2, and Delta College will do March 16. Since Delta takes such a large group, the committee prefers that Rotarians who host students take the March 2 date.


Meeting Times: Lunch is now on the table at noon allowing members to start the meal earlier. The meeting starts by 12:30 and the speaker starting by 12:50. The meeting typically adjourns around 1:15!


Make-up On-Line at www.RotaryEclubOne.org

---
DATES TO REMEMBER
The Lee Newton Concert committee has scheduled to meet the third Tuesday each month at 11:15.


---
Upcoming Programs
(See the official schedule at RotaryBayCity.org )
December 8: Learn about Toastmasters International, an organization dedicated to helping you improve your communication and leadership skills. Angie Price from Weinlander Fitzhugh will describe what Toastmasters it, and how you can you benefit personally & professionally.


December 15: Vocational Talks Two of your Rotary Colleagues will talk about their chosen vocations.


December 22: Annual Holiday program with members of the club helping to celebrate the season in song, verse and prose.


December 29:
10 Minute Rotarians
---
Visit RotaryBayCity.org