Preserving History, Land and the Environment
Historical Museum and Land Conservancy Directors Speak to Rotary
December 19, 2009
By: Stephen Kent
Last Weeks Meeting - December 15, 2009
Tuesday saw the return of the "Classification Talk" where members present short talks about their profession. Similar to the popular 10-minute Rotarian, this program lets members learn about other professions and the current state of their art.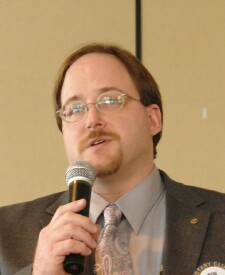 Ron Bloomfield
Ron Bloomfield
is director and curator of the
Bay County Historical Society's Museum
, located in the old National Guard Armory next to City Hall.
As director of a non-profit Ron has many jobs: administration, personnel management, facility manager, cheerleader, wordsmith and innovator (which usually translates to find ways to do more with less). Where larger museums have staff to fill many of these roles, the smaller museums like Bay County's rely on a limited staff and many volunteers to fill all the roles.
With a small staff everyone wears multiple hats. In an area like Bay County where history is such a prominent part of who we are, the staff performs what Ron calls historical triage.
As curator of collections and research, along with being director, Ron has many jobs and job requirements. He must be an historian, a legal scholar, an active listener, inventory control specialists, chemist, myth buster, researcher and intuitive.
The Bay County Museum has over 210,000 items in its collection and for which it is responsible for preserving and exhibiting. Many of those items are donated. When an item comes in it must be evaluated for relevancy, uniqueness, condition and preservability, among other factors such as size. The museum accepts about 30% of the items it is offered.
The entire collection is cataloged in a formal manner. Currently the museum is using a software package called Past Perfect. But older records are still found on note cards, written records and older computer systems. Keeping up is a never ending process.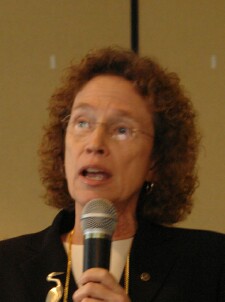 Valerie Roof
Valerie Roof
is the Executive Director of the
Saginaw Basin Land Conservancy
. In that role Valerie wears many hats as does the director of any smaller non-profit organization.
The mission of the SBLC is the conservation of land and water resources to promote sustainable communities and a higher quality of life in the Saginaw Bay Watershed in the Saginaw Valley Watershed.
SBLC preserves land through ownership or through legal agreements with land owners. The Conservancy owns seven preserves now and has agreements with some 62 land owners and has preserved around 5,000 acres.
The responsibility of the 12 year old SLBC and it thirteen member board is to make sure that they land have protected stays in its preserved state forever. As Valerie describes it "for us forever is a very long time".
The SBLC provides opportunities for people to get involved and learn about the value of natural areas. The focus of the organization is to provide wildlife habitat, to provide additional non-motorized recreation opportunities to the public, and to improve water quality.
As Executive Director Valerie is the chief executive officer. She manages human resources and financial resources, implements organizational plans and policies, markets the organization and develops volunteer resources. She is also the problem solver, decision maker and leader.
Most job descriptions include a phrase like "and all other duties assigned." Valerie says it should read "all other duties not assigned" because if it's not someone else's job it falls to her, from ordering supplies to fixing paper jams in the printer, to being the web master.
For more information visit
sblc-mi.org
---
CLUB NEWS and ANNOUNCEMENTS
Congratulations and thanks to Gary Reidlinger who was presented with his Paul Harris Plus One designation for contributions to the Rotary Foundation.


The Rotary Concert (formerly the Lee and Molly Newton Rotary Concert) is tentatively schedules for April. If you'd like to participate as a volunteer or a performer the committee wants to hear from you. The committee will also be selling program ads.


The club is looking for a member to take over the GSE Team chair.


Vocational Days are coming up. Griff, Ralph and Dee Dee ask that, if you plan to host students, please fill out a form as soon as possible and turn it in to one of them. Bay Med will host students on March 2, and Delta College will do March 16. Since Delta takes such a large group, the committee prefers that Rotarians who host students take the March 2 date.


Meeting Times: Lunch is now on the table at noon allowing members to start the meal earlier. The meeting starts by 12:30 and the speaker starting by 12:50. The meeting typically adjourns around 1:15!


Make-up On-Line at www.RotaryEclubOne.org

---
DATES TO REMEMBER
The next New Member Orientation will be held January 13.

The Lee Newton Concert committee has scheduled to meet the third Tuesday each month at 11:15.


---
Upcoming Programs
(See the official schedule at RotaryBayCity.org )
December 22: Annual Holiday program with members of the club helping to celebrate the season in song, verse and prose.


December 29:
10 Minute Rotarians
January 12: Duck Decoy Carving Gary Ebel and Randy Clark will discuss the significance of Duck Decoys of the Saginaw Bay area and show some carving techniques.


January 19: Redevelopment Projects in Bay City: Steve Black will talk about the currently ongoing projects and recently completed projects within the City.
---
Visit RotaryBayCity.org