Rotary Celebrates Season With Music
Annual Christmas Program Features Musical Members
December 26, 2009
By: Stephen Kent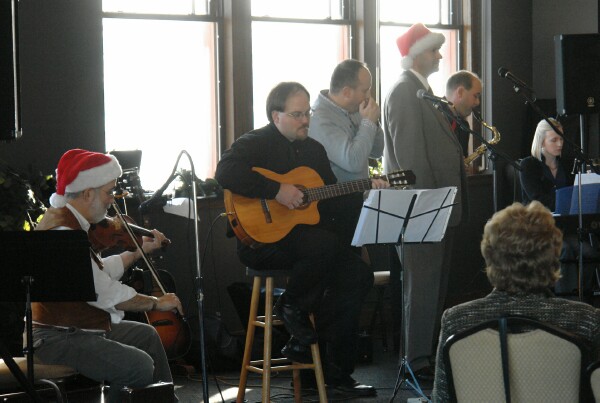 Andy Rogers on fiddle and squeeze box, Ron Bloomfield on acoustic and electric guitar,
Jeff Yantz on guitar and harp, vocalist Rob Clark,
Lee Newton on sax, Molly Newton and Leo Najar on keyboard.
Last Weeks Meeting - December 22, 2009
Following a long standing tradition, Rotary celebrated the season with a musical offering by some of our many musical members. The group played some traditional tunes for the season, a little rock, some jazz and other favorites. It's great tradition and a fitting way to finish out the year.
---
CLUB NEWS and ANNOUNCEMENTS
Congratulations and thanks to Valerie Roof who was presented with her Paul Harris Plus One and to Linda Heemstra attained her Paul Harris plus Four.


Dee Dee Wacksman will be going to the Rose Bowl and will work on the Rotary Float that will appear in the big parade. Be sure to watch for it if you see the televised coverage.


The Rotary Concert (formerly the Lee and Molly Newton Rotary Concert) is tentatively schedules for April. If you'd like to participate as a volunteer or a performer the committee wants to hear from you. The committee will also be selling program ads.


Vocational Days are coming up. Griff, Ralph and Dee Dee ask that, if you plan to host students, please fill out a form as soon as possible and turn it in to one of them. Bay Med will host students on March 2, and Delta College will do March 16. Since Delta takes such a large group, the committee prefers that Rotarians who host students take the March 2 date.


Meeting Times: Lunch is now on the table at noon allowing members to start the meal earlier. The meeting starts by 12:30 and the speaker starting by 12:50. The meeting typically adjourns around 1:15!


Make-up On-Line at www.RotaryEclubOne.org


If you would like a new picture for the club's directory, or if you need a new new name badge to reflect a classification change please contact Steve Kent.

---
DATES TO REMEMBER
The next New Member Orientation will be held January 13.

The Rotary Concert committee (formerly the Lee and Molly Newton Rotary Concert) has scheduled to meet the third Tuesday each month at 11:15.


---
Upcoming Programs
(See the official schedule at RotaryBayCity.org )
December 29:
10 Minute Rotarians
January 12: Duck Decoy Carving Gary Ebel and Randy Clark will discuss the significance of Duck Decoys of the Saginaw Bay area and show some carving techniques.


January 19: Redevelopment Projects in Bay City: Steve Black will talk about the currently ongoing projects and recently completed projects within the City.
---
Visit RotaryBayCity.org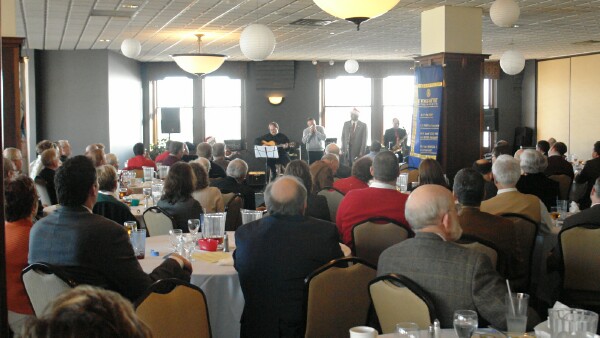 0202 nd 03-20-2019