Mayes Aims for Senate, Declaring: "I Hope to Have the Opportunity to Serve"
Big Shoes to Fill: Barcia and Gougeon, Says Term-Limited State Rep
January 10, 2010
By: Dave Rogers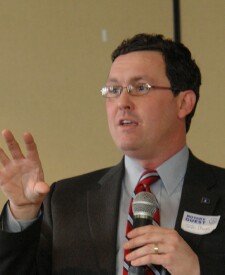 Jeff Mayes
Last Weeks Meeting - January 5, 2010
Jeff Mayes, 38, term-limited state representative from the 96th District, says if he's elected to the State Senate from the 31st District, he'll have big shoes to fill -- those of Jim Barcia and Joel Gougeon.
Rep. Mayes spoke to the Rotary Club of Bay City last Tuesday, being introduced by Matt Stark, and delivering a rapid-fire report of his accomplishments, ideas and goals.
Regarding the state's lagging economy, Mayes said "We're going to get through this; we have to get through it." Locally, "regionalization is our future," predicted Mayes.
Rep. Mayes graduated from T. L. Handy High School in 1990. He was awarded an Evans Scholarship and earned a Bachelor of Arts degree in Political Science from the University of Michigan in 1994.
Rep. Mayes has been active in area politics and has managed several local campaigns, including the election and re-election of former State Representative A. T. Frank of Saginaw. He also worked as a Legislative Assistant to Bay City State Representatives Howard Wetters (1995-1998) and Joseph Rivet (1999-2000).
From 2000 to 2004, he served as Supervisor of the Charter Township of Bangor, Bay County's largest township, and served as president of the Bay County Township Officers Association.
He was elected state representative in 2004 and was re-elected in 2006 and 2008 and now is term-limited. He has announced that in the upcoming 2010 election he will seek the 31st State Senate seat now held by Sen. Barcia.
He has served as chairman of the House Energy Committee. "We have had some success in reforming Michigan's energy policy by bringing together business, manufacturing, labor and environmental groups," he said. "Despite conflicts they all agree on common goals."
Rep. Mayes was active in several bipartisan efforts, including regional collaboration to provide tax breaks to entice the Dow Corning Hemlock Semiconductor plant to expand its solar energy production facilities in Hemlock.
He also served on the banking and financial services and tax policy committees.
"I don't look at the legislature as a place to hit home runs, but rather it's about base hits," said Mayes. Budgetary concerns will continue to plague the state, he said, noting that Michigan is 16 times more reliant on the shrinking automotive industry than any other state.
In order to stabilize state revenues, Mayes said government consolidation and efficiencies will be required and may be effected through incentives, the "carrot and stick" approach. He cautioned against "quick fixes," noting that the state got rid of the Single Business Tax and got the Michigan Business Tax and that the state "gives back" 60 percent in abatements, incentives and deductions.
Rep. Mayes is an Eagle Scout and an active member of the Boy Scouts of America Shoreline District Committee. He also is involved in a number of community organizations, including: Bay Area Women's Center Board, Bay Area Community Foundation, Bay County Medical Control Authority Board, Bangor Township Downtown Development Authority, and, the Saginaw Valley State University Math Resource Center Advisory Committee.
---
CLUB NEWS and ANNOUNCEMENTS
Rotary 101, a course to be presented by Chuck Cusick will be offered January 19, 6:30 to 8:30 at the Lincoln Center. This is your opportunity to join Rotarians from around the district and learn more about the mission and message of Rotary.


Vocational Days are coming up. Griff, Ralph and Dee Dee ask that, if you plan to host students, please fill out a form as soon as possible and turn it in to one of them. Bay Med will host students on March 2, and Delta College will do March 16. Since Delta takes such a large group, the committee prefers that Rotarians who host students take the March 2 date.
Click to Download Host Information Form.


Meeting Times: Lunch is now on the table at noon allowing members to start the meal earlier. The meeting starts by 12:30 and the speaker starting by 12:50. The meeting typically adjourns around 1:15!


Make-up On-Line at www.RotaryEclubOne.org

---
DATES TO REMEMBER
The next New Member Orientation will be held January 13.

The Rotary Concert committee (formerly the Lee and Molly Newton Rotary Concert) has scheduled to meet the third Tuesday each month at 11:15.


---
Upcoming Programs
(See the official schedule at RotaryBayCity.org )
January 12: Gary Ebel and Randy Clark will discuss the significance of Duck Decoys of the Saginaw Bay area and show some carving techniques.


January 19: Redevelopment Projects in Bay City: Steve Black will talk about the currently ongoing projects and recently completed projects within the City.
---
Visit RotaryBayCity.org