New Global Power China in Spotlight Tuesday at Bay City Rotary Club
Last Week: Bay Medical Care Facility Administrator Explains Millage Renewal
June 13, 2004
By: Dave Rogers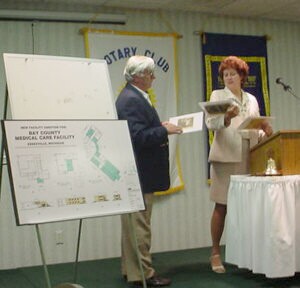 J. Donald David and Brenda Burzynski explain Bay Medical Care Facility expansion program to the Bay City Rotary Club last Tuesday.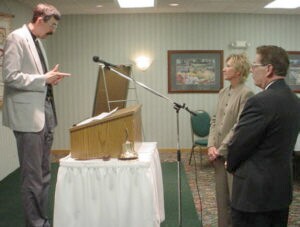 Rev. Andreas Teich inducts Nancy Buchholz of Thumb National Bank and Mike Seward, president of the Bay Area Chamber of Commerce, as new members of the Bay City Rotary Club.
      This week's program: Johanna Wetmore, teacher in China.
      Last week's program: Bay Medical Care Facility. Speakers, J. Donald David, Brenda Burzynski.
      Next week, Tuesday, June 22: Louise Stevens, Arts Market, Bay Area Cultural Plan.
      Bay Medical Care Facility, which celebrated its 40th anniversary May 24, seeks a four-year renewal of its .50 mill property tax in the Aug. 3 election, J. Donald David, campaign chairman, told Bay City Rotary last week.
      Mr. David introduced Brenda Burzynski, administrator of the foster care and assisted living facility which houses 206 residents of all ages up to the oldest at 105.
      She explained that the facility has 98 percent occupancy witha continual waiting list.
      "We could fill 30-40 more beds tomorrow," said Ms. Burzynski.
      Because of this demand, the facility is currently undergoing a 32-bed expansion estimated to cost $5 million.
      There are 36 similar care facilities in Michigan, said Mrs. Burzynski.
      Dr. George Loan is medical director of the facility, assisted by Drs. Robert Hafford and Douglas Tubman. Patients also can be served by their own physicians, said the administrator.
      Several Rotarians, including Wes Timm and Al Hicks, gave personal testimonials as to the value of the facility to people in the community.
      Brian Kay reported the Rotary Golf Outing on June 7 was a tremendous success, with81 golfers nearly doubling last year's total of 44.
      Mr. Kay expects that the outing will net about $4,200 for Rotary Club projects.###