Duck Decoy Carvers Present Program
Originally a folk art, decoy carving can now command high prices as art
January 12, 2010
By: Stephen Kent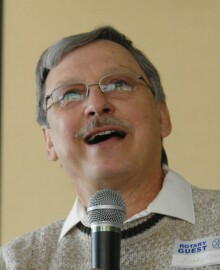 Randy Clark
Last Weeks Meeting - January 12, 2010
When asked what makes a duck decoy worth more than a million dollars, a price one recently commanded at auction, carver Randy Clark said "That's something I'd REALLY like to know". Clark is an award winning carver and teacher who says he's taught over 2,000 students in his 40 years as a carver.
Duck decoy carving started as a practical craft done by hunters who knew that ducks and geese can be attracted to water where other foul are already sitting. The decoy's don't need to be completely accurate, they just need to resemble their flesh and blood kin.
Being on one of the major flyways, the Saginaw Bay has a reputation for hand carved decoys. Collectors search for the antiques, and for those made by well known carvers. Hobbyist carve for the love of the birds and the art.
Working decoys are not necessarily high art where decorative decoys can be. Carving is generally considered a folk art meaning that it doesn't require training and the work usually has a working purpose. The carving is important but one of what collectors often look for is the painting, wood burning, and finish.
Gary Ebel
Gary Ebel, another decoy carver as well as collector, showed a selection of decoys and talked about the significance of each. Ebel likes to collect antique working decoys made by Michigan carvers.
When settlers first moved to this area there were no supermarkets and people lived off the land and from what they could produce. The Saginaw Bay had one of the largest concentration of waterfowl in the world. Hunting ducks and geese was a part of daily life and decoys are a part of duck hunting.
Prior to 1935 it was legal to use live ducks as decoys. When that practice was banned the artificial decoys became necessary and popular.
In the hands of a skilled carver, a working decoy can be carved in eight hours. Clark says that these decoys can sell for anywhere from five dollars to five thousand dollars.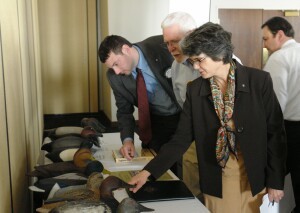 Drew Kornecky, George Shaw
and Anne Trahan
Wood decoy bodies are typically made from cedar, which is rot resistant. The heads are often basswood, which is easier to carve but will rot relatively fast. Historically decoys were cedar or white pine. After the war, surplus life jackets provided cork and balsa wood, which was used for a time.
Last year the Bay County Historical Society mounted an exhibit of Saginaw Bay Duck Decoys on the second floor. This was timed around the publication of a large book about Saginaw Bay decoys. The book is available in the Museum Store and the exhibit continues to run.
---
CLUB NEWS and ANNOUNCEMENTS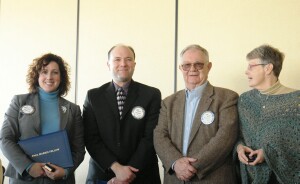 Paul Harris Fellows

Congratulations and thanks to new Paul Harris Fellows Kelly Frick and Lew Newton, and to Tim Moulthrop (PH Plus 1) and Nancy Cusick (PH Plus 5)


Rotary 101, a course to be presented by Chuck Cusick will be offered January 19, 6:30 to 8:30 at the Lincoln Center. This is your opportunity to join Rotarians from around the district and learn more about the mission and message of Rotary.


A new Group Study Exchange (GSE) committee has been formed and will meet January 19 at 11:00 before the regular meeting. Anyone interested is welcome to attend.


Every Rotarian, Every Year has been the theme for Foundation giving for several years. Rotary suggests budgeting $2/week, which can be paid with your semi-annual dues. At this rate a Rotarian can achieve Paul Harris Fellow level in ten years.

Check your giving status on the rotary.org web site. To set up your own log-in there you need the club number (2830), district number (6310) and your RI number, which can be found on your Rotary magazine, your dues invoice, and in the club directory.


Vocational Days are coming up. Griff, Ralph and Dee Dee ask that, if you plan to host students, please fill out a form as soon as possible and turn it in to one of them. Bay Med will host students on March 2, and Delta College will do March 16. Since Delta takes such a large group, the committee prefers that Rotarians who host students take the March 2 date.
Click to Download Host Information Form.


Meeting Times: Lunch is now on the table at noon allowing members to start the meal earlier. The meeting starts by 12:30 and the speaker starting by 12:50. The meeting typically adjourns around 1:15!


Make-up On-Line at www.RotaryEclubOne.org

Bay Metro Bus Promotes Rotary's Polio Efforts
---
DATES TO REMEMBER
January 19 - 11:00 GSE Committee meeting before regular meeting.

February 23 End Polio Now promotion day. Watch for announcements around town.

March 2 and March 16 Vocational Days.

The Rotary Concert committee (formerly the Lee and Molly Newton Rotary Concert) has scheduled to meet the third Tuesday each month at 11:15.


---
Upcoming Programs
(See the official schedule at RotaryBayCity.org )
January 19: Redevelopment Projects in Bay City: Steve Black will talk about the currently ongoing projects and recently completed projects within the City.


January 26: Bill Rustem, from the People and Land Initiative, will speak on strategies to promote regional prosperity in the New Economy. A discussion of how the Great Lakes Bay Region brand is the right approach for communities across Michigan to strengthen local economies.


February 2: Mary Draves, Dow Chemical Company, will provide a Mid-Michigan Dioxin Issues update.
---
Visit RotaryBayCity.org