Deputy City Manager Speaks To Rotary
City and Businesses Face Tough Times But Better Prospects On Horizon
January 19, 2010
By: Stephen Kent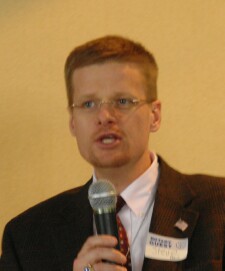 Steve Black
Last Weeks Meeting - January 19, 2010
Deputy City Manager Steve Black began his talk by quoting a Detroit News article stating that since 2001 migration has cost Michigan over 465,000 people. This loss of population directly affects business, government and individuals trying to sell a house.
Charting past recessions, Black noted that since 1948 the state would have bounced out of a recession by this time. This time the economy is still red lining.
Looking at unemployment, the most recent numbers shows a national rate of around 10%. Michigan was a bit over 15%. Bay City was somewhere between the two. Better than the state but worse than the nation.
The automotive industry shows the most dramatic changes. Ten years ago that industry employed over 840,000 people nationally. Today the number is just over 400,000. Ten years ago 225,000 of those people were in Michigan. Today that number is 82,000.
Despite this gloom and doom scenario, Bay City is weathering the storm better than many. Black pointed to a robust downtown, an active and involved business sector, and some exciting new prospects on the horizon. The Hemlock Semiconductor plant, the Dow/Kokam next-gen battery venture and the Suniva solar panel plant are bringing hundreds of quality jobs to the area and about a third of these people will be in Bay County.
The best stimulus project for this area is Karn Weadock power plant, which recently overcame a huge hurdle with approval of its air quality permit by the DEQ. That one project will be a game changer for Bay County and entire Saginaw Bay area. With 1,800 construction jobs and the huge tax base, the plant will be created during construction, there will be a truly stimulus project.
---
--- Advertisements ---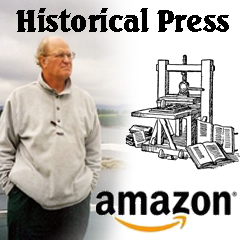 ---
Returning to the automotive industry, Black showed HUD statistics that showed that in 1989 some 87% commuted to work via autos. When a new survey was taken in 2007 the percent was exactly the same. This is good for our area. While some media tries to write off the auto industry, the statistics show it will be around for some time. The kinds of cars may change but there will still be cars.
Bay City continues to benefit from automotive spillover. GM announced a $37M investment in this area for the Volt project. The first GM Volt to be plugged into a downtown charging station was in Bay City last summer after the press conference.
Black pointed out a number of other recent projects in Bay City. The new LEEDS certified DEQ building with its large power windmill. This brought about 100 employees to the city. This project includes a brownfield tax capturing component that will fund the reconstruction of Johnson Street.
Downtown has seen the construction of the new Social Security Office. This is a $1.85M privately owned 7,900 sq foot building that will be leased to Social Security. "Anytime we can fill in a vacant city owned lot and add to the tax base it's significant", said Black.
Black also mentioned the completion of the Harrison Street reconstruction. This was funded with a mix of sources. The main reason for the project was for Carbone of America's Ultra Carbon Division, which makes a number of high tech carbon based products and employees 126 people.
The Uptown at Rivers Edge site continues to be improved. The old Sears Tire building was just demolished. A study six years ago suggested hanging onto the old buildings to see if there was development interest. With absolutely no interest in these huge and deteriorating buildings a salvage contract was approved to demolish the buildings and it actually netted the City about $11,000.
The City recently engaged a Washington lobbying group to help identify federal dollars that the City may be missing, compared to other cities.
Black pointed out a number of other projects such as the Wenonah Park waterfront improvements, the Marquette Ohio Walnut Connector street improvement, a revised brownfield plan, the recently completed Center Avenue reconstruction, improvements to Birney Park, and the new YMCA project, which should give the entire area confidence in a brighter future for the City.
---
CLUB NEWS and ANNOUNCEMENTS
Chuck Cusick inaugurated the new Rotary 101 course to a dozen Rotarians last Tuesday. The program was very informative and generated considerable discussion. The powerpoint slide show is available for download from the club web site.


Every Rotarian, Every Year has been the theme for Foundation giving for several years. Rotary suggests budgeting $2/week, which can be paid with your semi-annual dues. At this rate a Rotarian can achieve Paul Harris Fellow level in ten years.

Check your giving status on the rotary.org web site. To set up your own log-in there you need the club number (2830), district number (6310) and your RI number, which can be found on your Rotary magazine, your dues invoice, and in the club directory.


Vocational Days are coming up. Griff, Ralph and Dee Dee ask that, if you plan to host students, please fill out a form as soon as possible and turn it in to one of them. Bay Med will host students on March 2, and Delta College will do March 16. Since Delta takes such a large group, the committee prefers that Rotarians who host students take the March 2 date.
Click to Download Host Information Form.


Meeting Times: Lunch is now on the table at noon allowing members to start the meal earlier. The meeting starts by 12:30 and the speaker starting by 12:50. The meeting typically adjourns around 1:15!


Make-up On-Line at www.RotaryEclubOne.org

---
DATES TO REMEMBER
February 23 End Polio Now promotion day. Watch for announcements around town.

March 2 and March 16 Vocational Days.

The Rotary Concert committee (formerly the Lee and Molly Newton Rotary Concert) has scheduled to meet the third Tuesday each month at 11:15.


---
Upcoming Programs
(See the official schedule at RotaryBayCity.org )
January 26: Bill Rustem, from the People and Land Initiative, will speak on strategies to promote regional prosperity in the New Economy. A discussion of how the Great Lakes Bay Region brand is the right approach for communities across Michigan to strengthen local economies.


February 2: Mary Draves, Dow Chemical Company, will provide a Mid-Michigan Dioxin Issues update.
---
Visit RotaryBayCity.org