Bill Rustem Tells Rotarians About Building a New and Prosperous Michigan
People and Land (PAL) Program Built Around Six Pillars, Regional Promotion
January 31, 2010
By: Dave Rogers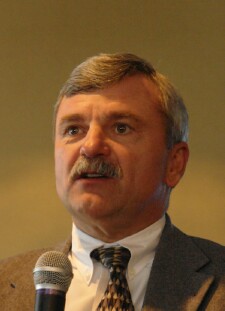 Bill Rustem
Last Weeks Meeting - January 26, 2010
Bill Rustem, who served as chief of staff for former Gov. Bill Milliken, told Bay City Rotarians last Tuesday what Michigan must have to succeed.
As co-director of the People and Land Leadership (PAL) Council, funded by the W.K. Kellogg Foundation, Mr. Rustem is an evangelist for regional prosperity initiatives like the local Great Lakes Bay Regional Alliance (GLBRA).
He was introduced by Ron Bloomfield, curator of the Bay County Historical Museum, who noted that Mr. Rustem has credentials in several statewide campaigns including the bottle bill and establishment of the Michigan Natural Resources Trust Fund.
The main speaker outlined PAL's six pillars for Michigan's prosperity:
1.
Attractive Cities and Neighborhoods
: From major cities to small towns, we need vibrant neighborhoods where people want to live and raise families.
2.
Highly Competitive Schools and Lifelong Learning Opportunities
: Education creates the skilled workers we need to compete in a global marketplace.
3.
Knowledge-Based Technologies
: Job growth in Michigan will come from new and creative businesses.
4.
Thriving Agriculture
: Michigan's second largest industry can provide food, fuel, and innovation while preserving beautiful rural landscapes.
5.
Natural Resources for Recreation and Job Creation
: Michigan is blessed with natural resources that enrich our quality of life and enhance our economy.
6.
Inclusive and Entrepreneurial Culture
: Innovation, new ideas, new people, new businesses: this is the currency of the New Economy.
Mr. Rustem has experienced personally one of the impacts of Michigan's lagging economy: a son and a daughter left the state and don't plan to return. "Michigan is 47th of 50 states in attracting highly educated people," he noted.
He was critical of the political environment in Lansing, charging that "hyper-partisanship rules everything and this is not what Democracy is all about. Jefferson talked about compromise and somehow we've forgotten that."
The Kellogg Foundation strategy is to "go around" the warring politicians to create the New Economy and "grow a new and prosperous Michigan" with regional structures. One part of this concept is to "not look for differences, find what we can agree on."
He noted that Kellogg has been working on the regional concept in other areas for some time. These include the West Michigan Regional Alliance, the Grand Vision of Traverse City, the Lansing Economic Area Partnership (LEAP), the Northeast Michigan Regional Prosperity Alliance and Southwest Michigan Regional Collaboration.
In the last 10 years Michigan has lost 500,000 jobs, 70 percent of them in the auto industry; meanwhile 84,000 jobs are unfilled because we lack qualified candidates, he said.
One major barrier to a more highly educated workforce is the mindset of parents left over from the past success of the auto industry; only 26 percent of Michigan parents think education is critical to their child's success, he said.
Remaking Detroit is the business of everybody in the state he said. In the knowledge-based economy, higher education is the key. He noted that 51 percent of Seattle's population has college degrees; the figure is 36 percent in Minneapolis-St. Paul, 27 percent in Michigan and just 8 percent in Detroit.
Michigan is one of only four states that spends more on corrections than it does on higher education, Mr. Rustem pointed out. "We've got to make better choices and extend programs like the Kalamazoo Promise (a program that funds free college for high school graduates in Kalamazoo) across the state."
For more information visit
peopleandland.org
---
CLUB NEWS and ANNOUNCEMENTS
Every Rotarian, Every Year has been the theme for Foundation giving for several years. Rotary suggests budgeting $2/week, which can be paid with your semi-annual dues. At this rate a Rotarian can achieve Paul Harris Fellow level in ten years.

Check your giving status on the rotary.org web site. To set up your own log-in there you need the club number (2830), district number (6310) and your RI number, which can be found on your Rotary magazine, your dues invoice, and in the club directory.


Vocational Days are coming up. Griff, Ralph and Dee Dee ask that, if you plan to host students, please fill out a form as soon as possible and turn it in to one of them. Bay Med will host students on March 2, and Delta College will do March 16. Since Delta takes such a large group, the committee prefers that Rotarians who host students take the March 2 date.
Click to Download Host Information Form.


Meeting Times: Lunch is now on the table at noon allowing members to start the meal earlier. The meeting starts by 12:30 and the speaker starting by 12:50. The meeting typically adjourns around 1:15!


Make-up On-Line at www.RotaryEclubOne.org

---
DATES TO REMEMBER
February 23 End Polio Now promotion day. Watch for announcements around town.

February 24 New member orientation.

March 2 and March 16 Vocational Days.

The Rotary Concert committee (formerly the Lee and Molly Newton Rotary Concert) has scheduled to meet the third Tuesday each month at 11:15.


---
Upcoming Programs
(See the official schedule at RotaryBayCity.org )
February 2: Mary Draves, Dow Chemical Company, will provide a Mid-Michigan Dioxin Issues update.


February 9: Vocational Talk Two of our Fellow Rotarians will talk about their profession/vocation.


February 16: City of Bay City way-finding signage program update A presentation on the current state of the Way-finding Signage program for the City of Bay City that Rotary has helped sponsor through our Major Projects grants. Presented by Patti Stowell and Corbin Design reps


February 16: John McKelvey will speak about The Toni & Trish House , a home, not a facility, providing a social environment of caring, emotional support for families.
---
Visit RotaryBayCity.org