Old China Being Replaced by Expressways and Skyscrapers, U.S. Teacher Says
Students Attend Classes 16 Hours Daily, Plus Extra Curricular Activities
June 20, 2004
By: Dave Rogers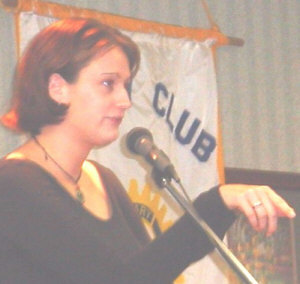 Johanna Wetmore tells the Bay City Rotary Club of her teaching experience in China, plans to teach next year in Taiwan, and hopes for law school.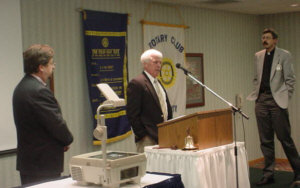 Leo Najar is introduced by Warren Smith while Rev. Andreas Teich waits to induct him as a new Rotarian.
      This week's program: Louise Stevens, consultant, Arts Market, Bozeman, Montana; Bay Area Cultural Plan. Programmer, Shirley Roberts, executive director, Bay Area Convention and Visitors Bureau.
      Last week's program: Johanna Wetmore, Freeland, teacher in Guangzhou, China, describing economic conditions, education and culture.
      China is growing so fast the "old country" is disappearing and being replaced by highways and skyscrapers, observes Johanna Wetmore, who has just completed a year teaching in Guangzhou (pronounced Gwan Joe).
      (Guangzhou, formerly called Canton, in South China 100 miles from Hong Kong and Macao, is the capital of the new Chinese economic zone. It has a long summer and no winter and is called "Flower City.")
      Picture ancient neighborhoods of 19th century houses slashed by futuristic highways stacked five or six stories tall. Across the busy modern roadways plod old women, unconcerned for their safety or the rush of progress, continuing the same age-old treks as they always have.
      This dichotomy produces scenes "like out of the movie 'Metropolitan,'" says Johanna Wetmore, 22-year-old Freeland resident who taught at a private boarding school she said compares with Andover, an exclusive Massachusetts academy.
      Miss Wetmore describes Guangzhou as "the L.A. of China," a fashion and retail haven. "Almost the entire city is new," she says. "You don't see the old enclaves, the huge skyscrapers have destroyedthe neighborhoods."
      Even though some of the people are starving, in poverty and isolation, "they have forgotten how horrible the cultural revolution really was and still revere Mao Tse Tung, the former Communist leader, describing him as 'a handsome man,' and cotemporizing 'even bad people do good things.'"
      Americans cannot imagine the extent of schooling the Chinese children receive in the private school, says Miss Wetmore. They go to class from 7:15 a.m. to 11 p.m., taking12 subjects and also being required to participate in extracurricular activities.
      These students are "tested to death," she said, and "are constantly preparing for tests; they are show ponies." The students are "starved for nurturing and attention," she said. "They see their parents only two weeks a year."
      School-age youngsters don't have to attend after the 9th grade, she said. In the regular Chinese schools the hours are 7 a.m. to noon and 2:30 p.m. to 5 p.m.
      English is taught in all the schools and "everyone can speak a little English," she said. "Kids are very affectionate with each other; many are friends from first grade until they are 18. It is a nice environment; the solidarity is unbelieveable."
      Miss Wetmore described one student who had a seizure; all the others protected him and knew exactly what to do. One got a pillow for his head, others lifted him up, etc. "It was amazing," she said.
      "My students never had an opportunity to express an opinion before, so that's what I taught them," she said. "Writing and debating, these are my passions. They loved it, but they were scared. By the end of the semester my classes were like 'Law and Order' (a TV show)."
      The culture of business and social interaction is strange, said Miss Wetmore. "Contracts mean nothing; they are for the employer, not the employee. Often they are late in paying. They took taxes out of my check even though by treaty this is supposed to be prohibited."
      She described the culture further: "Promises mean next to nothing. The bureaucracy will drive you to the brink of insanity. Business people squeeze every dime, it is frustrating. Workers make about $100 a month and work six or seven days a week."
      Despite the frustrations, Miss Wetmore was pleased with her experience. "I loved it; it was the most real experience I ever had. I would just go for the fact that it was a fun place to be, even though many Chinese looked at me as though I had just landed in a space ship."###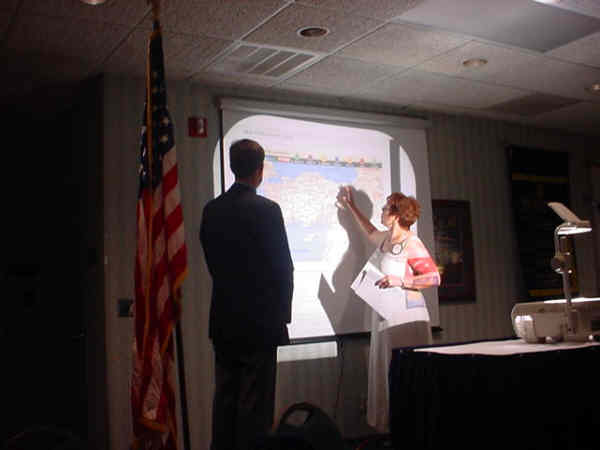 Anita Bowden points out applicants for "twin club" in Turkey on map as President Rob Monroe looks on.