Jeff Yantz Presents Classification Talk
February 9, 2010
By: Stephen Kent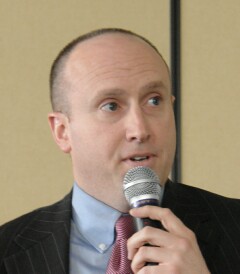 Jeff Yantz
Last Weeks Meeting - February 9, 2010
Jeff Yantz is a familiar face as one of the Club's Sergeant At Arms. Last Tuesday he had the opportunity to talk about his vocation as an Investment Advisor with Edward Jones.
Jeff graduated from Central Michigan University. He wanted to come back to the area and took a job with Saginaw Bay Underwriters selling insurance to businesses.
Although he liked that job, Jeff had the urge to see more of the world. After two years he took a position with Valley Recreation Products, manufacturer of coin operated pool table and dart machine. As East Coast Sales Rep, Jeff covered a 30 state region. Based in Bay City, Jeff personally kept Tri-City Airport in business.
After Valley Jeff worked for a Japanese Video Game company with a name unpronounceable and un-spellable name. It stands for New Japan Ventures. That position was followed by a job with another Video Game company.
Ten years ago Jeff wanted to return to Bay City and do something requiring less travel. He had an opportunity to work with Edward Jones, a private investment company. In this capacity Jeff works with clients on risk, retirement and investment plans.
Edward Jones is not a franchise operation. Jeff is an employee of the company and has the opportunity to become a limited partner. The company has a small office feel with large company resources. A local office like Jeff's typically has one financial advisor and one branch office administrator.
The company, with headquarters in St. Louis, has over 10,000 local offices in the US and Canada and some 40,000 employees. Heeding the lessons of 9-11, the company opened a satellite office in Tempe Arizona that can take over in event of a disaster in St. Louis.
Edward Jones focuses on high quality investments held for the long term. Advisors are not allowed to invest in penny stocks and other high risk vehicles. The company does not do market timing and they don't offer on-line trading. The philosophy is that it's important for an investor to work one on one with his advisor.
Jones stresses a one-on-one relationship. Jones associates build their client base one at a time in their local community. The company encourages involvement in the community organizations. Jeff has been active in Rotary, the Community Foundation, Delta College's foundation, and the United Way, among others.
---
CLUB NEWS and ANNOUNCEMENTS
Sergeant At Arms Andrea Hales didn't have Cher with her this week but she promises star-power entertainment fro a meeting in the near future. Don't miss it!


Housing is needed for members of the GSE team over Easter Weekend. Contact Mike Stoner if you'd like to house a Rotarian from Portugal.


The Community Grants Committee is accepting grant applications. The Club will be giving out $9,000 this year. Grant applications and full information will be posted on the club web site.


Every Rotarian, Every Year has been the theme for Foundation giving for several years. Rotary suggests budgeting $2/week, which can be paid with your semi-annual dues. At this rate a Rotarian can achieve Paul Harris Fellow level in ten years.

Check your giving status on the rotary.org web site. To set up your own log-in there you need the club number (2830), district number (6310) and your RI number, which can be found on your Rotary magazine, your dues invoice, and in the club directory.


Vocational Days are coming up. Griff, Ralph and Dee Dee ask that, if you plan to host students, please fill out a form as soon as possible and turn it in to one of them. Bay Med will host students on March 2, and Delta College will do March 16. Since Delta takes such a large group, the committee prefers that Rotarians who host students take the March 2 date.
Click to Download Host Information Form.


Meeting Times: Lunch is now on the table at noon allowing members to start the meal earlier. The meeting starts by 12:30 and the speaker starting by 12:50. The meeting typically adjourns around 1:15!


Make-up On-Line at www.RotaryEclubOne.org


If you would like a new picture for the club's directory, or if you need a new new name badge to reflect a classification change please contact Steve Kent.

---
DATES TO REMEMBER
February 23 End Polio Now promotion day. Watch for announcements around town.

February 24 New member orientation.

March 2 and March 16 Vocational Days.

The Rotary Concert committee (formerly the Lee and Molly Newton Rotary Concert) has scheduled to meet the third Tuesday each month at 11:15.


---
Upcoming Programs
(See the official schedule at RotaryBayCity.org )
February 9: Vocational Talk Two of our Fellow Rotarians will talk about their profession/vocation.


February 16: City of Bay City way-finding signage program update A presentation on the current state of the Way-finding Signage program for the City of Bay City that Rotary has helped sponsor through our Major Projects grants. Presented by Patti Stowell and Corbin Design reps


February 23: John McKelvey will speak about The Toni & Trish House , a home, not a facility, providing a social environment of caring, emotional support for families.


March 2: Rotary Vocational Day 1
March 9: 10 minute Rotarian
March 16: Rotary Vocational Day 1
---
Visit RotaryBayCity.org