Rotary Donation Helps Wayfinding Program Get Off the Ground
February 21, 2010
By: Dave Rogers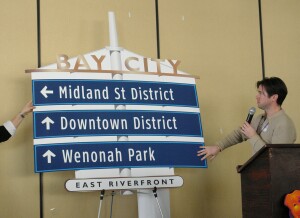 Jeff Frank Unveils Sign Concept
Last Weeks Meeting - February 16, 2010
A $100,000 donation from the Rotary Club of Bay City has launched an impressive 100 plus sign project for the City of Bay City.
Designers Jeff Frank and Cori Chestnutt, introduced by Ron Bloomfield, took the podium and with a PowerPoint presentation showed the club what the signs will look like when installed over the next few years.
Patti Stowell, city economic development marketing director, was on hand to amplify the remarks by the consultants from Corbin Design, Traverse City.
More than 100 blue and white signs, some with a Bay City branding element involving maritime themed aspects resembling ship masts, will comprise the array, said Mr. Frank.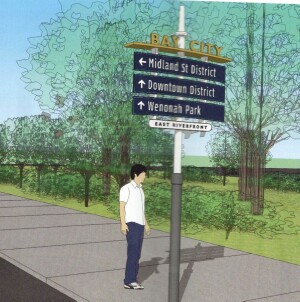 The painted aluminum signs are designed to be long-lasting, approximately 20 years, he said. Gateway signs at the six entrances to Bay City will begin going up this summer and the entire process will take about three years, according to Ms. Stowell.
"In pedestrian dense area kiosks will be located about every other block and some will be on the riverwalks," said Ms. Stowell, explaining that the kiosks will give distances for walking destinations.
The full project will cost about $445,000 and will be overseen by a committee including Ms. Stowell, Mike Stoner, Candace Bales and Shirley Roberts.
Corbin has done similar projects in 50 cities across the country, explained Mr. Frank, who is chief designer for the firm. He has done projects in Chicago for Union Station, for Boeing and in Dubai. The goal is to "enhance visitor experience," he said, adding that "wayfaring is for people in motion."
The signage process "is a means for visitors and residents to engage and connect with your community," the firm states in a print publication handed out at the meeting.
Among the firm's wayfinding rules to remember: "People prefer confirmation every 125 feet when walking and every 600 feet driving in an urban environment and 15 percent of destinations frequently account for 85 percent of the traffic."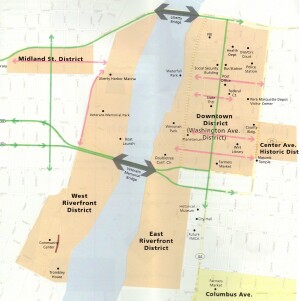 The challenge is to allow the greatest volume of visitors entering the city from I-75 to easily access attractions in the city.
Recommendations include distinguishing the various areas of Bay City and the exits that will get drivers to those areas, such as east riverfront, west riverfront, historic district, Midland Street, Wenonah Park, Downtown, etc.
The city will be seeking $250,000 to $300,00 in additional funding to complete the project that will be bid out. "We're hoping the townships will complement what we're doing and we will be glad to work with them," said Ms. Stowell.
---
CLUB NEWS and ANNOUNCEMENTS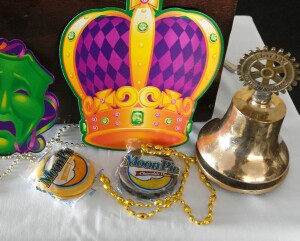 The club celebrated Mardi Gras with beads, Moon Pies, and at least one funny hat. Thanks Dee Dee for the decorations and treats.


Housing is needed for members of the GSE team over Easter Weekend. Contact Mike Stoner if you'd like to house a Rotarian from Portugal.


The Community Grants Committee is accepting grant applications. The Club will be giving out $9,000 this year. Grant applications and full information will be posted on the club web site.


Every Rotarian, Every Year has been the theme for Foundation giving for several years. Rotary suggests budgeting $2/week, which can be paid with your semi-annual dues. At this rate a Rotarian can achieve Paul Harris Fellow level in ten years.

Check your giving status on the rotary.org web site. To set up your own log-in there you need the club number (2830), district number (6310) and your RI number, which can be found on your Rotary magazine, your dues invoice, and in the club directory.


Vocational Days are coming up. Griff, Ralph and Dee Dee ask that, if you plan to host students, please fill out a form as soon as possible and turn it in to one of them. Bay Med will host students on March 2, and Delta College will do March 16. Since Delta takes such a large group, the committee prefers that Rotarians who host students take the March 2 date.
Click to Download Host Information Form.


Meeting Times: Lunch is now on the table at noon allowing members to start the meal earlier. The meeting starts by 12:30 and the speaker starting by 12:50. The meeting typically adjourns around 1:15!


Make-up On-Line at www.RotaryEclubOne.org


If you would like a new picture for the club's directory, or if you need a new new name badge to reflect a classification change please contact Steve Kent.

---
DATES TO REMEMBER
February 23 End Polio Now promotion day. Watch for announcements around town.

February 24 New member orientation.

March 2 and March 16 Vocational Days.

The Rotary Concert committee (formerly the Lee and Molly Newton Rotary Concert) has scheduled to meet the third Tuesday each month at 11:15.


---
Upcoming Programs
(See the official schedule at RotaryBayCity.org )
February 23: John McKelvey will speak about The Toni & Trish House , a home, not a facility, providing a social environment of caring, emotional support for families.


March 2: Rotary Vocational Day 1
March 9: 10 minute Rotarian
March 16: Rotary Vocational Day 1
---
Visit RotaryBayCity.org