Bay City Rotary to Hear Chuck Cusick on Guatemala Trip
Consultant Louise Stevens Updates Rotarians on Community Cultural Plan
June 23, 2004
By: Dave Rogers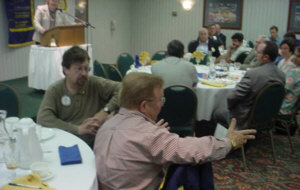 Tom Niemann, Bay Arts Council President, amplifies the presentation by Louise Stevens, consultant, (at podium) as Leo Najar of the Bijou Orchestra looks on.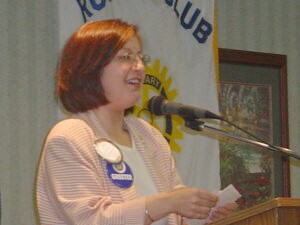 Lynn Weaver, greeter at Rotary for the past month, has made an impact on club conviviality with her enthusiasim and exuberance and has become known as "the hugger."
      Next week's program: Chuck Cusick, Rotary International trip to Guatemala.
      Last week's program: Louise Stevens, consultant, ArtsMarket. Bay City Community Cultural Arts Plan.
      Special Recognition: Wes Timm, Paul Harris Fellow plus 5 award, from Kathy Czerwinski,Bay City Rotary International Foundation chairperson.
      Newest Rotarian: Leo Najar, artistic director, Bijou Orchestra.
      The Bay Arts Council (BAC) is re-inventing itself and will become a grants-receiving and re-granting agency aimed at enhancing the community's arts groups in the interest of economic development, Tom Niemann, BAC president, said this week at Bay City Rotary.
      Niemann's comments came in amplification of the presentation by Louise Stevens, consultant from ArtsMarket, Bozeman, Montana, delivering the Community Cultural Arts Plan to Rotary.
      The Bay City Rotary Club already is part of the plan since it is funding historical kiosks downtown and is participating in the Third Street Waterfall Park, said Mrs. Stevens.
      BAC will "go after grants to benefit all groups in the community," said Niemann, and will become a re-granting organization gradually working toward developing an endowment.
      The community is aiming for its share of a $46 billion arts, culture and humanities market that is about 6.5 percent of the Michigan economy, said Mrs. Stevens. This sector produces about 307,000 jobs.
      "We need to build the capacity to get the people with the talent, and the passion, to creat the quality of life everybody wants," said Niemann. "It's a big job, but we're up to the task."
      Arts and culture are "at the heart of economic development," said Mrs. Stevens.
      She said community surveys showed that "people in Bay City really do want quality cultural events; they place an incredibly high value on arts education in the schools and they want cultural vibrancy downtown."
      The cultural arts plan, that came out of a year of surveys, forums and round-table discussions, calls for:
Strengthening arts and culture to be a major part of community development;
Developing cultural facilities and districts;
Effective marketing and promotion of arts and cultural assets;
Fostering arts education for all ages, a program in jeopardy because of pressure on schools to comply with the No Child Left Behind provisions required by the federal government;
Preserving historical architecture and the rich history of the Bay area to "showcase the community;"
Strengthening and positioning the Bay Arts Council to steer the overall implementation of the cultural arts plan.
      BAC has a timeline for significant accomplishment of the plan by the end of 2008, said Mrs. Stevens. "I'm very encouraged that it can happen," she concluded.###