Rotary Hosts Students on Career Day
Michigan Film Office Representative Speaks on Film Industry in State
March 2, 2010
By: Stephen Kent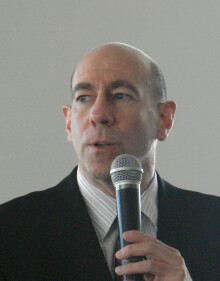 Ken Droz
Last Weeks Meeting - March 2, 2010
Rotary hosted nearly 100 high school juniors and seniors for the first of two Career Days. Students job shadowed with Member and other businesses to get a taste of various career paths. The largest group visited various departments at Bay Regional Medical Center. Other students spent half a day with the Police, Veterinarians, engineers, and other businesses.
Ken Droz, Communication Manager of Michigan Film Office spoke about the film industry in Michigan. Since it's creation in 1979, the Office has enjoyed success in attracting film makers to Michigan. One of the most recent films was Clint Eastwood's 2009 release Gran Torino set in Highland Park.
The Film Office provides numerous services to the film industry. They help with selection and procurement of locations including liaison with government, businesses, churches and individual. They can locate and help with crew, equipment, housing, food and even weather stats.
The primary financial incentive is a 40% refundable tax credit on any Michigan expenses. The production must spend $50,000 to qualify. An additional 2% is available for films shot in certain communities. Other incentives apply to labor and crew expenses.
Other than a $2 million salary cap per employee for a film, there are no other caps and there is no sunset provision.
Many movies are scouted with the help of the Film Office. But others are scouted quietly until selections are made. Anyone with an interesting house that would like to be considered can register with the Film Office.
Having your property used for a film has some real benefits besides bragging rights. For residences the family is provided housing during production. Improvements are often made to the property. In the case of Gran Torino and entire city block was improved including paving, new sidewalks and drives, landscaping, and residence improvements.
For more information visit
www.michiganfilmoffice.org
.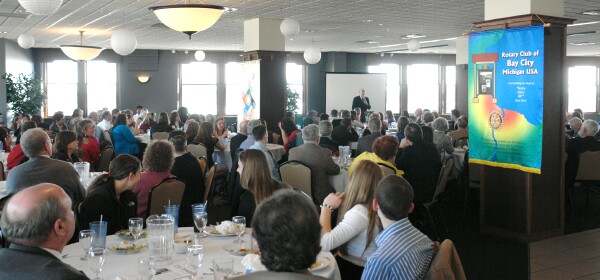 Large Audience for Career Day
---
CLUB NEWS and ANNOUNCEMENTS
The Census is almost on us. An accurate count is essential to our area. Census data drives the funding of many government services. A complete count is crucial to Bay County and Michigan.

Rotary thanks all of the businesses who participated in this year's first career day. The second career day is scheduled for Tuesday March 16.


Housing is needed for members of the GSE team over Easter Weekend. Contact Mike Stoner if you'd like to house a Rotarian from Portugal.


The Community Grants Committee is accepting grant applications. The Club will be giving out $9,000 this year. Grant applications and full information is available on the club web site RotaryBayCity.org.


Make-up On-Line at www.RotaryEclubOne.org


If you would like a new picture for the club's directory, or if you need a new new name badge to reflect a classification change please contact Steve Kent.

---
DATES TO REMEMBER
The Rotary Concert committee (formerly the Lee and Molly Newton Rotary Concert) has scheduled to meet the third Tuesday each month at 11:15.


---
Upcoming Programs
(See the official schedule at RotaryBayCity.org )
March 9: 10 minute Rotarian
March 16: Rotary Vocational Day 1 The speaker will be Rick Sigsby speaking on the story of the Saginaw Valley Conference, which was established in 1904.


March 23: Doug Newcombe will speak on the State of Public Schools.
---
Visit RotaryBayCity.org