Rotarians Hear About Fellow Members
March 9, 2010
By: Stephen Kent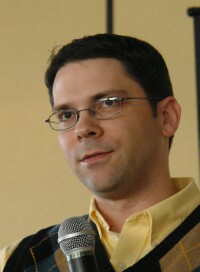 Matt Stark
Last Weeks Meeting - March 9, 2010
Matt Stark
is the middle of six children. His parents raised the family in a 2 bedroom home in Bellmont, Michigan, a location they settled on because it was midpoint between their homes in Mt. Pleasant and South Bend, Indiana.
Being part of a large, loving family, in a house with one bathroom Matt learned many valuable skills including patience, distraction, negotiation, and at times crisis management.
As the artist of the family, Matt loved drawing, painting and a certain amount of daydreaming. He, and his siblings, always worked and always had a job at the Blythefield Country Club. Through that connection they each benefited from Evans scholarship which awards full scholarship to Michigan or Michigan State.
Matt attended Michigan where he earned two degrees in architecture. He also met his future wife Petrina there and they were married in 2001. Petrina's family is from Greece as is Matt's own father. Matt said the movie "My Big Fat Greek Wedding" is almost a documentary of his own wedding.
Matt and Petrina have twin boys, four years old and a daughter who was born last September. They take pride in passing on their Greek traditions to their children.
Starting his career as an architect, Matt designed buildings both large and small. His firm took many city commissions. Involvement in zoning and land use meetings gave him a taste of the legal side of the business. After earning two degrees in that field he went to Petrina and said "now I want to be an attorney." With her support he pursued this new degree and for the past four years has been an attorney with the firm of Allsopp Wackerly in Bay City.
Matt joined Rotary in 2009 and was sponsored by Chuck Cusick.
---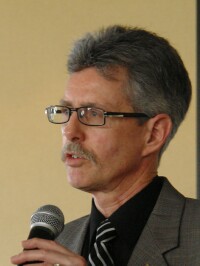 Doug Rise
Doug Rise
was born in Flint and has lived in Michigan all his life. His family moved to Beaverton when he was a child and he grew up on the edge of town, close to the River with friends in town and on the farms. He lived close enough to walk to school but far enough to wish he had a ride.
His childhood was in that time when a kid could ride his bike anywhere and could enjoy being outdoors and on the river. Doug had a paper route which taught him the value of customer service. Winter was a chore, but Christmas was great it you took care of your customers.
Doug was raised in the Brethren Church, an offshoot of the Mennonites and a strong Peace Church with a tradition of Conscientious Objection. When required to register for the draft was given a 1A status. Had he been called Doug said it would be a real test of his faith vs. duty. He's glad he didn't have to make the choice.
Doug enrolled at Central Michigan with the intent of becoming a math or biology teacher. He later switched to Fine Arts and English with the objective of being a starving artist on graduation. Marriage changed that plan with the realization that he could starve, but he didn't want his wife and child to.
A minor in Industrial Technology landed him is first job as an engineer in the Saginaw Department of Public Works which lead to a job in the Community Development and Planning Division. In 1979 he moved to the Saginaw Housing Commission.
During this time he completed a Masters in Business from SVSU and in 1983 moved to a small architectural and engineering firm as the business manager. After five years there he moved back to the Saginaw Housing Commission until 1991 when he was recruited by the Bay City Housing Commission. In 1999 he became the Director of that agency and remains in that post to this time.
Doug and his wife Jan have been married for 31 years. Both have children from previous marriages. One set lives in Farwell, Michigan and the other lives in New Orleans. Doug and Jan have five grand children.
Mike Stoner and Dick VanAcker recruited Doug into Rotary in 2005. For the last few years Doug has served as Club Treasurer.
---
CLUB NEWS and ANNOUNCEMENTS
The Census is almost on us. An accurate count is essential to our area. Census data drives the funding of many government services. A complete count is crucial to Bay County and Michigan.


Housing is needed for the GSE Team Leader during the team's visit. Contact Mike Stoner if you'd like to house a Rotarian from Portugal.


The Community Grants Committee is accepting grant applications. The Club will be giving out $9,000 this year. Grant applications and full information is available on the club web site RotaryBayCity.org.

Rotary congratulates and thanks Rob Monroe for attaining the Paul Harris Plus Eight level as recognition for his contributions to the Rotary Foundation.


Make-up On-Line at www.RotaryEclubOne.org


If you would like a new picture for the club's directory, or if you need a new name badge to reflect a classification change please contact Steve Kent.


Third Annual Rotary Concert: Thursday, April 29th, Arbeitoer Hall (1304 S. Wenona).

Social hour / cash bar / hours deouvres 6-7, Concert 7-8:30 approx.

Proceeds are earmarked for Rotary International's Polio campaign.

Performances by Lee and Mollie Newton, Rob Clark, Ron Bloomfield, Jeff Yantz, Andy Rogers, and Stephanie Ker.

Program ads may still be purchased available: $25 for patron/individual and $50 $100 $500 for businesses. Contact Andrea Hales.

Tickets $20 each available starting March 18.

---
DATES TO REMEMBER
Thursday, April 29th: Rotary Concert at Arbeitoer Hall (1304 S. Wenona)

The Rotary Concert committee meets the third Tuesday each month at 11:15.


---
Upcoming Programs
(See the official schedule at RotaryBayCity.org )
March 16: Rotary Vocational Day 2 The speaker will be Rick Sigsby speaking on the story of the Saginaw Valley Conference, which was established in 1904.


March 23: Doug Newcombe will speak on the State of Public Schools.


March 30: Dee Dee Wacksman In honor of Women's History Month, Dee Dee Wacksman will share the story of Annie Edson Taylor, the Bay City school teacher who went over Niagara Falls in a barrel in 1901.
---
Visit RotaryBayCity.org