"Everyone Has a Story," Says Author Rick Sigsby of "The Valley of Athletes"
Rotarians Host Final Vocational Day, Hear Area Tales of Athletic Prowess
March 16, 2010
By: Dave Rogers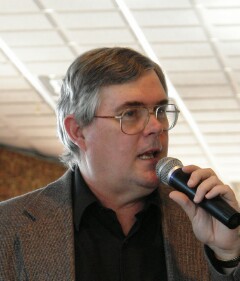 Rick Sigsby
Last Weeks Meeting - March 16, 2010
Some of the greatest athletes in the nation came out of the Saginaw Valley, author Rick Sigsby told Bay City Rotarians last Tuesday.
Photos of pitcher Jim Abbott of the University of Michigan and sprinter/major league baseball designated runner Herb Washington of Michigan State are featured on the front and back, respectively, of his book "The Valley of Athletes."
The Coleman resident is a graduate of Midland High and earned a bachelor's degree at Central Michigan and master's at the U-M and worked as a park ranger. Now he writes "Rick Off the Record" for the Gladwin County weekly newspaper and talks about his books that also include "Discovering Lost Treasures."
Mr. Sigsby displays a Garrison Keillor like wry sense of humor in his talks, for example posing the question "why can't ice fishing be an Olympic sport?"
Writing is simple, Mr. Sigsby explained. "You learn when you start to write that you need to answer 'who,' 'what' and 'why' and that the key is to pick out the things everyone wants to know."
He quoted an age-old truism from legendary sports writer Red Smith: "The older an athlete gets the faster he ran as a child."
Adopting a Socratic presentation style: (asking questions and eliciting answers from the crowd), Mr. Sigsby soon got the audience into his subject -- local and area sports.
The Saginaw Valley League is the oldest prep conference in the state, begun in 1904 in which city?
Bay City.
Which schools comprised the first athletic conference?
Bay City Eastern, old Bay City Western, Saginaw Eastern and Saginaw Arthur Hill and Flint High (there was only one high school in Flint in those days).
Which school won the first Saginaw Valley League football championship?
Bay City Eastern.
When Bay City Western (located on the site of the Allen Medical Clinic) played Bay City Eastern (located on the site of the present Bay Area Family Y) met each other in athletic combat, what was the game called?
Cowboys vs. Indians, the respective nicknames of the teams.
Many other interesting sports tidbits were offered as pictures were flashed on the screen:
Chief Garland Nevitt attended the Native American Haskell Institute and played professional baseball for the Battle Creek Crickets; Bill Hewitt, Central High, University of Michigan and Chicago Bears great, is the only Saginaw Valley athlete in the National Football Hall of Fame;
Jim Abbott is now one of the nation's most popular inspirational speakers;
Former Central High, Michigan State and Cleveland Browns star tackle Jim Kanicki now owns a steel mill in Cleveland;
Jerry List of Bay City Handy is considered the greatest tight end ever at the University of Nebraska; and,
Coach Gary Jozwiak of Midland High broke the "Saginaw Valley most wins" record of Coach Elmer Engel of Bay City Central.
Mr. Sigsby gave a strong pitch for support of athletics as part of school systems, noting that student athletes learn teamwork that is important to their careers.
Many schools now have "pay to play" policies that exclude too many kids who can't afford the fees, he said.
"Sports is not just sports for students, it's part of the community's identity," he concluded.
For more information about Mr. Sigsby's books, contact: Dreambuilder Publications, ricksig@wwdb.org, or call 866-832-4322.
---
CLUB NEWS and ANNOUNCEMENTS
The Census is almost on us. An accurate count is essential to our area. Census data drives the funding of many government services. A complete count is crucial to Bay County and Michigan.


Housing is needed for the GSE Team Leader during the team's visit. Contact Mike Stoner if you'd like to house a Rotarian from Portugal.


The Community Grants Committee is accepting grant applications. The Club will be giving out $9,000 this year. Grant applications and full information is available on the club web site RotaryBayCity.org.


Make-up On-Line at www.RotaryEclubOne.org


If you would like a new picture for the club's directory, or if you need a new name badge to reflect a classification change please contact Steve Kent.


Third Annual Rotary Concert: Thursday, April 29th, Arbeitoer Hall (1304 S. Wenona).

Social hour / cash bar / hors d'oeuvre 6-7, Concert 7-8:30 approx.

Proceeds are earmarked for Rotary International's Polio campaign.

Performances by Lee and Mollie Newton, Rob Clark, Ron Bloomfield, Jeff Yantz, Andy Rogers, and Stephanie Ker.

Program ads may still be purchased available: $25 for patron/individual and $50 $100 $500 for businesses. Contact Andrea Hales.

Tickets $20 each available starting March 18.

---
DATES TO REMEMBER
Thursday, April 29th: Rotary Concert at Arbeitoer Hall (1304 S. Wenona)

The Rotary Concert committee meets the third Tuesday each month at 11:15.


---
Upcoming Programs
(See the official schedule at RotaryBayCity.org )
March 23: Doug Newcombe will speak on the State of Public Schools.


March 30: Dee Dee Wacksman In honor of Women's History Month, Dee Dee Wacksman will share the story of Annie Edson Taylor, the Bay City school teacher who went over Niagara Falls in a barrel in 1901.
---
Visit RotaryBayCity.org