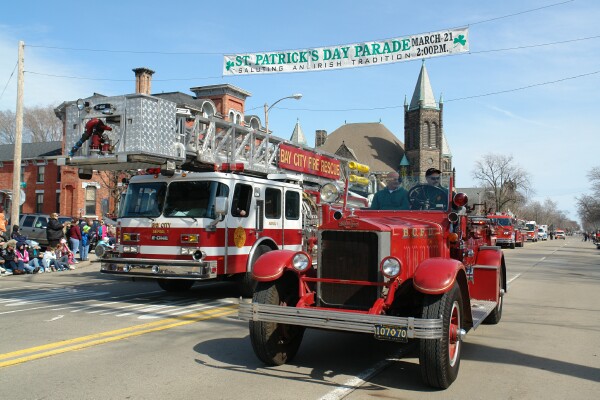 St. Patrick's Parade Kicks Off Spring 2010!
March 21, 2010
By: Stephen Kent
For a solid week the weather forecast called for snow showers, or rain, clouds, and cold temperatures. Saturday wasn't looking too good. Then Sunday rolled around and the skies began to clear. By noon things were looking great for another spectacular Bay City Saint Patrick Parade!
For well over 50 years the Big Parade has kicked off Spring in Bay City. Thousands of people from the entire region line the two mile Center Avenue parade route to welcome spring and have a good old time. The parade kicks off at 2:00pm and it takes an hour for the escort of fire trucks and police cruisers to reach downtown. The final entry doesn't finish the route until after 5:00pm.
This year was marked by the opening of the Eastern end of Center after a major road project. People were asked to avoid the freshly seeded areas between the road and the sidewalk and it looked like everyone cooperated. The widened highway looked great with new decorative paving bricks in the center turn lane.
MyBayCity.com has been covering the parade since 2003. We've learned that what our readers want and like is our pictures. So we rather than write more, we'll just post a collection of those popular photos.
Just for the fun of it, you might want to check out these St. Pat's stories from previous years. It's interesting just to see how digital cameras have evolved since 2002:
2019
,
2018
,
2017
,
2016
,
2015-a
,
2015-b
,
2015-c
,
2014
,
2013-a
,
2013-b
,
2012
,
2011
,
2010
,
2009
,
2008
,
2007-a
,
2007-b
,
2006
,
2006-b
,
2005
,
2004-a
,
2004-b
,
2003-a
,
2003-b
,
2003-c
,
2002
For another take on the subject of parades, check out what was going on in 1978 in this
1978 Flashback
article from the archives of the Bay County Sports Page & Bay City Enterprise newspapers. Published from 1976 through 1984, those papers were the "grandparents" of today's MyBayCity.com.