Interim School Superintendent Newcombe Speaks On State of Public Schools
Challenges abound with dropping student enrollment and tight budgets
March 23, 2010
By: Stephen Kent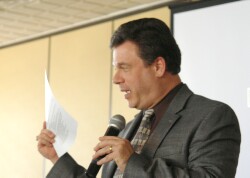 Doug Newcombe
Last Weeks Meeting - March 16, 2010
Interim Superintendent of the Bay City Public Schools Doug Newcombe spoke to Rotary about the state of schools. Doug was the director of finance for the school system for 17 years before recently assuming the Interim Superintendent position.
Schools across the nation, Michigan in particular, face significant challenges in today's economic crisis atmosphere. Bay City schools have lost $155 per student in funding this year, or a mid-year $1.6 million reduction. This is on top of a $3 million at the start of the year. An additional $283/student cut is anticipated next year.
Over the last 15 years school enrollment has gone from 1.5 million to a high of 1.7 million and back to 1.5 million. Lower enrollment does not reduce fixed cost such as buildings and transportation.
The state retirement system has increased the contribution rate from 16.94% of payroll to 19.41% adding a $1 million expense to Bay City.
The school system is funded mainly by sales taxes plus some property and income taxes. Since the 90's the state has reduced taxes or given credits resulting in a loss of a half billion dollars to the school aid fund.
Per student payments vary by district with amounts ranging from $7300 to $15,000 per student. Schools of choice contribute to problems in areas where adjacent districts might have large differences in per pupil funding.
Efforts to reform the tax system or to address the funding issues face many challenges including special interests, political parties, and term limited representatives who don't have time to learn the job.
Schools have three sources of funds: $12.8 billion from the School Aid Fund, $8.1 billion from State General Fund, and $20.3 billion from restricted federal and state funds and grants.
The largest source of K-12 revenues comes from sales taxes accounting for about 38%. The state lottery contributes roughly $700 million of the $13 billion dollar budget. In fact the entire lottery income, minus operations and winnings, goes to schools.
Schools have no ability to address their own funding. They have nothing to sell and rely on taxes. Schools can cut programs but not raise prices. Bond millages may address construction needs but not operations.
The public has a general lack of understanding of school funding. Bay City schools have made their information publicly available for a number of years, a trend that is becoming more widespread as systems put their information on-line.
Employees account for 80% to 90% of school cost. Wages, retirement contributions and health insurance continue to push up these costs. Special Education mandates, requiring more staffing, are one of the fastest growing costs.
Over the past nine years the Bay City Schools have reduced their budgets by over $23 million. Anticipated future cuts include administrators, principals, assistants, clerical staff, teaching aids. Schools can also anticipate larger class sizes, more outsourced services, more on-line courses and reduced transportation services.
School districts currently share services as much as possible through the ISD including data processing, business services, special ed, transportation and bus maintenance and technological services.
In an atmosphere dominated by squeezed budgets and seemingly endless financial issues, the goal of the school system remains to increase student achievement. The system is doing this through increased use of technology, improved intervention programs, more online courses, improved attendance and long term planning for student and faculty needs.
---
CLUB NEWS and ANNOUNCEMENTS
The club mourns the loss of Jim McCue. Jim joined the Bay City Rotary in 2010. He was a loyal and active member participating in many of the clubs programs and events. Jim will be missed by all. The service is now set for Wed. April 14 at 11:00 am at First Presbyterian. April 14 is Jim's birthday.


The Census is almost on us. An accurate count is essential to our area. Census data drives the funding of many government services. A complete count is crucial to Bay County and Michigan.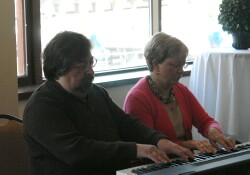 Cindy Chadwick joined Leo Najar at the keyboard for the opening song of the meeting.


The Community Grants Committee continues to accept grant applications. The deadline is March 31 for a share of the $9,000 the club will award this year. Grant applications and full information is available on the club web site RotaryBayCity.org.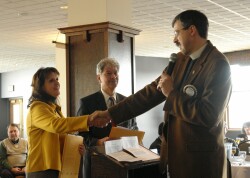 The club welcomes new members Ann Lingle, sponsored by Brenda Rowley, and Eric Zimostrad, sponsored by Tom Hickner. Ann was a former member of this club. She is currently head of the commercial lending department of Independent Bank. Eric is an attorney with Zimostrad and Zimostrad as well as being an Adjunct Professor at Delta College.


Make-up On-Line at www.RotaryEclubOne.org


If you would like a new picture for the club's directory, or if you need a new name badge to reflect a classification change please contact Steve Kent.


Third Annual Rotary Concert: Thursday, April 29th, Arbeitoer Hall (1304 S. Wenona).

Social hour / cash bar / hors d'oeuvre 6-7, Concert 7-8:30 approx.

Proceeds are earmarked for Rotary Internationale's Polio campaign.

Performances by Lee and Mollie Newton, Rob Clark, Ron Bloomfield, Jeff Yantz, Andy Rogers, and Stephanie Ker.

Program ads may still be purchased available: $25 for patron/individual and $50 $100 $500 for businesses. Contact Andrea Hales.

Tickets $20 each available starting March 18.

---
DATES TO REMEMBER
April 27 OFF SITE MEETING
The Club will meet at the ISD facility's Blooming Chefs restaurant located at 4155 Monitor Road, Bay City



Rotary Concert Thursday, April 29th: at Arbeitoer Hall (1304 S. Wenona)

The Rotary Concert committee meets the third Tuesday each month at 11:15.

2010 Golf Scramble Monday, June 28 at the Bay City Country Club. Save the date.
Learn more at RotaryBayCity.org.


---
Upcoming Programs
(See the official schedule at RotaryBayCity.org )
March 30: Dee Dee Wacksman In honor of Women's History Month, Dee Dee Wacksman will share the story of Annie Edson Taylor, the Bay City school teacher who went over Niagara Falls in a barrel in 1901.


April 6: InBound Group Study Exchange (GSE) Team from Portugal will talk about their homeland and experiences while in the U.S.A.


April 13: Olga Loginova
April 20: Chuck Cusick will present his Rotary 101 program.


April 27: OFF SITE MEETING at ISD. Rotary will be held at the ISD facility at their Blooming Chefs restaurant located at 4155 Monitor Road, Bay City
---
Visit RotaryBayCity.org