Early Start on Great Lakes Shipping Season Said Sign Economy is Improving
Thousand Foot Ore Hauler, Idle a Year in Milwaukee, Back on Lakes
April 4, 2010
By: Dave Rogers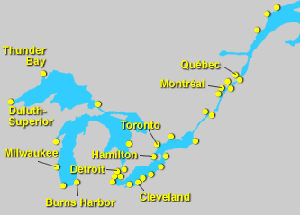 In last year's shipping season many ships remained at their winter moorings because they lacked cargo.
Since November 2008 and all last year the 1000-foot iron ore hauler Stewart J. Cort, among the largest on the Great Lakes, sat at the dock in Milwaukee.
The national economy was so bad there was no need for the Cort to feed the giant mills near Chicago.
Joe DiGiorgio, Milwaukee harbor master, never saw anything like it in his nearly 20 years on the job. Tugs idle, few stevedores on the job, huge ships with waves lapping against their sides never moving from the dock.
In last year's shipping season many ships remained at their winter moorings because they lacked cargo.
"There is definitely a correlation between demand for commodities on the Great Lakes and the overall economy," said Jason Serek, president of the Wisconsin Commercial Ports Association and executive director of the Port of Superior.
The Great Lakes, called the "fourth seacoast," are home to the U.S.-Flag fleet and the Canadian-Flag fleet. In addition, dozens of international vessels regularly travel through the Great Lakes, visiting port communities along the way. These vessels are known as "salties" because of their saltwater origin.
The U.S.-Flag fleet includes more than 60 carriers and tankers, as well as dozens of smaller tug and barge units. These vessels team up to haul upwards of 125 million tons of cargo during a typical 10-month shipping season. That's almost half a ton for every person living in the United States! Iron ore, coal and limestone are the primary commodities carried; other cargoes include cement, salt, sand, grain and liquid-bulk products.
In total, there are about 135 U.S. and Canadian freighters operating on the Great Lakes, including some vessels more than 100 years old.
Great Lakes shipping association officials did not see much hope even a few weeks ago, with Stuart Theis, president, bemoaning the downturn.
But this year the commercial shipping season is already underway on the Great Lakes, and ship watchers see that as a sure sign that the economy is improving.
The Cort, for example, will soon be leaving the dock where it sat for a year and a half. It will be enroute to Duluth to take on a load of iron ore for transit to Chicago.
The Army Corps of Engineers has reopened the Soo Locks connecting Lakes Huron and Lake Superior, four days early. Quickly thawing ice, broken up by a half dozen Coast Guard icebreakers, and reawakened demand for iron ore and coal are driving the early start to the season.
"Things are moving quicker, sooner than a year ago. And it seems like more ships are involved," Eric Reinelt, Port of Milwaukee executive director, told the Milwaukee Sentinel newspaper.
"It (the Cort) has orders to move iron ore from Duluth to Chicago. That's a pretty good sign," Reinelt said.
The last ice choked passage in the Great Lakes, the St. Clair River, connecting southern Lake Huron and Lake St. Clair, was cleared of ice last week.
The river is the main shipping conduit for freighters headed from Minnesota and Wisconsin to ports in Ohio, New York, Pennsylvania and the St. Lawrence Seaway.
Coast Guard icebreakers Neah Bay, Biscayne Bay, Bristol Bay, Mackinaw, and the Canadian ship Griffin worked around the clock to clear a path through the ice that had caused several freighters to become stuck.
U.S. steel mills are now operating at about 71 percent of capacity, compared with less than 50 percent a year ago.
There are 44,000 jobs directly tied to Great Lakes shipping, and nearly 200,000 jobs in the mining and steel industries that depend on the lakes' cargo.
Another good sign was the fact that the first European vessel of the season is scheduled to arrive in Milwaukee on April 8, several weeks ahead of normal.
"The fact that someone had an order on the books for a ship to come here from Europe is a good sign," Reinelt said. Foreign ship traffic on the Great Lakes is down to a trickle especially compared to the boom years of the 1960s before containerization took hold.
Now most foreign goods are offloaded at New York or Montreal and shipped into the U.S. by truck or train.
Milwaukee lost millions in revenue and about 25 jobs partly because of state rules restricting the shipment of wind-turbine components, flowing more and more into the region as alternative energy production grows. Shipments of the huge turbine parts were routed through Duluth, Minn., and Beaumont, Texas, instead Milwaukee.
Mostly because of strong grain exports, and a record 1.3 million tons of salt brought to Milwaukee, the port's tonnage was down only slightly last year from 2008.
"Ships will follow the demand for cargo. As long as there's a demand for steel to come here, and as long as grain exports remain strong, we will have plenty of traffic," Reinelt said. ###