Dee Dee Wacksman Profiles Annie Edson Taylor Bay City's "Queen of the Mist"
April 4, 2010
By: Dave Rogers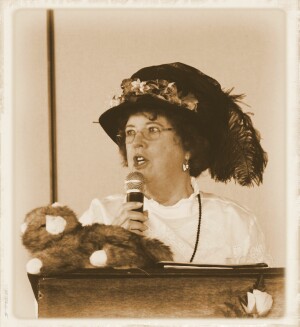 Annie Edson Taylor
(aka Dee Dee Wacksman)
Last Weeks Meeting - March 30, 2010
A physical culture teacher from Bay City Michigan sought fame in the strangest way in 1901.
Annie Edson Taylor, calling herself "Queen of the Mist," claiming she was 42 instead of her actual age of 63, "took the plunge," as the saying goes.
This improbably, often wacky, desperate tale was explained for Bay City Rotarians by Dee Dee Wacksman, Rotarian and local expert on women's history.
Mrs. Wacksman was in full Victorian regalia for the presentation, introduced by Ron Bloomfield of the Bay County Historical Museum.
Using a plush toy cat as a prop and a series of photographs of the event, Mrs. Wacksman brought Ms. Taylor back to life nearly 110 years after the fact.
The underlying theme of the tale was the difficulties faced by single women at the turn of the century. Ms. Taylor apparently came to Bay City a couple of years before her daring feat, hoping to make a living teaching dance and etiquette to wealthy families in Bay City.
But by then the lumber industry was in decline along with the wealth that families could devote to such instruction for their children and Ms. Taylor struggled to make a living.
Originally a New Yorker, Ms. Taylor traveled around looking for opportunities to make money. She finally determined to make history --and money -- by going over Niagara Falls in a barrel.
Where better to have a barrel made than in Bay City, the home of dozens of woodworking enterprises including the Bay City Cooperage in Salzburg. Craftsmen built a sturdy oak four and a half feet high hourglass shaped barrel, fitted it with straps inside and left a hole in the top for the intrepid adventuress to enter. After stopping up leaks with fabric and pumping air inside with a bicycle pump, the Bay City barrel was set to go.
Questions remain about whether there was a test of the barrel with a cat inside and whether the cat lived or died. A 200 pound anvil was attached to the bottom to keep the barrel upright.
As the media began to tout the daring trip, and police showed concern, Ms. Taylor's "manager," one Frank Russell of Bay City took the barrel to the Canadian side of the falls.
Over she went on Oct. 24, 1901, amid turmoil created by the press and without a plan to retrieve the barrel after the plunge. After 18 minutes to negotiate a mile and a half of the river and a 90 second drop of 158 feet, the barrel whirled round and round at the foot of the falls.
Operators of the excursion boat "Maid of the Mist" picked up the barrel, with a shaken but alive Ms. Taylor inside. She had momentarily lost consciousness during the drop. Except for a cut on her head, a cold, wet and tired heroine was taken to a boarding house.
"Would she do it again?" queried the press. "I'd sooner face a cannon," replied Ms. Taylor.
The manager disappeared with whatever money had been raised, the barrel also vanished. Ms. Taylor traveled to speaking engagements hoping to make enough to get back to Bay City. Another manager and another barrel were tried to no avail. "Apparently anybody could make a buck on her except herself," said Ms. Wacksman.
A film made in 1914 was shown on hand-cranked machines in amusement parks and she tried everything, including claiming she was clairvoyant, in attempts to shore up her finances.
Penniless and anemic, Annie Edson Taylor ended her days in the Niagara County Infirmary. "Although a little disfigured she is still in the ring," a newspaper writer commented.
She died and was buried in Oakwood Cemetery near several other intrepid souls who had died in attempts to go over the falls.
Although she had lived here only a short time, in 1981 Bay City Chamber of Commerce president Frank Braman attempted futilely to have her remains moved here. Today Ms. Taylor lives on in history and memory larger than she ever was in life.
---
CLUB NEWS and ANNOUNCEMENTS
The Census is almost on us. An accurate count is essential to our area. Census data drives the funding of many government services. A complete count is crucial to Bay County and Michigan.


Make-up On-Line at www.RotaryEclubOne.org


If you would like a new picture for the club's directory, or if you need a new name badge to reflect a classification change please contact Steve Kent.


Third Annual Rotary Concert: Thursday, April 29th, Arbeitoer Hall (1304 S. Wenona).

Social hour / cash bar / hors d'oeuvre 6-7, Concert 7-8:30 approx.

Proceeds are earmarked for Rotary Internationale's Polio campaign.

Performances by Lee and Mollie Newton, Rob Clark, Ron Bloomfield, Jeff Yantz, Andy Rogers, and Stephanie Ker.

Program ads may still be purchased available: $25 for patron/individual and $50 $100 $500 for businesses. Contact Andrea Hales.

Tickets $20 each available starting March 18.

---
DATES TO REMEMBER
April 27 OFF SITE MEETING
The Club will meet at the ISD facility's Blooming Chefs restaurant located at 4155 Monitor Road, Bay City



Rotary Concert Thursday, April 29th: at Arbeitoer Hall (1304 S. Wenona)

2010 Golf Scramble Monday, June 28 at the Bay City Country Club. Save the date.
Learn more at RotaryBayCity.org.


---
Upcoming Programs
(See the official schedule at RotaryBayCity.org )
April 6: InBound Group Study Exchange (GSE) Team from Portugal will talk about their homeland and experiences while in the U.S.A.


April 13: Olga Loginova Ambassadorial Scholar.


April 20: Chuck Cusick will present his Rotary 101 program.