Mike Stoner To Take Gavel from Rob Monroe as 2004-2005 Rotary President
Plans for Year Highlights July 6 Meeting; Masonic Temple Program Last Week
July 2, 2004
By: Dave Rogers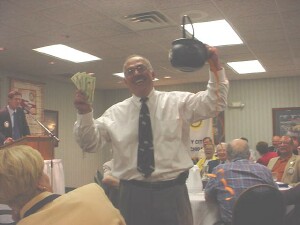 The Hratch Factor: Hratch Basmadjian takes home the prize again with his "Hratch Factor" stratregy.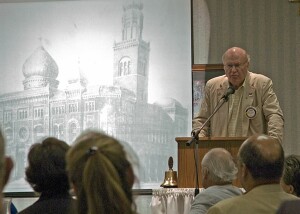 Dave Rogers answers questions about the Madison Avenue Masonic Temple at last week's Rotary meeting.
      New President Mike Stoner, who will take over the gavel Tuesday, July 6, from out-going President Rob Monroe at the Bay City Rotary Club, will outline plans for the coming year, including the following programs scheduled for the first two months:
      July 13 - 10 Minute Rotarians, Past President Tom Tabor;
      July 20 - Der Bass, Group Study Exchange outbound team to Denmark;
      July 27 - Club Assembly/Membership/Deb Wieland;      
      Aug. 3 - Bob Chadwick: Employing the Disabled;
      Aug. 10, Michael Seward, Bay Area Chamber of Commerce, proposed minor league baseball team;
      Aug. 17, Pam Clifford, Reading is Bay County's Business;
      Aug. 24 - 10 Minute Rotarians, Former President Harry Farris;
      Rob Clark sells his desk, auction.
      Last week's meeting: Shirley Roberts, Eric Jylha, Dave Rogers, spoke about the potential of the Bay City Masonic Temple as a community arts center.
      Citing "important ties to the history of the community," Mrs. Roberts said: "We need to save, preserve and provide an appropriate adaptive reuse of the Bay City MasonicTemple so it will serve the community well into the future." She is executive director of the Bay Area Convention and Visitors Bureau.
      Preservation of the Masonic Temple meets five of the six goals of the community cultural arts plan, she said. "The Bay Arts Council has held a special meeting and approved a resolution to pursue acquisition of the Masonic Temple," she stated.
      Possible uses of the 1893 building include an arts incubation center, conservatory of music or workspace for artists and students. The facility does not lend itself for use as a performing arts facility, she said.
      Eric Jylha said a goal is to include Masonic groups in the future of the building. "Nobody wants top demolish this building," he contended.
      Mrs. Roberts called the building "a community treasure" and said a process will be undertaken to "determine the highest and best use" of the building.###