Group Study Exchange Team From Portugal Visits Bay City Rotary
April 6, 2010
By: Stephen Kent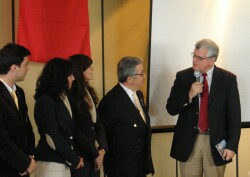 Mayor Brunner Welcomes GSE Team
Last Weeks Meeting - April 6, 2010
The Rotary Club of Bay City welcomed this year's
Group Study Exchange (GSE)
team from
Portugal
as they started their month long visit to Michigan. The team of four young professionals and their Rotarian team leader arrived last week with Bay City as their first District 6310 stop.
While in Michigan the team will stay with Rotary families. Each of the Bay City host families introduced the person staying with them. The team and the local club then exchanged gifts and trading flags. (See the club's
Flag Collection Page
and look for Portugal in the list.)
Bay City Mayor Charles Brunner visited the meeting to officially welcome the team to the city. City Manager Robert Belleman and Downtown Management Board director Candace Bales presented gifts and souvenirs from Bay City.
Portugal, located on the Iberian Peninsula in southwestern Europe, is the westernmost country of mainland Europe. It is bordered by the Atlantic Ocean to the west and south and by Spain to the north and east. During the 15th and 16th centuries Portugal was a major economic political and military power with a global empire including possessions in Africa, Asia, and South America.
Rotary has two districts in Portugal. District 1970 is in the north and the GSE team's home District 1960, which includes Madeira and the Azores Islands.
GSE Team Leader
Manuel Rodrigues
is a mechanical engineer working for Caterpillar. He has family in the US and visits the states annually.
Marta Roque
is an active member of Rotaract and has served as her club Treasurer, Secretary and Vice President. She is from Castelo Branco and is a building engineer and architect.
Patricia Batista Pereira
is sponsored by the Rotary Club of Portela. She lives in a small town in Montemor-O-Novo. She works in Public Relations at
CELF
, a language school.
Vanessa Ruivo
works in an architecture and engineering studio in Lisbon, the capitol of Portugal. She is sponsored by the Rotary Club Lisboa Centro.
Hugo Rio Tinto
is a Radiologist in a Lisbon Hospital and teaches at a private university. He studied in Lisbon and Paris and has worked in Greece and Mexico. Hugo was a member of Rotaract and served as his club President.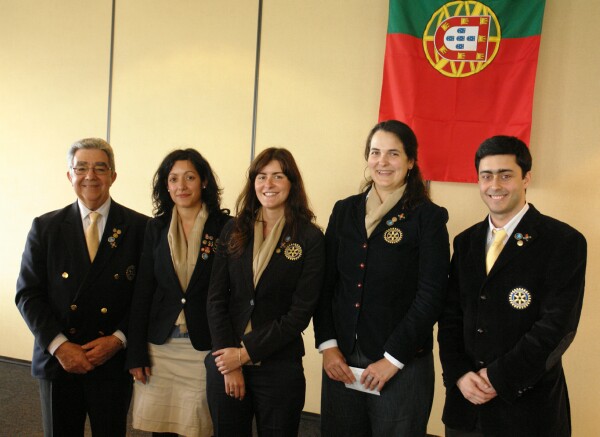 GSE Team from Portugal
Manuel Rodrigues, Marta Roque, Vanessa Ruivo, Patricia Batista Pereira, Hugo Rio Tinto
---
CLUB NEWS and ANNOUNCEMENTS
Every Rotarian, Every Year has been the theme for Foundation giving for several years. Rotary suggests budgeting $2/week, which can be paid with your semi-annual dues. At this rate a Rotarian can achieve Paul Harris Fellow level in ten years.

Check your giving status on the rotary.org web site. To set up your own log-in there you need the club number (2830), district number (6310) and your RI number, which can be found on your Rotary magazine, your dues invoice, and in the club directory.


Meeting Times: Lunch is now on the table at noon allowing members to start the meal earlier. The meeting starts by 12:30 and the speaker starting by 12:50. The meeting typically adjourns around 1:15!


Make-up On-Line at www.RotaryEclubOne.org


If you would like a new picture for the club's directory, or if you need a new name badge to reflect a classification change please contact Steve Kent.


Third Annual Rotary Concert: Thursday, April 29th, Arbeitoer Hall (1304 S. Wenona).

Social hour / cash bar / hors d'oeuvre 6-7, Concert 7-8:30 approx.

Proceeds are earmarked for Rotary Internationale's Polio campaign.

Performances by Lee and Mollie Newton, Rob Clark, Ron Bloomfield, Jeff Yantz, Andy Rogers, and Stephanie Ker.

Program ads may still be purchased available: $25 for patron/individual and $50 $100 $500 for businesses. Contact Andrea Hales.

Tickets $20 each available starting March 18.

---
DATES TO REMEMBER
April 27 OFF SITE MEETING
The Club will meet at the ISD facility's Blooming Chefs restaurant located at 4155 Monitor Road, Bay City



Rotary Concert Thursday, April 29th: at Arbeitoer Hall (1304 S. Wenona)

The Rotary Concert committee meets the third Tuesday each month at 11:15.

2010 Golf Scramble Monday, June 28 at the Bay City Country Club. Save the date.
Learn more at RotaryBayCity.org.


---
Upcoming Programs
(See the official schedule at RotaryBayCity.org )
April 13: Olga Loginova Ambassadorial Scholar


April 20: Chuck Cusick will present his Rotary 101 program.


April 27: OFF SITE MEETING at ISD. Rotary will be held at the ISD facility at their Blooming Chefs restaurant located at 4155 Monitor Road, Bay City
---
Visit RotaryBayCity.org