Rotary Welcomes Ambassadorial Scholar from Belarus
April 13, 2010
By: Stephen Kent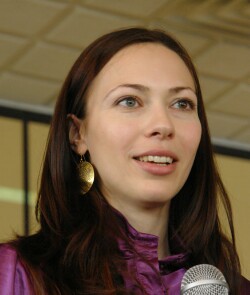 Olga Loginova
Last Weeks Meeting - April 13, 2010
Rotary welcomed
Olga Loginova
, Ambassadorial Scholar from Belarus, who spoke to the club about her country, her studies at CMU, and her plans.
Olga is attending CMU and working on a master's in Broadcasting and Cinema with an emphasis on Television. This year she won two award with the Michigan Broadcasting Assn. She will go home in May to get married and hopes to return in August to finish her masters.
Belarus traces its origin back over a thousand years. The country is located near the geographical center of Europe. It is one of the three eastern Slavic nations together with the Ukrainians and Russians. Olga is from the capital of Minsk.
The country has suffered greatly in all wars. It was bombed severely in WW II and, although the country is very old, there are few old buildings.
After the collapse of the Soviet Union the Belarus Parliament declared the country a sovereignty in 1990. It declared independence in 1991.
Olga is technically a Russian, which makes her a minority in a very diverse, but tolerant population. Her family comes from Siberia. She speaks excellent English, as well as Russian.
Olga loves to cook and her friends at CMU have become fans of her Russian Dumplings. She also commented on pancakes with caviar, another Russian treat. "If you have never tried it, try it. It's so good. Especially with Vodka", she said with humour.
Comparing the US to Belarus Olga commented that it's much colder there. Typically 20 to 30 degrees lower than what Michigan experienced.
The country was downwind from the Chernobyl power plant in neighboring Ukraine and, in 1986, suffered more than other countries from the nuclear fallout from the explosion of that plant.
Coming to the States was something of a culture shock for Olga, who at home worked as a radio and television reporter specializing in investigative journalism. She said that here you can retire from a career and enjoy life. In Belarus too many people retire to nothing and have little hope of more.
She closed by showing one of her TV pieces that focused on older, retired people who had found a better way through community, exercise, and the occasional dip through the ice into the water of a frozen pond. The second report focused on a town that is best known as a smuggling center.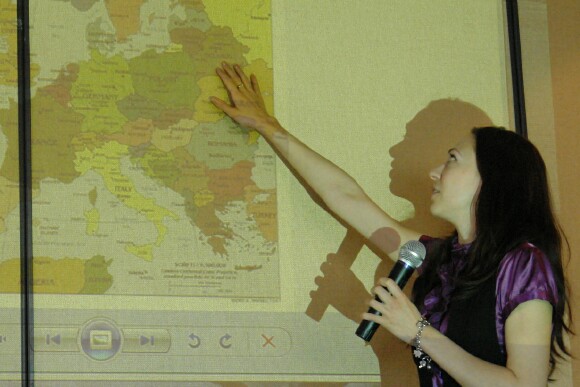 Olga Loginova Points to Belarus
---
CLUB NEWS and ANNOUNCEMENTS
Every Rotarian, Every Year has been the theme for Foundation giving for several years. Rotary suggests budgeting $2/week, which can be paid with your semi-annual dues. At this rate a Rotarian can achieve Paul Harris Fellow level in ten years.

Check your giving status on the rotary.org web site. To set up your own log-in there you need the club number (2830), district number (6310) and your RI number, which can be found on your Rotary magazine, your dues invoice, and in the club directory.


Meeting Times: Lunch is now on the table at noon allowing members to start the meal earlier. The meeting starts by 12:30 and the speaker starting by 12:50. The meeting typically adjourns around 1:15!


Make-up On-Line at www.RotaryEclubOne.org


If you would like a new picture for the club's directory, or if you need a new name badge to reflect a classification change please contact Steve Kent.


Third Annual Rotary Concert: Thursday, April 29th, Arbeitoer Hall (1304 S. Wenona).

Social hour / cash bar / hors d'oeuvre 6-7, Concert 7-8:30 approx.

Proceeds are earmarked for Rotary Internationale's Polio campaign.

Performances by Lee and Mollie Newton, Rob Clark, Ron Bloomfield, Jeff Yantz, Andy Rogers, and Stephanie Ker.

Program ads may still be purchased available: $25 for patron/individual and $50 $100 $500 for businesses. Contact Andrea Hales.

Tickets $20 each available starting March 18.

---
DATES TO REMEMBER
April 27 OFF SITE MEETING
The Club will meet at the ISD facility's Blooming Chefs restaurant located at 4155 Monitor Road, Bay City



Rotary Concert Thursday, April 29th: at Arbeitoer Hall (1304 S. Wenona)

The Rotary Concert committee meets the third Tuesday each month at 11:15.

2010 Golf Scramble Monday, June 28 at the Bay City Country Club. Save the date.
Learn more at RotaryBayCity.org.


---
Upcoming Programs
(See the official schedule at RotaryBayCity.org )
April 20: Chuck Cusick will present his Rotary 101 program.


April 27: OFF SITE MEETING at ISD. Rotary will be held at the ISD facility at their Blooming Chefs restaurant located at 4155 Monitor Road, Bay City
---
Visit RotaryBayCity.org