Rotary Views Polio Film
Club is well represented at District Conference
April 20, 2010
By: Stephen Kent
Last Weeks Meeting - April 20, 2010
Rotarians viewed the HBO Documentary "
The Final Inch
" on Tuesday. The short film, funded by Google and produced by Irene Taylor Brodsky, was nominated in 2008 for an Academy Award.
The film follows volunteers, including Rotarians, who worked door to door in the slums of India to vaccinate children. It illustrated the difficulties and challenges faced by governments and health workers to reach those children still unprotected fifty years after the vaccine was developed in the US.
The film aired on HBO on April 1, 2010. Check your schedule for re-broadcasts or visit
HBO.COM
for more information.
For feedback from other Rotarians visit
Rotary.org
.
---
CLUB NEWS and ANNOUNCEMENTS
April 27 OFF SITE MEETING
The Club will meet at the ISD facility's Blooming Chefs restaurant located at 4155 Monitor Road, Bay City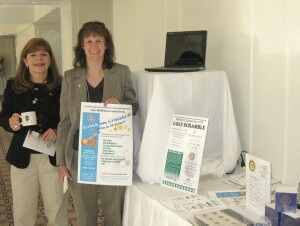 Nancy and Andrea at the Rotary Store
The Bay City club was well represented at the District conference held in Midland. Several of our members presented programs. Nancy Greve and Andrea Hales set up the "Rotary Store" to sell pens, cups and stickers while promoting the upcoming Rotary Concert and Golf Scramble.


Rotary welcomed new members Joy Marotzke Director of Nursing at Bay Regional Medical Center and Allen Kennedy President of Bay Aggregate. Be sure to greet our new members and give them a personal welcome to the club.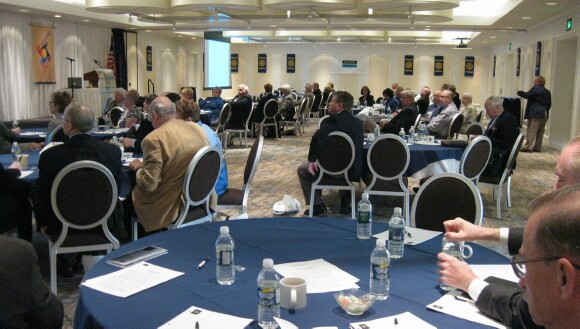 Bob Chadwick presents program to District Assembly
Make-up On-Line at www.RotaryEclubOne.org


If you would like a new picture for the club's directory, or if you need a new name badge to reflect a classification change please contact Steve Kent.

---
DATES TO REMEMBER
Rotary Concert Thursday, April 29th: at Arbeitoer Hall, 1304 S. Wenona.
Learn more and get a map link at RotaryBayCity.org.

The Rotary Concert committee meets the third Tuesday each month at 11:15.

2010 Golf Scramble Monday, June 28 at the Bay City Country Club. Save the date.
Learn more at RotaryBayCity.org.


---
Upcoming Programs
(See the official schedule at RotaryBayCity.org )
April 27: OFF SITE MEETING at ISD. Rotary will be held at the ISD facility at their Blooming Chefs restaurant located at 4155 Monitor Road, Bay City


April 27: 2010 Census
---
Visit RotaryBayCity.org