Career Center Chef Andy Bacigalupo Tells Rotarians About Salt, Dr. Oz Show
May 2, 2010
By: Dave Rogers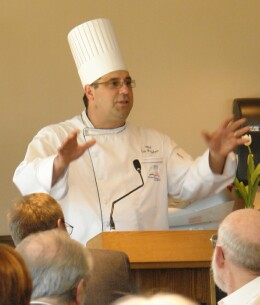 Chef Andy Bacigalupo
Cut down on salt intake!
That message, promoted by Chef Andy Bacigalupo of the Bloomin' Chefs Café at the Bay Arenac Career Center, has taken him to the big time. On national television on the Dr. Oz Show, aired Jan. 14.
It has also cost him big time -- about 53 pounds so far toward his goal of an 80 pound weight loss. (He lost 40 pounds in 28 days for the Dr. Oz Show.) How did he do it? Mainly by reducing sodium intake, and that's a real good thing that many folks could take to heart, he says.
Bay City Rotarians joined Andy for lunch last Tuesday and heard his life story, one that seems to be gaining wide interest as it promotes healthy lifestyles.
Not only was the food wonderful (we even had dessert), but the low sodium food message was very valuable and, if followed, is sure to lengthen lives and improve well-being.
Andy credits his success to his counselor at T.L. Handy High who urged him to attend what then was called the Bay Arenac Skill Center. He took a food service program, inspired by the experience, went on to the Culinary Institute of America at Hyde Park, New York. Then he worked for the Governor of Georgia, then Zell Miller, the Great Pacific Food Company in Seattle.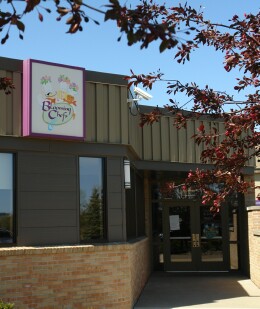 Entrance to the Blooming Chefs
Andy came home to his roots and has been culinary instructor at the Career Center for eight years. His students have won four state titles and a national championship in culinary competitions.
Not only were the students featured on the Dr. Oz Show, along with Andy, the whole program will soon make Sizzle Magazine, a national publication for chefs.
Wait, there's more! Andy's invention of a salt substitute "Reason to Season" is going to be marketed nationally. Labeling design is underway and the product will be marketed through Gourmet Branding of Tennessee.
How did all this happen to someone from a school in Bay City?
Well, first he heard the Dr. Oz Show was looking for "an energetic chef" for a Challenge Project to be filmed for a national television production. He submitted a picture and a letter describing his background. Amazingly, Andy was selected from 25,000 applicants after "about 30 phone interviews."
NBC cameras showed up at his home and the Career Center, did about 10 hours of filming of he and students and on he went to New York to film the show.
The Dr Oz Challenge?
Reduce salt intake, lower blood pressure and cholesterol and lose 40 pounds in 28 days. Guess what? He did it! All by watching his diet, and walking 10,000 steps (4 1/2 miles) a day.
The project raised a perplexing question for Andy: who trusts a skinny chef?
"But I have three babies to live for and he wanted to avoid any more heart attacks and stick around for a while. It was a wake-up call, perhaps just in time to help prolong his career and his life.
---
CLUB NEWS and ANNOUNCEMENTS
A large audience enjoyed drinks, ample hors d'ouevres, and great music at the Third Rotary Concert. Some of Rotary's best local musicians provided the entertainment. Lee and Molly Newton, creators of the concert series, opened the evening with light classical music on sax and keyboard. They were followed by Rob Clark, Jeff Yantz, Andy Rogers along with Ryan Stanton. The classical selections were followed with rock as well as original works by Rob, Ryan and Jeff. Proceeds from the event are earmarked for Rotary's International Campaign to Eradicate polio from the world.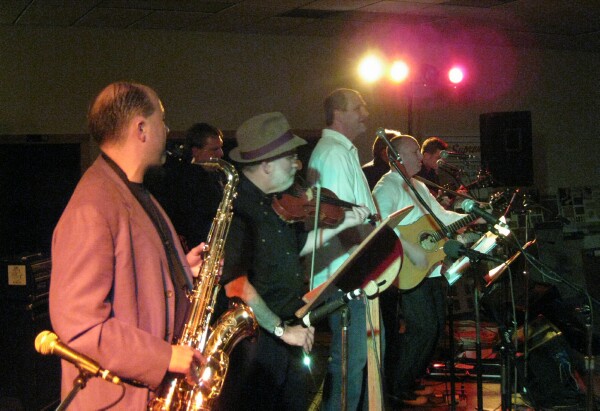 Make-up On-Line at www.RotaryEclubOne.org

---
DATES TO REMEMBER


2010 Golf Scramble Monday, June 28 at the Bay City Country Club. Save the date.
Learn more at RotaryBayCity.org.


---
Upcoming Programs
(See the official schedule at RotaryBayCity.org )
May 4: 2010 Census
---
Visit RotaryBayCity.org