"Ten Minute Rotarians" Entertain and Enlighten Club
July 13, 2004
By: Stephen Kent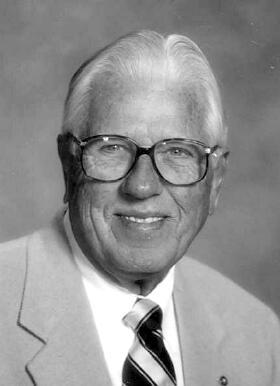 Tom Tabor - Club President 1967-68
In his remarks on taking office, incoming President Mike Stoner promised more of the popular "Ten Minute Rotarian" programs. The plan will be to have a relative new member, one who's been around a few years, and a past president speak. Each member gives a short outline of their background and current endeavors. The past president will tell some of the highlights of his or her year in office.
At the July 13, 2004 meeting Tom Tabor talked about his year as president. Tabor was approved for membership on June 14, 1954 - fifty years ago. Tabor was club president in 1967-68.
Things were different in those days. Membership was very restrictive. Tabor said the club even had a "secret committee" which had the last word on incoming members. The club met at the Wenona Hotel where lunch was served by waiters and the cost was $1.50. Tabor noted that, when the hotel management insisted on raising the cost by 25 cents, the club revolted and moved to another location. In fact, theymoved a number of times in his short year as president.
Tabor talked about how much membership in the Bay City Rotary Club has meant to him. The friendships and experiences have been a significant part of his life. Among the most important changes in Rotary was the inclusion of women in the club. A controversial move at the time, it has proved to be the best thing that ever happened to the organization.
The second speaker was Anita Bowden, a relatively new member. Bowden is the Executive Directory of the YWCA. She commented that it was a somewhat new experience to speak to a audience with such a large number of men. Her career has been largely concerned with women's issues and minority issues.
Bowden spoke of her youth in the farming culture of Michigan's Thumb, where her family goes back a number of generations. She said that half of her family was ultra religious Catholics and the other half was beer drinking, sausage making, Germans. As a youth Bowden became interested in psychology. When her Catholic Grandmother insisted that "those people" do the devil's work, Bowden changed her mind and decided that she's be a reporter. In fact Bowden married young and soon had a family of four children. She later put herself through college, graduating with honors from the University of Michigan, Flint.
---
eClub-One
: President Stoner reminded members of the opportunity provided by Rotary's on-line eClub-One. He encouraged members with internet connections to visit that club once a month. Click this link to open eClubOne in a new window:
www.RotaryEclubOne.org
---
Paul Harris Quote:
"Friendship was the foundation rock on which Rotary was built, and tolerance is the element which holds it together. There is enough atomic energy in every Rotary club to blow it into a thousand bits, were it not for the spirit of tolerance and friendship." Paul Harris,
MyRoad to Rotary
, 1947.
---
UPCOMING PROGRAMS
July 20 - To be announced.
Previously scheduled Group Study Exchange outbound team to Denmark has been re-scheduled for a later date.


July 27 - Club Assembly/Membership/Deb Wieland;


Aug. 3 - Bob Chadwick: Employing the Disabled;


Aug. 10, Michael Seward, Bay Area Chamber of Commerce, proposed minor league baseball team;


Aug. 17, Pam Clifford, Reading is Bay County's Business;


Aug. 24 - 10 Minute Rotarians, Former President Harry Farris; Rob Clark sells his desk, auction.