10 Minute Rotarians Tell Their Stories
May 15, 2010
By: Stephen Kent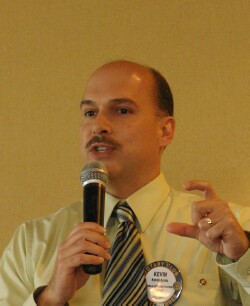 Kevin Ayala
Rotarians enjoyed the ever popular ? Minute Rotarian" program Tuesday where two Rotarians tell the highlights of their life stories in ten minutes.
The program was led off by Kevin Ayala, Assistant Director of the Bay County Library System. Kevin joined Rotary in 2006. He has worked with the Youth Exchange program and hosted two students.
Kevin was raised in Bay City on the east side. He's the fourth of five boys. After graduating from Bay City Central he decided to join the service for two years then go to college. Both marines and army told him minimum three year hitch so he went to the Navy recruiter. He was recruited with the promise of computer training and flying. Then told it was a four year hitch. He still doesn't know why but he took it.
The Navy took him to California where he flew as a member of an anti-submarine warfare operator with a crew of 20. During his enlistment he never got on a boat, never went overseas for more than six weeks but had a great experience and saw a lot of the world.
Having seen the world, Kevin realized that what he really wanted was to come home and live in Bay City. He used his GI money to attend Delta then SVSU. He concentrated in finance and graduated with a dual major in accounting and finance.
In 1992 Kevin married Lea, whom he had known since high school. On graduation in 1994 he took a job as a cost accountant with Means Industries in Vassar.
Realizing he missed school, Kevin went back to SVSU and finished a masters degree, paid for by Means. Hearing buzz about possible layoffs, he interviewed with the County and was offered a job, which he was reluctant to take since Means had invested in his masters. Yet the very next day he was laid off by Means, which allowed him to move to the Bay County Finance department.
After a year and a half with the County, Kevin had the opportunity to move to the Bay County Library System as the Business Manager. In 2006, after the changes in the Library management, Kevin's job was combined and he became assistant manager with responsibility for finance, HR, programming and services.
Kevin and Lea have two daughters, aged 9 and 11. Kevin volunteers as their coach for soccer, basketball and bowling. He reports that as a real challenge having been raised in a house with five boys and no girls.
Kevin loves his job and opportunity for giving something back to community. Although not fans of camping, Kevin and Lea bought a camper and regularly take their girls camping with Lea's family.
---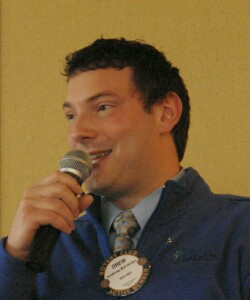 Drew Kornecky
Drew Kornecky, now with Redi-Med, joined Rotary in November 2009. He's married to Traci and they recently purchased a home here in town.
Drew was born in Bay City but the family moved to Clear Water Florida soon after. That's where he learned to play baseball, body surf and eat sunflower seeds his grandfather grew.
As a boy in Florida Drew's live seemed to revolved around baseball. He played year round. He remembers as a six year old meeting hall of famer Ozzie Smith and getting a signed baseball.
On weekends the family would go to Fort DeSoto, where he learned to body surf. "We'd go out and throw ourselves on these six foot waves and ride them until we crashed. That's where I learned to swim too."
The family returned to Bay City when Drew was 13. He went to Kramer Jr. High and then graduated from Garber in 1999. He played baseball and basketball at school and in little league and was a member of a traveling baseball team. In his Junior and Senior years drew worked on a farm south of town.
When Drew was eighteen his Dad remarried and moved to Illinois. Drew and his brother stayed in Bay City and got an apartment with a friend. Drew went to Delta to work on an Elementary Education degree.
Drew's first "real world" job was with Verizon Wireless where he started as a customer service rep and worked up to salesman. After four years he left with a friend to start a wireless accessory store in Saginaw.
Drew married Traci three years ago. He soon learned the answer to almost all questions is "Yes Dear". He also learned to enjoy hunting by going with her father.
Among Drew's goals is taking Traci to Cooperstown and the Baseball Hall of Fame, where he went with his Dad. His other goal is to travel to see every baseball park in the country.
---
CLUB NEWS and ANNOUNCEMENTS
The Rotary Concert goal was to raise $2,000. The final tally showed $3,600. Great job and thanks to everyone who worked so hard on a great event.
Get ready for a really unusual event at the July 28 Golf Scramble when the organizers will hold a helicopter golf ball drop. This should be fun!
Make-up On-Line at www.RotaryEclubOne.org
---
DATES TO REMEMBER
The
Finance Committee
will meet this Tuesday, May 18, at 11:00. Anyone interested is welcome to attend.
A new member orientation will be held May 26.
2010 Golf Scramble
Monday, June 28 at the Bay City Country Club. Save the date.
Learn more at
RotaryBayCity.org
.
---
Upcoming Programs
(See the official schedule at RotaryBayCity.org )
May 18: Angela Barris
of the Mid Michigan Children's Museum will update us on the bus grant program funded by our club last year and on the Museum in general.
May 25: "C is for Cornhuskers"
Rajean Luebs will speak about Literacy and the project that Nebraska developed. She has authored a book,"C is for Cornhuskers."
June 15:
Find out how
social networking sites
can be used for social engineering. Learn how to protect your company from the potential threat of Facebook.
June 29: Tall Ship Celebration 2010 update
June 29: CPS-3 Study
a grassroots effort where local communities from across the country can support cancer research not just through fundraising efforts like Relay For Life, but also by participating actively in this historic research study.
---
Visit RotaryBayCity.org