Barris Thanks Club on Behalf of Children's Museum
May 23, 2010
By: Stephen Kent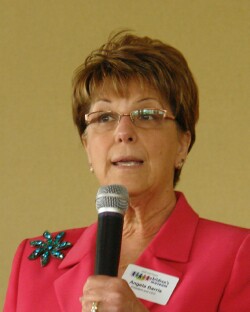 Angela Barris
Angela Barris, President & CEO of the Mid-Michigan Children's Museum in Saginaw. Angela, a former member of this Rotary Club, has held her position since 2007. The Museum was a recipient of a Rotary Community Grant last month to help transport Bay County school children to and from the Museum.
Barris thanked the Club for the grant and noted that at this time about 700 children from public and parochial schools have been transported by the "Rotary Rides" program. The program has become a model for approaching other service clubs and organizations for funds.
Transportation has become a major cost for schools in today's economy. The Rotary grant provides $75 per classroom for transportation. Everyone, teachers, kids and the museum are delighted.
Museum has been open two years on June 1. 78,000 children and families have visited in that time. Attendance in March and April this year exceeded last year and the trend is expected to continue.
Community Foundation in Saginaw challenged organizations to raise $25,000 last year. That goal was met and the Community Foundation added another $10,000 to the endowment.
If you visit during the week you would see a wide variety of activities and many children. Schools from over 19 counties have sent classes to the museum. The Museum employees a full time teacher to coordinate and run these programs.
Visiting on the weekend reveals an entirely different environment. You'd find birthday parties, baby showers, wedding showers, and other events. Children are playing piano, there are other entertainers, and many events.
The Museum also provides services to adults with learning disabilities, developmental delays and other special needs. Tuesdays are reserved for these individuals and experienced volunteers are on site for assistance. Evening events are scheduled for families with children suffering with autism.
The museum has paid staff but is also supported by many trained volunteers. An internship program is run in cooperation with Delta and SVSU. Students work in all departments. Saginaw Valley Rehab provides workers and mentors to help the staff.
For more information visit
midmicm.org
.
---
CLUB NEWS and ANNOUNCEMENTS
President Trahan reported that members of this club have contributed over $17,000 to the Rotary Foundation this year. She has challenged the club to another small project. She'd like to see members collectively contribute $1,000 toward an international "water project". It was suggested that we may
have Chuck Cusick model his speedo
and take contributions to put some clothes on. A small contribution was made immediately to help stop this idea before it gets traction.
Get ready for a really unusual event at the July 28 Golf Scramble when the organizers will hold a
helicopter golf ball drop
. This should be fun!
Many members who have received their Paul Harris award have continued to give and thus accumulated "points", which can be assigned to other members to help them get their Paul Harris. Cindy Chadwick has offered 500 points to the first four members who put up their own $500 toward their Paul Harris.
Make-up On-Line at www.RotaryEclubOne.org
---
DATES TO REMEMBER
A new member orientation will be held May 26.
2010 Golf Scramble
Monday, June 28 at the Bay City Country Club. Save the date.
Learn more at
RotaryBayCity.org
.
---
Upcoming Programs
(See the official schedule at RotaryBayCity.org )
May 25: "C is for Cornhuskers"
Rajean Luebs will speak about Literacy and the project that Nebraska developed. She has authored a book,"C is for Cornhuskers."
June 15:
Find out how
social networking sites
can be used for social engineering. Learn how to protect your company from the potential threat of Facebook.
June 29: Tall Ship Celebration 2010 update
June 29: CPS-3 Study
a grassroots effort where local communities from across the country can support cancer research not just through fundraising efforts like Relay For Life, but also by participating actively in this historic research study.
---
Visit RotaryBayCity.org