Bay City Native Talks about Children's Book Series
May 29, 2010
By: Stephen Kent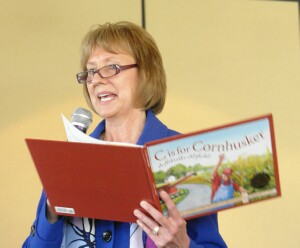 Rajean Luebs Shepherd
Rajean Luebs Shepherd
is a native of Bay City. She graduated from CMU with an Elementary Education degree and now makes her home in North Platte, Nebraska where she lives with her husband and two sons. Her husband, Stewart, has been a Rotarian for 25 years and is secretary and president-elect of the Noon Rotary Club of North Platte.
Rajean is the author of two children's books published by Sleeping Bear Press of Ann Arbor, Michigan: "C is for Cornhusker" and "Husker Numbers". These books are part of the series"Discover America state by state" and "count your way across the USA".
The Alphabet books started in 1999 with "M is for Mitten" a Michigan Alphabet. The Cornhusker book, published in 2004, was the 46th title. The best selling series concluded in 2005 with "A is for Aloha". Rajean's second book, "Husker Numbers" was published in 2006.
The book's style is rhyming verse for children plus accompanied by expository text on each page to compliment the verse. Rajean read the verse for three letters to illustrate the concept:
"B is for Bison and Buffalo Bill and his traveling wild west show with ropers, riders, and wranglers it was our nation's first rodeo." Buffalo Bill was a native of North Platte and is celebrated there where his Victorian home is now a state historical museum.
"Clickety Clack down the railroad track and on to the letter U for the trains of the Union Pacific with their cars and freight and crew". North Platte is home to the worlds largest rail yard, where some 10,000 cars are sorted and sent east and west every day.
"V is for the Canteen Volunteers who served during World War Two as six million soldiers were greeted and fed when their trains came passing through." tells the story of the famous North Platte Canteen where, from Dec 1941 to April 1946, and with the help of 125 nearby communities, provided food, warmth and friendship to six million soldiers on their way to war.
After a presentation to the North Platte Rotary, a member suggested that the club adopted the Discover America series as a literacy project. Over two weeks, on a map illustrating the books, each Rotarian signed his name on a state with some significance to him. All books were adopted and presented as a collection to the North Platte Public Library. The project was featured in the April Rotarian Magazine.
Rajean became a children's book author almost by chance. She had seen and purchased the Michigan book in a Bay City shop while visiting family. When she got home she found "L is for Lone Star", which reminded her of the Michigan book. Seeing that Sleeping Bear had published both books she called to ask if they had a Nebraska book. They were accepting submissions from Nebraska authors at the time but had not selected anyone. Rajean decided to submit examples of her writing and six months later she was selected to pen the Nebraska book.
Sleeping Bear, as a rule, does not have authors and illustrators work together. In this case Rajean and water color illustrator Sandy Applehoff from Falls City, Nebraska were introduced and Sandy, without telling Rajean, included Rajean's two sons in the Arbor Day painting in the book.
For more information see
sleepingbearpress.com
.
---
CLUB NEWS and ANNOUNCEMENTS
As part of President Anne's challenge to the club to Raise $1,000 for a clean water project, she has brought a large fish bowl to the meetings and invited members to make a contribution. By the end of the meeting $333.25 had been raised; enough to purchase three water filters.
Bob and Cindy Chadwick were honored as "Major Donors" to the Rotary Foundation. Last week Cindy offered 500 points to four members who will put up their own $500 toward their first level Paul Harris.
Keep in mind the
Rotary Golf Outing
is scheduled for June 28. Full information is available on the club web site at
www.rotarybaycity.org
Make-up On-Line at www.RotaryEclubOne.org
---
DATES TO REMEMBER
The next
new member orientation
will be held May 26.
2010 Golf Scramble
Monday, June 28 at the Bay City Country Club. Save the date.
Learn more at
RotaryBayCity.org
.
---
Upcoming Programs
(See the official schedule at RotaryBayCity.org )
June 1: Vocational Talks
Two of our Fellow Rotarians will share information about their chosen vocation.
June 15:
Find out how
social networking sites
can be used for social engineering. Learn how to protect your company from the potential threat of Facebook.
June 22: Tall Ship Celebration 2010 update
June 29: CPS-3 Study
a grassroots effort where local communities from across the country can support cancer research not just through fundraising efforts like Relay For Life, but also by participating actively in this historic research study.
July 6: Passing the Gavel. The new Rotary year begins as Eric Jyhla takes office as 2010-2011 President.
---
Visit RotaryBayCity.org