Angie Price Tells Rotarians of Dangers of Social Networking
June 20, 2010
By: Dave Rogers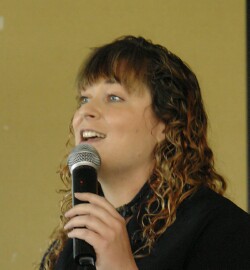 Angie Price
Guard your passwords, says Angie Price, CPA, of Weinlander Fitzhugh CPAs.
Ms. Price, a Microsoft-certified engineer, the speaker at last Tuesday's meeting of the Rotary Club of Bay City, stressed the dangers of social networking sites and offered advice on how to minimize risks at the work site.
She defined "social engineering" as "manipulating people by deception in person, phone, e-mail or through social networking sites."
Her firm offers a new area of service involving computer use because of its pervasiveness in the business world today, she said. Part of the job is advising clients on the use of social networking sites like Facebook.
One key area of danger is quizzes which "apparently are harmless and fun but can be one of the most insidious factors" in the social networking field. "You have no idea who has access to your answers," she said.
Quizzes give access to your profile and other personal information, all information that could be useful to somebody who wants to launch an attack, said Ms. Price.
Attacks, or scams, as she described, can involve "spear phishing", fraudulent e-mails to lure you into divulging personal information such as credit card numbers, bank account codes or mortgage account access.
There are an estimated 10 million cases of identity theft each year, she said, with that branch of crime recently passing drug trafficking as No. 1 in frequency in this nation.
Tax returns, Social Security numbers and other personal information are gold mines to identity thieves, she said. Be selective when getting on Facebook and never give information such as your mother's maiden name, banking or password details.
Some companies are blocking social networking sites in order to manage organizational risk from malicious social engineering, she said. There is only so much that anti-virus software can do in that regard.
Change your general password every 180 days and your banking password every three months, she advised.
---
CLUB NEWS and ANNOUNCEMENTS
The
International Night
committee will meet at 11 a.m. June 22.
Incoming President Eric Jylha is
seeking volunteer
public relations and programming committee members and youth exchange hosts for next year.
Leo Najar invites all members, family, friends, kids and pets to join the
Rotary Chorus for the July Fourth Fireworks
. We will again sing on stage to accompany the Bijou Orchestra and the fireworks on Saturday July 3rd. There will be a couple of rehearsals, but the music is very familiar and easy. After rehearsal on Saturday everyone will go the Chadwick's house for a picnic than back to the Riverfront where you'll enjoy the BEST SEAT in the house for.
Remember that the
Rotary Golf Outing
is scheduled for June 28. Bob Chadwick noted that more
golfing teams
are needed for the event at the Bay City Country Club. Even if you don't play you can buy a chance for great prizes in the Helicopter Golf Ball Drop. Thanks to sponsors Covenant, Bay Regional, Wildfire Credit Union and Bay Special Care Hospital. Full information is available on the club web site at
www.rotarybaycity.org
Make-up On-Line at www.RotaryEclubOne.org
---
DATES TO REMEMBER
2010 Golf Scramble
Monday, June 28 at the Bay City Country Club. Save the date.
Learn more at
RotaryBayCity.org
.
---
Upcoming Programs
(See the official schedule at RotaryBayCity.org )
June 22: Tall Ship Celebration 2010 update
June 29: CPS-3 Study
a grassroots effort where local communities from across the country can support cancer research not just through fundraising efforts like Relay For Life, but also by participating actively in this historic research study.
July 6: Passing the Gavel
. The new Rotary year begins as Eric Jyhla takes office as 2010-2011 President.
---
Visit RotaryBayCity.org