Tall Ships Preview
June 22, 2010
By: Stephen Kent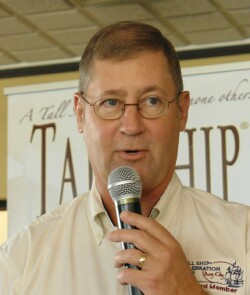 Kevin Dykema
The Tall Ships are returning to Bay City in just three weeks. Kevin Dykema, former publisher of the Bay City Times, gave Rotary a rundown of the ships in this year's fleet. A founder and chairman of BaySail and chairman of Tallship® Celebration Bay City, Dykema has also served on the board of ASTA, the
American Sail Training Association
.
This will the fourth time the Tall Ship Celebration tour will visit Bay City, which was named Port of the Year in 2001 and 6002. Plans call for twelve ships to come in, although schedules do change from time to time. The tour starts in Toronto on July 4th then goes to Cleavland, Bay City, Duluth, Green Bay and finishes in Chicago sometime in August.
New this year, the entire circuit is being sponsored by Great Lakes United, which is an international environmental advocacy group. This will give the tour a "green theme", which is fitting for ships that are powered by the wind and are the original clean energy machines.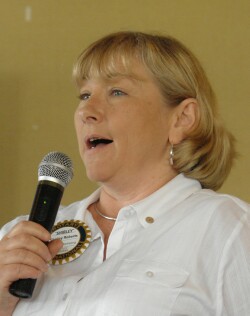 Shirley Roberts
Rotarian Shirley Roberts is almost as well known around the Tall Ship Circuit as Dykema. She's been in the thick of the organization and management of each of the visits to Bay City.
"One of the challenges of these events, which many people don't understand, is that we have to pay all of these ships to come here", said Roberts. "They don't just show up. We have to negotiate appearance agreements with each ship and fees this year range from $7,500 to $35,000 for the European vessels."
The Tall Ships organization realized from the beginning that this festival would be very important for Bay City and they endeavored to make our stop the best on the circuit. That worked with the City being named Port of the Year two out of three times.
The event typically brings 100,000 people to the area and has a very significant impact on the economy. Of the event's half million dollar budget, $135,000 is devoted to promotion and advertising, the second largest part of the budget.
Volunteers are a major part of making the event a success. Many Rotarians are involved at all levels. Kathy Czerwinski talks about the job of Ship Liaison Officers. These people take care of the ships and crews and do whatever is necessary to make their visit a success. This can range from finding supplies, getting provisions, finding repair services, greeting guests, and just about anything else. Czerwinski said that when she was liaison to a ship from India, the crew really wanted to visit Best Buy for new cameras, CD players, etc.
The Ships are training vessels and are crewed by young people. Often even the captains are young and frequently graduates of ASTA training. Volunteers, like Rotarian Rob Clark, have organized entertainment, crew nights, and parties, all important to making Bay City such a popular stop on the circuit.
Many of the ships offer berths for public voyages between ports. A number of Bay Citians have already signed up to make the trip into Bay City.
For more information visit these sites
American Sail Training Association
and
TallShipCelebration.com
. ASTA also offers an on-line
Fleet Tracker
to follow the ships in real time.
---
CLUB NEWS and ANNOUNCEMENTS
Incoming President Eric Jylha is
seeking volunteer
public relations committee chairman. Chris Girard is taking the programs committee chair.
Deb Lutz reminds members who have not completed their Polio Challenge contributions that the time is almost up.
Thanks to the drivers who picked up our Rotary Campers. Reports from these young people is that they had a great time.
Leo Najar invites all members, family, friends, kids and pets to join the
Rotary Chorus for the July Fourth Fireworks
. We will again sing on stage to accompany the Bijou Orchestra and the fireworks on Saturday July 3rd. There will be a couple of rehearsals, but the music is very familiar and easy. After rehearsal on Saturday everyone will go the Chadwick's house for a picnic than back to the Riverfront where you'll enjoy the BEST SEAT in the house for.
Remember that the
Rotary Golf Outing
is Monday June 28. Be there for the helicopter golf ball drop! Full information is available on the club web site at
www.rotarybaycity.org
Make-up On-Line at www.RotaryEclubOne.org
---
DATES TO REMEMBER
The next
new member orientation
will be held July 7.
---
Upcoming Programs
(See the official schedule at RotaryBayCity.org )
June 29: CPS-3 Study
a grassroots effort where local communities from across the country can support cancer research not just through fundraising efforts like Relay For Life, but also by participating actively in this historic research study.
July 6: Passing the Gavel
. The new Rotary year begins as Eric Jyhla takes office as 2010-2011 President.
---
Visit RotaryBayCity.org