Cancer Study 3 Talk Presented To Rotarians
Golf Outing Helicopter Ball Drop pictures
June 29, 2010
By: Stephen Kent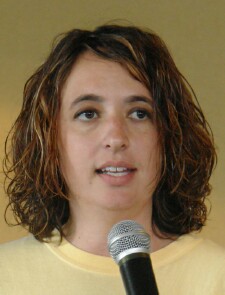 Kendra Christensen
American Cancer Society Volunteer
Kendra Christensen, volunteer for the American Cancer Society (ACS), spoke to Rotary about the "Cancer Prevention Study-3", for which she is the local committee chair.
The Cancer Prevention Study 3 (CPS-3) is the third and most comprehensive study undertaken by the ACS. CPS-I ran from 1959 to 1972 and followed some 1 million adult men and women. Those people, enrolled by households targeted families where at least one person was 45 years or older. Everyone in the family who was at least 30 years old was recruited into the program.
CPS-2 began in 1982 and studies 1.2 million people from all 50 states. CPS-3 is now enrolling subjects with the goal of expanding on the CPS-2 study.
CPS-3 will replace the older members of the CPS-2 group because of changes in the causes of cancer and advancing understanding of the disease. CPS-3 will recruit younger and middle-ages adults between the ages of 30 and 65. It will include a larger group of non-white and Hispanic populations.
Prospective study participants can sign up at the upcoming Bay County Relay for Life at the Bay County Fairgrounds on Saturday, July 24 between 1:00 pm and 5:00 pm.
To be accepted a person must answer three question. First, do you meet the 30 to 65 age requirement. Second, you never have been diagnosed with cancer as this is a cancer prevention study. Third, are you willing to participate in a long term study that could run for twenty to thirty years.
If accepted, volunteers will fill out an initial health survey, get a waist measurement and provide a simple blood sample. A short time later they'll receive a questionnaire in the mail. Each year they will receive a newsletter and every other year they will be asked to complete a health survey.
The very large size of each study group makes these the long term results of these studies an extraordinarily valuable resource for cancer researchers.
---
CLUB NEWS and ANNOUNCEMENTS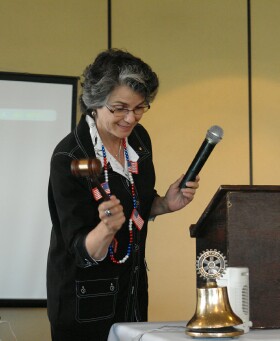 President Anne rings closing bell
for the last time
June 29 was the final meeting of the 2009-2010 Rotary Year. Thanks to outgoing
President Anne Trahan
for all of her time and effort, which made this a great year for the club.
Next week the gavel will be passed to
Eric Jylha
as the 2010-2011 President.
Jerome and Dianne Yantz were honored as Major Donors to the Rotary Foundation. The join a special group of members who have reached this level. Jerome and Dianne were presented with pins and a crystal award by fellow Major Donor Bob Chadwick.
The golf outing last Monday was a great success. The Helicopter Golf Ball drop was exciting and lots of fun. A full report on this major fund raiser will be presented at a future meeting.
Make-up On-Line at www.RotaryEclubOne.org
---
DATES TO REMEMBER
The next
new member orientation
will be held Wednesday July 7.
---
Upcoming Programs
(See the official schedule at RotaryBayCity.org )
July 6: Passing Of The Gavel
. The new Rotary year begins as Eric Jyhla takes office as 2010-2011 President.
July 20: Rotary Safe Water Program in the Dominican Republic
. Ed Goyings introduce the Project and explain how Rotary created very successful International Service Project.
July 27: Mirror on the Wall
An Appraisal of American Health Care.
---
Visit RotaryBayCity.org

---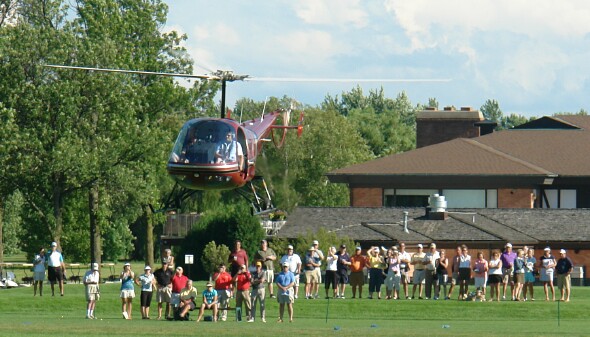 Golfers watch as helicopter takes off with numbered balls.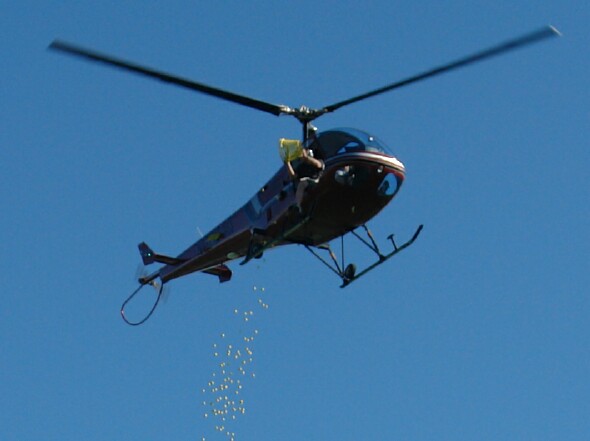 Watch out below! Helicopter Ball Drop In Progress