Asbestos Removal to Delay Old Jail Demolition, Cost Estimate Doubles
County to Assume $24,000 Asbestos Cost to Prepare New Central Library Site
July 25, 2004
By: Dave Rogers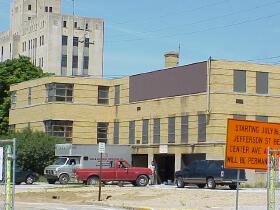 The old jail will be torn down after asbestos is removed.
      Just when it seemed demolition of old buildings to make way for construction of the new central library was going to proceed smoothly, a couple of new problems have reared their ugly heads to say "boo!" to county officials.
      First, the Michigan Department of Environmental Quality (DEQ) has not responded to a request for an end to monitoring underground storage tank contamination that has been remediated.
      Secondly, asbestos must be removed from the old county jail before demolition can proceed, and the cost has more than doubled from estimates.
           County commissioners at the Aug. 10 meeting need to "clean up" the unfinished business of asbestos removal before the deal is sealed for sale of the old jail to the building authority.
      While an environmental assessment estimated the cost of asbestos abatement at the old jail at $10,000, the bid from Dore and Associates came in at $24,100, according to Martha P. Fitzhugh, county corporation counsel.
      Terms of the purchase agreement between the county and the Bay County Building Authority, provide that the county is responsible for all costs of asbestos removal and "any additional environmental investigations, remediation or reporting required to achieve closure of an underground storage tank removed years ago, which resulted in some leaking and contamination around the property."
      Commissioners need to authorize the building authority to reduce the $187,000 purchaseprice for the old jail property before the sale is final. So the net price will be about $162,900.
Then, the building authority can pay the county the correct amount for the old jail site.
Then, the county can convey the property to the building authority. Then, asbestos abatement can proceed.
Then, the jail can be torn down.
Then, the site can be prepared for construction of the library.
If and/or whenthe DEQ gives the go-ahead.
      Now you have a pretty good idea of why construction of the new library is taking so long. It's called bureaucratic "red tape." And it doesn't happen just in Washington, D.C. and Lansing.