Rotary Club of Bay City Begins 97th Year
President Anne Trahan Passes Gavel to Incoming President Eric Jyhla
July 6, 2010
By: Stephen Kent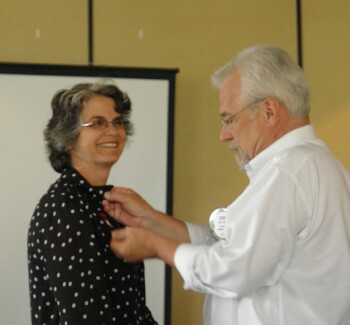 Incoming President Eric Jyhla
Presents Anne Trahan with
Past-President Pin
The Rotary Club of Bay City ended another Rotary year with the passing of the gavel from 2009-2010 President Anne Trahan to 2010-2011 President Eric Jyhla. Founded in 1914, Rotary is the oldest service club in Bay City.
The program commenced with President Trahan highlighting some of the significant accomplishments of the past year. She closed her remarks by thanking her board, officers, and the many volunteers who made her year a success. She closed by quoting the year's theme of
The Future of Rotary is in YOUR hands.
Anne then introduced Ed Keating as president-elect for 2011-2012 and announced that Kim Prime has been named President-nominee for 2012-2013.
Following tradition, President Anne passed the heirloom Rotary President pin to incoming President Eric and Eric presented Anne with her past-president pin.
Eric then spoke briefly about his own goals for the coming year and outlined a number of changes, new programs, and other news from Rotary International.
New Presidents are asked to establish a membership goal for the year. Eric has asked that the club have a net increase of one member. Due to normal attrition, this means that about a dozen new members will need to be added through the year.
Eric made a good start for his year by officially closing the meeting exactly on time at 1:15.
Among the accomplishments of the last year were these:
Club gave over $20,000 to Rotary International
15 new Paul Harris Fellows were recognized
3 new couples became Major Donors
12 new members were inducted
Club helped fund computers and seeds for Adopt-a-Village in Guatemala
International Night raised funds for Major Projects
Third Annual Rotary Concert bigger than ever.
Golf Outing held first Helicopter Ball Drop
Money collected for Pure Water for the World focusing on Haiti
Meeting time was shortened by 15 minutes.
Rotary Meets Here sign was put on building
Bay City Mayor Brunner proclaimed Rotary Day on Feb 23 to honor work on End Polio Now focus.
Purple Pinkie project taken on road to Saginaw event and to District Conference
Two board meetings were held at President Trahan's house as part of Family of Rotary.
Radio spots talk about Rotary as Community organization
Rotarian Magazines collected, labeled and placed in Doctor offices.
City's Way-finding Signage project unveiled at Rotary Meeting recognizing Club's major financial commitment to project.
Rotary 101 class presented to clubs and again at District Conference
Off site meeting held at ISD's Blooming Chefs restaurant
Over 93% of members participated in "Every Rotarian Every Year" giving to Rotary Foundation with average of $94.66.


---
CLUB NEWS and ANNOUNCEMENTS

Doug Rise was honored as the club's newest Paul Harris Fellow. Doug benefited from points from Cindy Chadwick. Cindy reminded other members who have not reached the Paul Harris Fellow giving level of $1,000 that she will match gifts up to $500 with points from her account.

The club welcomed new member Heidi Owczarzak. Heidi's classification is Banquet Catering. A Bay City native, Heidi is part owner of Arbeituer Hall.

Tim Holsworth announced that the Helicopter Golf Ball Drop netted $1,560 for the club thanks to sponsorship by Wildfire Credit Union.


Make-up On-Line at www.RotaryEclubOne.org



---
DATES TO REMEMBER
The next new member orientation will be held Wednesday July 7.


---
Upcoming Programs
(See the official schedule at RotaryBayCity.org )


July 20: 10 Minute Rotarians

July 20: Rotary Safe Water Program in the Dominican Republic. Ed Goyings introduce the Project and explain how Rotary created very successful International Service Project.

July 27: Mirror on the Wall An Appraisal of American Health Care.

August 3: Outbound GSE Team to Portugal
---
Visit RotaryBayCity.org