Rotarians Hear About Clean Water Project in the Dominican Republican
July 25, 2010
By: Dave Rogers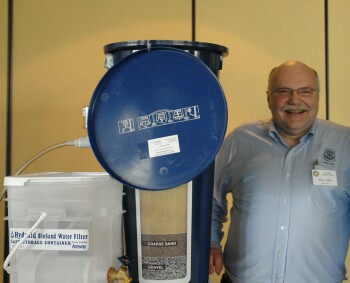 Terry Allen and Bio Sand Filter
Members of the Rotary Club of Bay City heard last Tuesday how three clubs from District 6360 in southwest Michigan joined to sponsor a Clean Water Project in the Dominican Republic. The clubs were Lakeshore Club, St.Joe - Benton Harbor and Benton Harbor Sunrise.
Terry Allen from the St. Joe club was introduced by programmer Brenda Scramlin.
Mr. Allen told how he and Charles Jesperson (both past presidents of their clubs) have raised $51,000 to date and plan to write a grant for matching funds from the District Foundation to purchase bio-sand filters machines for clean water for the Dominican Republic.
The current initiative is for a multi-club drive to raise $2 million to establish a Dominican Republic distribution center for water filters.
More than one billion people across the developing world lack access to safe drinking water and nearly 5,000 children die each day from a host of water-related diseases, said Mr. Allen.
The project has received a major boost from The Dow Chemical Co., Midland.
Dow and humanitarian healthcare agency, International Aid for the past two years have had a unique partnership to help address the global drinking water crisis. Dow and Cascade Engineering are partnering with International Aid (IA) to provide funding, product and manufacturing expertise to produce 300,000 HydrAid? BioSand Water Filters. The filter is a lightweight point-of-use water purification device currently being distributed by International Aid and its partners worldwide.
Dow has committed $125,000 and 2.1 million pounds of plastic resin to manufacture the bio-sand filters over the next three years, benefiting as many as 2 million people. At just seven pounds, the new filters are viewed as a major design improvement to the traditional, 300-pound concrete BioSand filters already in use in more than 70 countries worldwide.
The largest implementation project is in Honduras, where 61,000 filters are being installed in partnership with the Honduran government, the Coffee Growers Association and several Honduran organizations. There are also plans to ship 50,000 filters to Myanmar, as part of the cyclone recovery efforts.
Mr. Allen said the clean water project was the subject of a 16 page feature story in the August issue of The Rotarian magazine.
The Children's Safe Water Project is also a top priority project for the current president of Rotary International, Ray Klinginsmith, of Kirksville, Missouri.
A child dies every 15 seconds in the world because of unsafe drinking water, said Mr. Allen.
These filter systems are simple, easy to use and make, no power is required, low cost, low operating cost and low maintenance. They are currently in use around the world. They will last 50 years and cost just $60 each. To learn more go to www.thirstingtoserve.org.
Leaders of the project have found that not only do the filters save lives directly by reducing the bacteria in drinking water, but also that children drinking filtered water are not sick as often. For example, 93 percent of the fecal bacteria is removed by the bio sand filters, he said.
Tests are underway in Cambodia, Ghana and the Honduras as planning continues to expand the use of filters to all countries in need, he said.
In Santa Clara, California, 6,000 Interactors raised $50,000 in four months for the project, he said.
Also participating in the safe water project are the U.S. Agency for International Development and the U.S. Navy through Operation Handclasp.
The Navy has helped by trans-shipping water filters into Haiti, which was devastated last year by a massive earthquake.
"Saving the lives of kids is what it's all about," said Mr. Allen. The project also helps control polio, aligning with the Rotary International Polio Plus campaign.
It will take 975,000 filters to provide clean water to the entire population of the Dominican Republic. "Spread the word about the problems of clean water in the world," Mr. Allen urged Rotarians.
---
CLUB NEWS and ANNOUNCEMENTS
Chris Girard
is looking for people to serve on the Programs committee.
Tom Birch
has accepted the position of Public Relations Chairman.
Make-up On-Line at www.RotaryEclubOne.org
---
DATES TO REMEMBER
The International Night Committee will meet Tuesday July 27 at 11:00.
---
Upcoming Programs
(See the official schedule at RotaryBayCity.org )
July 27: Mirror on the Wall
Hans Jeppesen will present An Appraisal of American Health Care.
August 3: Outbound GSE Team to Portugal
August 10: Vocational Talk by Chris Girard
---
Visit RotaryBayCity.org