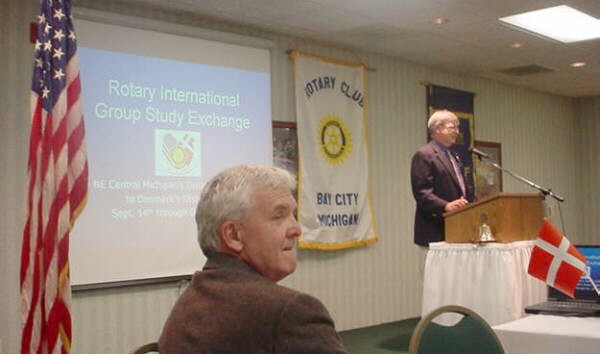 Club President Mike Stoner looks on as Der Bass of Midland goes through his PowerPoint presentation on the District 6310 Group Study Exchange trip to Denmark.
---
Rotary to Hear Bob Chadwick on Tuscola County Project Employing Disabled
Midland's Der Bass Describes Group Study Exchange Trip to Denmark
August 1, 2004
By: Dave Rogers
UPCOMING PROGRAMSAug. 3 - Bob Chadwick: Employing the Disabled;
Aug. 10, Michael Seward, Bay Area Chamber of Commerce, proposed minor league baseball team;
Aug. 17, Pam Clifford, Reading is Bay County's Business;
Aug.24 - 10 Minute Rotarians, Former President Harry Farris; Rob Clark sells his desk, auction.
      Der Bass and the Rotary District 6310 Group Study Exchange to Denmark visited Tivoli Gardens in Copenhagen, said to have been the source of Walt Disney's inspiration to create Disneyland.
      The five member team also found that the famed Little Mermaid statue in the harbor was gone; it had been dynamited in some strange sort of terrorist activity.
      The local team toured northeast Denmark's District 1480 nearly a year ago in part of Rotary's mission for international understanding. The Danish District has 49 clubs with a total of 1,875 members.
      Besides group leader Bass, an architect from the Midland MorningRotary Club, other members were Aileen Byrne of Saginaw, a teacher; Lee Gettel of Pigeon, a technician with the Huron County Road Commission; Ursula Steckert, a sales agent from Saginaw; and Bob Zehnder, a sous chef from Frankenmuth. Mr. Bass, is a member of the AIA firm of Malzahn Bass and Associates.
      Mr. Bass said the climate in the northeast section of Denmark is "remarkably similar to our own here in Michigan."
      Rotarians got the flavor of the region from some outstandingslides shown by Mr. Bass, some depicting medieval gated villages and ancient buildings creatively transformed by modern architecture to attractive up-to-date uses.
      The Michigan team made nine presentations to 18 clubs and met with many Rotarians, including Hans Nielsen, retired Air Force commander who was the leader of the Danish team that visited here.
      The Group Study Exchange (GSE) program is described in Rotary literature as "a cultural, vocational and personal exchange."District 6310 is quite active in GSE, said Mr. Bass, and Bay City noon club president Mike Stoner is a member of the district GSE committee.
**********************************************************************
NEW CLUB PROGRAM TO BENEFIT RI FOUNDATION AIDED BY HRATCH BASMADJIAN
Hratch Basmadjian donated $150 to the Rotary International Foundation from the proceeds of the first monthly 50-50 drawing devoted to that purpose. This is a new program instituted by President Mike Stoner. One 50-50 drawing per month goes to the RI Foundation.
**************************************************************
---
eClub-One
: Members with internet connections are encouraged to visit eClub-One monthly for a makeup. To get makeup credit you need to fill out the makeup form on that site. Print the acknowlegement for you receive and turn it in to recive credit. Be sure to enter our club's district number (
6310
) on that form.
Click this link to open eClubOne in a new window:
www.RotaryEclubOne.org