Dr. Hans C. Jeppesen Tells Rotarians Statistical Story of U.S. Health Care
August 1, 2010
By: Dave Rogers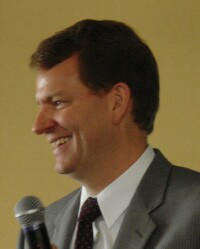 Hans C. Jeppesen
Expanding access to health care without simultaneous cost reforms puts this nation at great risk, Hans C. Jeppesen, MD/MBA told Bay City Rotarians last Tuesday.
Dr. Jeppesen, a 1987 graduate of Bay City Central High, is now a specialist in internal medicine with Health Partners, a Minnesota not-for-profit. He was introduced by Brenda Rowley, programmer, and was accompanied by his wife, Shane, a native of Shanghai, China.
He is a graduate of the University of Minnesota and its medical school and did his internship at the University of Hawaii J.A. Burns School of Medicine. He also was graduated from Claremont (CA) Graduate University's Drucker School of Management.
The economics of health care was Dr. Jeppesen's topic, and he covered it thoroughly. "Health care in the U.S. is the most expensive in the world, taking one of every five dollars of the economy," he said.
Dr. Jeppesen admitted he was influenced in his thinking on health care from the book "Post Capitalist Society" by the late economist and author Peter F. Drucker, who he met while taking his master of business administration degree in Claremont, California.
In fact Dr. Jeppesen worked closely with Mr. Drucker, acting as his "hearing aid" during his classes. "Never start with a conclusion and look for facts to support it," was one concept he learned from the eminent economist.
"Learn something new in your study," Drucker said, advising him to "try to find 6-8 writings on the subject -- don't just give your opinion." Dr. Jeppesen said he has tried to apply the Hippocratic Oath to Drucker's book.
He also credited the late Rabbi Josef Kratzenstein, longtime rabbi at Temple Israel and a teacher of philosophy and logic at Bay City Junior College, with influencing his thinking and his career. Rabbi K's 1965 book, "The Age of Idolism," also was a great influence, he said.
Dr. Jeppesen cited statistics comparing health care in 30 democratic and high GDP (gross domestic product) nations. Since 2000 the OECD (Organization for Economic Co-operation and Development) has collected statistics and quality measurements in seven categories of health care, he said.
The U.S. spends $7,290 per capita each year on health care while the OECD average is $2,984, he said.
One outstanding statistic delineates what he called "enormous" administrative costs of health care in the U.S., amounting to 31 percent of the total cost. By contrast, Canada spends just 17 percent on administration.
He cited studies by Henry Aaron of the Brookings Institution and the McKinsey Global Institute. and the Commonwealth Fund health scorecard.
By funding higher research and development on drugs, the U.S. is in effect subsidizing other countries who gain benefit from this country's discoveries, said Dr. Jeppesen.
His main criticism of the new national health care program, so-called "Obama care," is that it doesn't deal with costs. His recommendations:
Have complete transparency in health care information,
deal with the waste inherent in high administrative costs,
stop the game of reimbursing to the maximum amount,
standardize procedures,
reduce inefficiency,
stop paying more for the same drugs and procedures and
"be careful not to harm what is good about the U.S. health industry."
Contact Dr. Jeppesen: hansjeppesen@hotmail.com.
###
---
CLUB NEWS and ANNOUNCEMENTS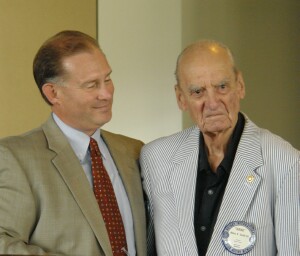 Ed Keating and Henry Smith
Henry Smith
was recognized for his 38 years of service and was designated an honorary member of rotary. At 93 years, Henry is the club's oldest member. He joined the club in 1972. Henry's wife Julia was present for the occasion.
A number of members spoke of Henry's influence on them and his contributions to the Community and to Rotary. President-elect Ed Keating presented Henry with his honorary Rotarian Pin.
Chris Girard
is looking for people to serve on the Programs committee.
Sargent at Arms Cindy Chadwick's
trivia question was "how many official motto's does Rotary have?" The answer is TWO:
He profits most who serves best
was the first motto. In 1950 Rotary added
Service Before Self
. "He Profits Most" was modified by the 2004 Rotary International Council on Legislation to read "They Profit Most Who Serve Best".
For more interesting Rotary history visit
www.rotaryfirst100.org
, the Rotary Global History Fellowship web site.
Make-up On-Line at www.RotaryEclubOne.org
---
DATES TO REMEMBER
The International Night Committee will meet Tuesday July 27 at 11:00.
---
Upcoming Programs
(See the official schedule at RotaryBayCity.org )
August 3: Outbound GSE Team to Portugal
August 10: Vocational Talk by Chris Girard
August 17: 100 Years of Boy Scouting
John Calahan and Boy Scouting Representatives will talk about Boy Scouting's 100th Anniversary and what is going on in our local Scouting district.
---
Visit RotaryBayCity.org