Group Study Exchange Team to Portugal Reports to Rotary
August 3, 2010
By: Stephen Kent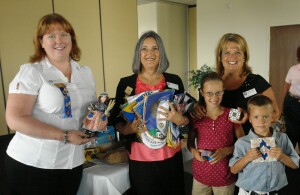 Kristen Lences, Lynn Zuellig, Linda Laurenz
and Linda's kids Annie and Kramer
Lynn Zuellig
, from the Frankenmuth Morning Club, was the team leader for this year's District Group Study Exchange team. She and two of her four fellow team members reported on their recent four week visit to Portugal.
The GSE team from Portugal had visited here in April. They got to know the Michigan team and were on hand to meet the Americans at the airport when they landed.
The Michigan team was all female. They studied and planned their trip starting in January and were well prepared. They learned a tiny bit of Portuguese from a visiting exchange student, but had few other resources to learn the language.
The group planned their matching wardrobes for the trip. It was important to them to make a good impression in both casual and formal settings. Coordinated colors also helped team members find each other in crowds "just like kindergarten kids", said Lynn.
Rotary meetings in Portugal are somewhat formalized with a standard protocol. The team was expected to enter draped in an American flag, to greet the host with kisses on the cheeks, exchange club flags and make a short presentation.
GSE is a vocational exchange program. The team leader is a Rotarian but the other members are not. Teams visit with people in their own business or industry to exchange experiences and knowledge.
Lynn and team member Rachel Estrabrook are in nursing and visited hospitals and clinics. They visited a private, fee for service, hospital that was brand new and had no patients. The facility will be used by visiting European tourists. The public hospitals are very busy and well used.
Linda, a teacher at Saginaw's Hemmeter Elementary School, visited day care and social service facilities then visited elementary schools. She met youngsters where were excited to introduce themselves in English. Linda presented the kids with small American flags. "They couldn't wait to count the stars" she said. She taught them about our state using puzzles and Michigan quarters.
Linda said that the teachers she met said that they patterned many of their teaching ideas from what was done in the States. America tries it first then the Portuguese pick it up later.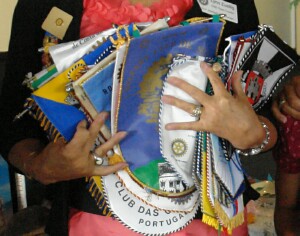 31 club visits in 30 days
and the flags to prove it.
Kristen is the technical manager and scenic designer for the Midland Center for the Arts. She and team member Deana Doan, a morning show DJ and job trainer at Baker College visited an Internet-only broadcasting station staffed by about 30 young people. Deana was interviewed on the air using a translator.
Kristen and Deana also visited schools that train people in the hospitality industry, which is very big in the country. The saw a high school specializing in hotel management.
Kristen hoped to see art and culture, museums and theaters. She said she almost overdosed there was so much to see. She commented on the hand painted tile that is very prevalent in buildings. The country suffered a massive earthquake in the 1700's. Building that could be repaired were covered with these ornate tiles which became a symbol of the area.
Kristen also became the team's photo archivist. "We all took thousands of pictures. I've filled up my hard drive and have two more flash drives to download".
The people were described as very "laid back". They put more stock in relationships. Lynn said "Here were five American women with their watches and clocks and nobody cared. Time was important to us but not to them." She went on to say Rotary meetings were usually in the evening. The team was lucky to start eating by nine "ish" and sometimes sometimes stayed out to 12:30 "ish" or later. They were up early and going to bed late. Lynn said "I finally had to meet with someone to say we can't be roosters and owls at same time".
---
CLUB NEWS and ANNOUNCEMENTS
The next
incoming GSE
team will be from
Afghanistan
and will be arriving in Bay City on October 12. This is the first team from that country and Bay City is the first stop. The team may have six members and possibly some will be women.
International Night
has been scheduled for
October 14
. (The Afghanistan GSE team will be here!) Bob Chadwick asked Rotarians to begin coming up with AUCTION ITEMS. The minimum value should be $25.
.... Donation forms can be found on the club
DOWNLOAD Page
.... Other information is on the
International Night
page.
---
LINKS
Make-up On-Line
at
www.RotaryEclubOne.org
Rotary history
www.rotaryfirst100.org
, the Rotary Global History Fellowship web site.
---
DATES TO REMEMBER
The International Night Committee will meet Tuesday July 27 at 11:00.
International Night - October 14, 2010.
---
Upcoming Programs
(See the official schedule at RotaryBayCity.org )
August 10: Vocational Talk by Chris Girard
August 17: 100 Years of Boy Scouting
John Calahan and Boy Scouting Representatives will talk about Boy Scouting's 100th Anniversary and what is going on in our local Scouting district.
---
Visit RotaryBayCity.org