CEO Chris Girard Explains Mission, Operational Procedures, of Do-All, Inc.
August 10, 2010
By: Dave Rogers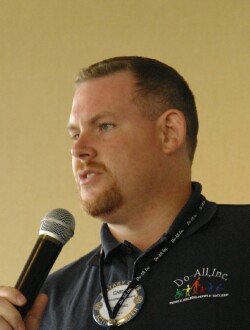 Chris Girard, DO-All
Do-All, Inc., is a not for profit organization that served approximately 6,800 people in Bay County last year.
Christopher Girard, CEO of the agency, is the grandson of the founder, Dick Davis, a former Bay City policeman who saw a need to provide job training and other services to the handicapped.
Mr. Girard spoke to Bay City Rotarians about the mission of Do-All, noting 40 years ago folks like those they work with often were put in institutions under horrible conditions and were called 'morons' and 'imbeciles.'"
The organization operates from seven different locations in the community, providing different types of services. Some operations are in partnership with other groups in the community, he explained. The agency works with Bay Arenac Behavioral Health and Michigan Rehabilitation to assist people to achieve self-sufficiency.
Do-All employees do packaging, production and assembly in the 110,000 square foot former Wolverine Knitting Mills factory at 1400 S. Lincoln Ave., and operates a 32,000 square foot material assistance center thrift shop at 1465 West Center Road, Essexville.
The Cat's Meow thrift shop has a downtown location in the old Knepps building at 810 Washington Avenue and has an art gallery that sells about $1,000 a month in creations by Do-All clients. A frame shop is being considered for that location.
The organization also runs the Smart Choice Cafe in the Bay Area Family Y and provides catering. Space is being sought to provide culinary training. The Perfect Blend Bakery in the Bay City Mall food court sells about $6,000 a month in products and has 20 employees. Do-All also has office space in the Bay Area Chamber of Commerce building.
A 12 member board helps Mr. Girard marshal about 10,000 volunteer hours a year and oversees the 200 employees. A direct placement service helps individuals integrate into the community. Individuals also are helped to set up micro enterprises.
"A lot of these people are proud and able to contribute, as opposed to the old way of letting them sit in an institution," said Mr. Girard. "We assist them to become self sufficient."
His career goal originally was to attend medical school. Chris earned a bachelor of science degree from Alma College and he spent a year and a half studying medical technology at Michigan State University, he recalled.
"But an opportunity arose at Do-All that I decided to take advantage of, and now I'm primarily a fund raiser along with my management role at Do-All," he said.
"My job is to develop plans to keep resources coming in for stable operations to support people in need in the community," he said.
Human resource management, public relations, financial planning -- all play a role in providing services to meet the core mission of the organization -- supporting people in the community.
Coaching, energizing, motivating front line workers to touch the lives of the constituents are among his duties. Another important role: visionary, determining the overall scope of the agency and the direction in which it is headed.
Do-All is a $4.5 million per year organization with 74 staff members, almost triple the $1.9 million and 27 staff from a few years ago, he said. The Do-All payroll is about $50,000 a week.
---
CLUB NEWS and ANNOUNCEMENTS
The next
incoming GSE
team will be from
Afghanistan
and will be arriving in Bay City on October 12. This is the first team from that country and Bay City is the first stop. The team may have six members and possibly some will be women.
International Night
has been scheduled for
October 14
. (The Afghanistan GSE team will be here!) Bob Chadwick asked Rotarians to begin coming up with AUCTION ITEMS. The minimum value should be $25.
.... Donation forms can be found on the club
DOWNLOAD Page
.... Other information is on the
International Night
page.
---
LINKS
Make-up On-Line
at
www.RotaryEclubOne.org
Rotary history
www.rotaryfirst100.org
, the Rotary Global History Fellowship web site.
---
DATES TO REMEMBER
The International Night Committee will meet Tuesday July 27 at 11:00.
International Night - October 14, 2010.
---
Upcoming Programs
(See the official schedule at RotaryBayCity.org )
August 17: 100 Years of Boy Scouting
John Calahan and Boy Scouting Representatives will talk about Boy Scouting's 100th Anniversary and what is going on in our local Scouting district.
August 24:Rotary Camp Florida
Jim Harmon, Executive Director of Rotary's Camp Florida will present a program on the year-round camp for special needs children.
August 31: Literacy Council of Bay County.
Kathy Rayner, Executive Director, will speak about the organization, which was a Rotary Community Grant recipient this year.
---
Visit RotaryBayCity.org