Scouts Do Good Deed Every Day
August 17, 2010
By: Stephen Kent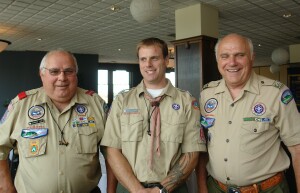 Vernon Yant, John Callahan, Ron Comtois
As the story goes, William Boyce, an American, was visiting London in the first years of the 20th century when he became lost in London. He was approached by a young man in a campaign hat who asked if Boyce needed assistance. Although apprehensive at first, Boyce accepted the help and was directed to his hotel in short order. Asking why the young man was so helpful the reply was "I'm a Scout and we do a good deed daily".
Ron Comtois related this story to Rotarians as he, John Callahan, and Vernon Yant, talked about the 100th anniversary of the Boy Scouts of America. Boyce was so impressed that on return to America he brought the Scouting idea with him. The organization was founded in America on February 8, 1910 in New York.
Since that time Scouting has evolved and grown to become "one of the nation's largest and most prominent values-based youth development organizations". The BSA program builds character, responsibility, citizenship, and develops personal fitness for millions of young Americans. "The Boy Scouts of America believes, and through nearly a century of experience knows, that helping youth is a key to building a more conscientious, responsible, and productive society."
The history of Scouting in America is a rich one. After its founding in 1910, the first Eagle Scout medal was awarded in August 1912. In 2009 Scouts reported over 36 million service hours with a value estimated at over $764 million.
The tradition of service started early. In 1917 Scouts were fully engaged in WWI with the slogan "Help Win the War". They sold $355 million worth of Liberty bonds and War savings stamps. They collected 100 railroad cars of nutshells and peach pits for gas masks, distributed 300 million pieces of government literature, and planted 12,000 Boy Scout war gardens.
Cub Scouts was established in 1930. During the 30's scouts at all levels were called on by President Roosevelt to help the distressed and needy. By 1935 Scouting membership pass the 1 million member mark.
From 1941 to 1945 Scouts again provided a major resource to the war effort responding to 69 specific requests from the government. Scouts collected 30 million pounds of rubber. 20,000 Scouts earned the MacArthur Medal for Victory Gardens. They worked for the war bond effort, distributed posters, collected scrap metal, conducted surveys, served as dispatch bearers, assisted emergency medical units and served as fire watchers.
By 1952 membership had grown to 20 mission scouts and over a million adult leaders. There were soon over 100,000 units around the country. In the decade after WWII Scouting grew and prospered. In 1965 the 500,000th Eagle Scout was honored.
During the 70s Scouting evolved. The first female Explorers were admitted in 1969. The National Eagle Scout Association formed in 1972 and the eighth national jamboree was held at two sites in 1973.
In 1999 BSA introduced the Coed Venturing program for both boys and girls from age 14 to 20. In 2000 the 100-millionth youth member was inducted. The Scouting Museum was built in 2002.
The 2 millionth Eagle Scout was honored in 2009.
For more information visit
www.scouting.org
---
CLUB NEWS and ANNOUNCEMENTS
The Club congratulates and thanks to Ann Lingle and Doug Rise on attaining their Paul Harris Fellowship. Rob Clark was awarded his Paul Harris Plus One.
The next
incoming GSE
team will be from
Afghanistan
and will be arriving in Bay City on October 12. This is the first team, ever, from that country and Bay City is the first stop. This is both an honor and a huge responsibility for the Bay City club to make that all important first impression.
International Night
has been scheduled for
October 14
. (The Afghanistan GSE team will be here!) Bob Chadwick asked Rotarians to begin coming up with AUCTION ITEMS. The minimum value should be $25.
. . . . Donation forms can be found on the club
DOWNLOAD Page
. . . . Other information is on the
International Night
page.
---
LINKS
Make-up On-Line
at
www.RotaryEclubOne.org
Rotary history
www.rotaryfirst100.org
, the Rotary Global History Fellowship web site.
---
DATES TO REMEMBER
The International Night Committee will meet Tuesday July 27 at 11:00.
International Night - October 14, 2010.
---
Upcoming Programs
(See the official schedule at RotaryBayCity.org )
August 24:Rotary Camp Florida
Jim Harmon, Executive Director of Rotary's Camp Florida will present a program on the year-round camp for special needs children.
August 31: Literacy Council of Bay County.
Kathy Rayner, Executive Director, will speak about the organization, which was a Rotary Community Grant recipient this year.
---
Visit RotaryBayCity.org