Rotary Camp Florida Serves Children Suffering from Cancer and Other Disease
August 24, 2010
By: Dave Rogers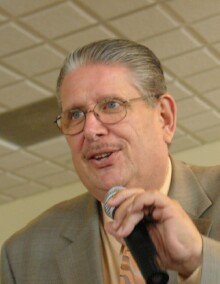 Jim Harmon
Former Bay City businessman Jim Harmon now runs Rotary Camp Florida that serves hundreds of children suffering from a variety of diseases.
The job can be both rewarding and heart-breaking, he told Bay City Rotarians last Tuesday. Chris Girard, as programmer, introduced Mr. Harmon and his wife, Debbie (Arnesen) Harmon, a 1972 graduate of T.L. Handy High.
Interest in the project, started in 1991 by 25 Rotarians from Brandon, now has spread and it is a statewide program of the Rotary Club, he said.
The various "camps" hosted on the campus include children with such diseases as Tourettes, Muscular Dystrophy, asthma, birth defects, leukemia and other forms of cancer, children from Shriners Hospitals and other organizations.
"A lot of the children who have been in the cancer camp pass away," he said. "What could be more heart-wrenching than to have a child die on a Medevac?"
Rotary's Camp Florida is an 18-acre campground for children with medical, physical, mental and emotional illnesses and other special needs challenges, said the executive director. The camp is a nonprofit organization and is located in Brandon, Florida, not far from Tampa.
The camp serves 129 children at a time. Groups pay $25 per day per child and cannot charge for the camp, he said. "The cost is $50 and we don't even break even." However, through donations and grants, under Harmon's leadership last year the project was in the black for the first time.
There are no medical staff on site, but five major hospitals are within 10 minutes airlift, he said. "A great hospital in Brandon is seven minutes away," he said. Liability insurance for the camp costs $60,000 a year.
"The children forget all about their painful hospitalization and go out and enjoy themselves," he said. "They really want to come back and we want to see them again next year."
Over the nearly 20 years of its existence, the camp has been steadily improved and now has every facility most camps have as well as a 25 yard Olympic pool, playing fields, basketball courts and a fishing pier.
There also is a helicopter landing area at the camp for children who need to be airlifted to medical facilities for assistance.
"At the camp they build lasting friendships and discover their inner potential," said Mr. Harmon. "We also help campers build life skills. This is a phenomenal facility; we couldn't host these camps anywhere else."
The camp is continually being improved, with the goal of expansion from the present 129 to 200 bunks, he said.
"Many of the children have final wishes: one more time at Rotary Camp Florida, that's all I want. We hear that quite often," he concluded.
---
CLUB NEWS and ANNOUNCEMENTS
The next
incoming GSE
team will be from
Afghanistan
and will be arriving in Bay City on October 12. This is the first team, ever, from that country and Bay City is the first stop. This is both an honor and a huge responsibility for the Bay City club to make that all important first impression.
International Night
is scheduled for
October 14
. (The Afghanistan GSE team will be here!) Bob Chadwick asked Rotarians to begin coming up with AUCTION ITEMS. The minimum value should be $25.
. . . . Donation forms can be found on the club
DOWNLOAD Page
. . . . Other information is on the
International Night
page.
---
LINKS
Make-up On-Line
at
www.RotaryEclubOne.org
Rotary history
www.rotaryfirst100.org
, the Rotary Global History Fellowship web site.
---
DATES TO REMEMBER
International Night - October 14, 2010.
---
Upcoming Programs
(See the official schedule at RotaryBayCity.org )
August 31: Literacy Council of Bay County.
Kathy Rayner, Executive Director, will speak about the organization, which was a Rotary Community Grant recipient this year.
September 7: B.A.S.E. Team - Foster youth helping foster youth.
A youth run council of current or former foster youth talk about there group empowering others to succeed.
September 14: District outbound Ambassadorial Scholar Tyler Mathew.
Tyler is a graduate of West Point and our district's outbound Ambassadorial Scholar.
September 21: District Governor Visit.
Our new District Governor Eileen Jennings will be here to share her vision for our District.
September 28: Field's Neuroscience Institute.
Dr. Gary Dunbar will be presenting a full program about FNI.
---
Visit RotaryBayCity.org